How I Became A World Nomad
Inspiration
A few years ago Rita Golden Gelman came to the Vashon Bookshop and read from her book Tales of a Female Nomad. I was totally captivated by this "older" woman who was travelling in far flung places on her own and making friends within the culture.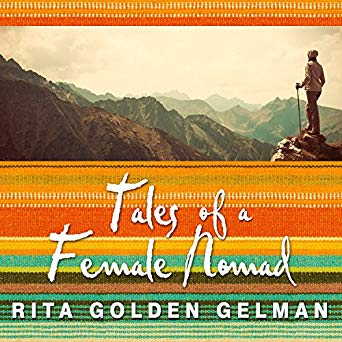 I had traveled in my 20's and that was fortunate since at the age of 28, I became the mother of a profoundly disabled daughter. The 28-year voyage with Rachel and the rest of the family (husband Roger, and children Ben and Rebecca) was every bit as challenging, interesting, educational, and special (and at times difficult) as several around-the-world trips. At the time that I read Rita's stories, I knew that such a life would not be possible for me because I was Rachel's main caregiver.
But I lived vicariously through Rita's books and others like them. I have always believed that the best and richest education can be found through travel to other cultures. Our family was fortunate because we got to visit many places in the US, camping and hiking throughout the West. But I did not leave the country at all after 1978, except for short hops across the Canadian border.
Life Changes
In 2006, my life began to change. Roger and I separated and spent several years in adjustment. Ben and Rebecca grew up and left home and returned and left home. I was living and caring for Rachel and taking care of our property on Vashon Island. In 2010 Rachel must have decided that she was tired of putting up with a body and mind that would just not cooperate with her and she passed away quite unexpectedly. Now I was living in a much-too-big house.
About a year after Rachel's death, I finally realized, "Oh, I can travel!" I remembered Rita's book and read it again. It took me a couple more years to come to terms with this, decide where and why I would go, and sell my home. The property serendipitously went to a wonderful family who has renovated the house and is re-making the garden, yard, and forest. And I became free to travel—albeit on a strict budget.
First Trip
Another thing that has happened over the years: I renewed my love of knitting and even learned to spin on a drop spindle. Reading yarn labels, I noticed that much of the wool and all the alpaca yarn I used came from Peru. I really knew nothing of the country, but fantasized that it would be interesting to see where this yarn was milled and learn about the people there. So, I decided that my knitting and rudimentary spinning skills would be the avenue into exploring the culture and getting to know people. (I am much more interested in learning how people live than in seeing the museums and sites—although those can be interesting as well.)
So, Peru it was to be and not for some short, whirl-wind tour. I planned to go for almost four months! Four months! If you are going to spend the money and time to get here you just need to take advantage of it and stay for a while! And so, in 2014, I began to travel again. I turned 60 years old climbing Pachamama on the island of Amantani in Lake Titicaca, Peru.