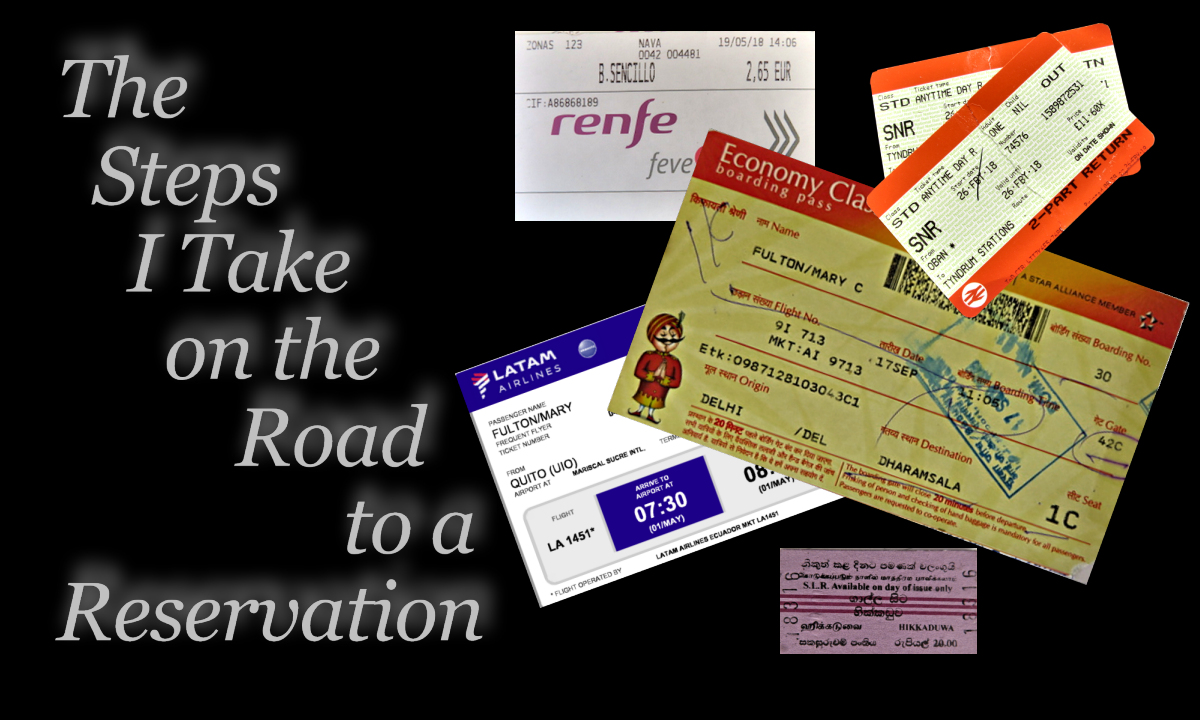 Making travel reservations can be challenging when you are an independent traveler. People often ask me how I research my trips. One person even asked if she could look over my shoulder while I planned my next trip. So, here are my methods for making plans to move on to my next destination.
TIP
Before I begin my research, I set up some way to take notes and keep track of information. You can use a pen and paper, but if you open a blank text document, or use a note-taking app, like OneNote or Evernote, it is easy to cut and paste websites and schedules, edit, make comments, and then finalize your schedule into a workable itinerary.
1. Get reservations for lodging FIRST



If you don't have lodging reserved and schedule your transportation first, you might then discover that there are no lodging choices available for your arrival date.
For hostels, I use Hosteling International or HostelWorld.com to make reservations. For guesthouses, I mostly use Booking.com. (A similar site is Agoda.com.) Booking.com usually presents you with locations that have dorm rooms, but you can easily filter them out if you prefer private rooms. Many hostels now offer private rooms as well as dorm rooms.
NOTE
I am an affiliate with Booking.com. That means that if you book a room through them using this link, I will receive a small commission, at no extra cost to you.
I used to use AirBnB to search for lodging. I still use it if I am wanting to experience a true homestay with a family. But I am careful in my searches because in the last few years, I have found that AirBnB's system will nickel-and-dime you to poverty. If you are only staying a few days, the cleaning and service fees tacked on by many hosts may double the advertised price. And, you pay a 6% booking fee to AirBnB as well. If you stay a week or more, you can usually get discounts, AND those service fees get spread out over many nights. So, do the math when using AirBnB to see if it is providing you with the best deal. 
Find a few booking sites that work well for you and stick with them. As a Booking.com regular I usually get a 15% discount for my bookings through them. While I was in the UK, I booked hostels through the Hosteling Scotland and England's Youth Hostel Association and regularly received coupons from them. During the winter low season, I frequently received email coupons for 25% off my stays!
Important
I say to make your lodging reservations first. BUT you may not be completely sure of your destination at this early stage. In that case, either use the above information to make sure there are plenty of rooms available for your dates and budget, OR make reservations only in places that allow you to cancel with no penalty.  (Note that AirBnB does not usually provide a reasonable cancelation policy.) 
2. Decide how to travel

I begin by finding out the best ways to get there from my previous location (air? train? boat?) Ask fellow travelers and guesthouse hosts for their suggestions. I check schedules and prices and start keeping notes for the more promising itineraries.
I love to travel by train and will usually choose it over a bus, even if it is a little more expensive. When traveling VERY long distances, air may be the most sensible choice. Sometimes it is quite a bit cheaper to fly than to travel by train, boat or bus. For example, it would have been cheaper for me to fly from San Sebastian, Spain to Amsterdam, but I cherished the opportunity to take a high-speed train. You can read about my experience here.
Subscribe to Cathleen's Odyssey…
…for more travel inspiration.
And don't worry, we hate spam too! You can unsubscribe at anytime.
3. Create your itinerary



This the longest step, especially if you are trying to balance trip duration, complexity, and cost.
When opting for ground transportation, I start with GoogleMaps or Rome2Rio.com and plug in my origin and destination. This gives me an idea of what kinds of conveyances are available. (Use these with caution because sometimes the information is outdated—but it is a starting point.)
If I am flying, I usually start with Kiwi.com or Orbitz.com. Be careful when choosing flights. Check to see if you have to pay for your checked bags (And now, increasingly, your carry-on bags may also have a surcharge.) A flight that looks more expensive may offer a free checked bag and your overall fare may be cheaper.
When looking at flight schedules, if one option is significantly cheaper than others, be sure you don't have an 18-hour layover somewhere or something worse. You will either sleep in the airport (ugh!) or you may only have expensive options for nearby lodging . Some itineraries may have you transfer to a different airport in a city resulting in an unexpected taxi fare of $100 US or more. (This is not unusual for flights going through New York City.)
TIP
Remember when comparing airfare with bus or train fare to add the cost of transportation to and from airports, as well as add-on fees like checked bags.
Another thing I try is to use the third-party app (like Kiwi or Skyscanner) to find out which airlines seem to be offering the best deals. Then I go directly to the airline's site to see if the same (or better) offer is available there. If so, I will book directly with the airline. This provides some benefits, the main one being that if you have problems during the journey, the airline's customer service is usually better if you booked directly with them. 
At the beginning of the recent COVID pandemic, I had some international air reservations I had made through Kiwi, a third party booking site. The airlines were very gracious in refunding my airfare, but Kiwi kept their commission. This is another reason for booking directly with the airlines. 
4. Decide how to travel to and from airport/bus/train stations



This goes for traveling from origin (current) lodgings to the departure airport or station, and from the destination airport or station to your lodgings. Lodging hosts can usually help but be careful. There may be an inexpensive bus to the airport and hotel staff may only offer you the option of a taxi.
Airport websites often have a page showing transfer options from airport to city centers.
Google maps is my number one resource for locating transportation options within a city. For example, when I arrived in Utrecht, I already had downloaded maps for bus and walking directions to my hostel, so I knew the options when I arrived.
If Google does not provide bus directions, try Rome2Rio.com. When I was planning my trip to Bishkek, Kyrgystan, Rome2Rio.com showed me the map below of the bus route from the airport to the stop that was only a few blocks from my hostel. Because I had done this research, I saved about $10.00 US because I did not take a taxi.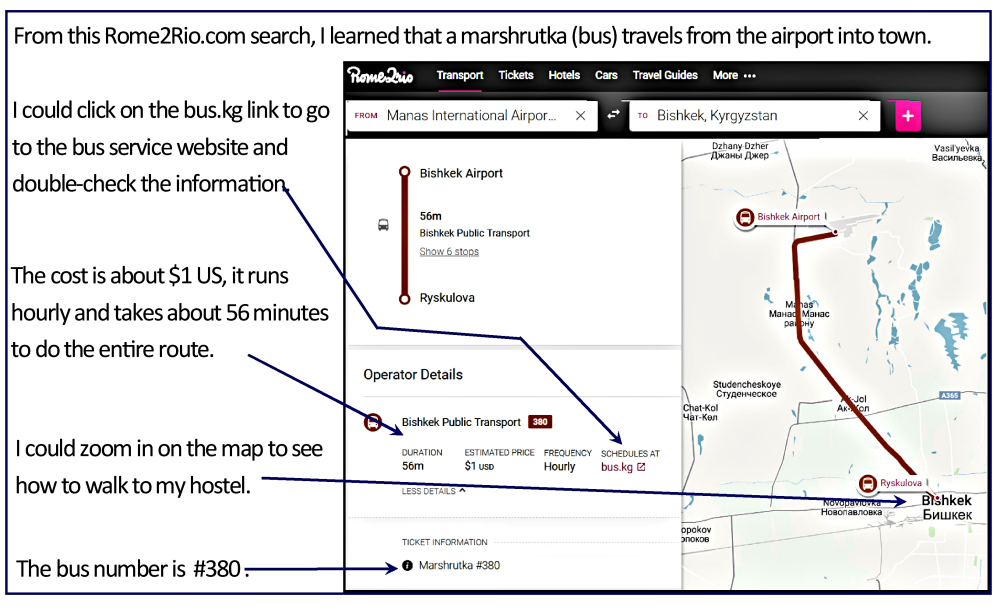 5. Collect all confirmations and directions

Once you have purchased your tickets and made lodging reservations, collect all the confirmations, maps, directions to and from lodgings, etc. in one place. Ticket details are usually emailed to you. I save each one in a separate file. Usually I create a .pdf version of the email if there is no .pdf confirmation attached. Then I load them onto my mobile device. To make it easy to find all my confirmations while on the go, I place a shortcut to each one on my home screen and place them on the screen in chronological order and with meaningful filenames. When I arrive at the airport or station, I have all the information I need to get paper boarding passes or tickets.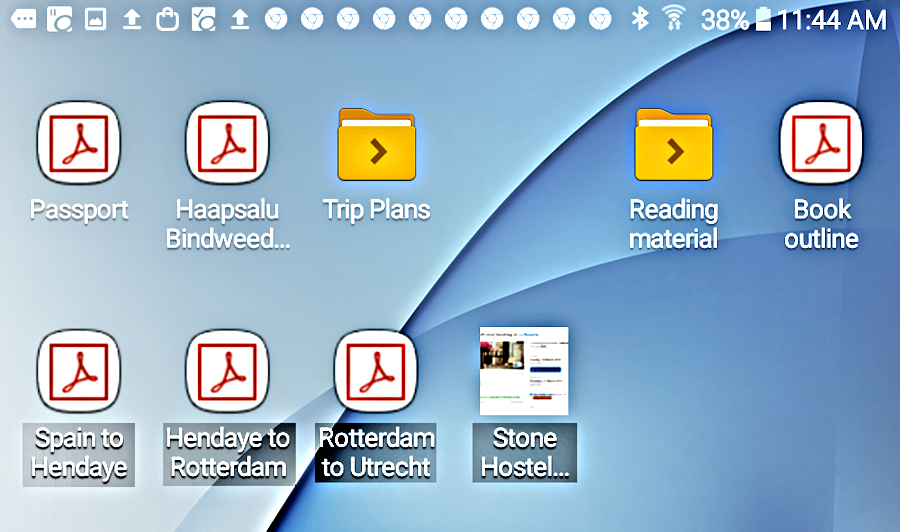 Copies of my passport and other documents I might need (like visas, etc.) are also already on my mobile device, for quick reference.
6. Download local maps to your mobile device



Utilize Google Maps' "Offline Maps" option to download a map of your next destination. Then, when you arrive, if you don't have access to the Internet, you can still get around.
ADVICE
Send your itinerary to a family member or friend.
Promise to let someone know when you have reached your destination.
TIP
Have a Plan B. If you have concerns that something might go wrong with your plans, keep "plan B" information handy. For example, is the connection time between a bus and train a little bit short? Next train isn't until the next day? Keep a list of hostels and guesthouses that are near the connecting station on your mobile device, along with a map showing where they are.
Blog Posts You May Find Interesting

I got to thinking about how challenging this marathon voyage might be when I booked it. I wondered if I was biting off more than I could chew—would it be too much for me?
Read More »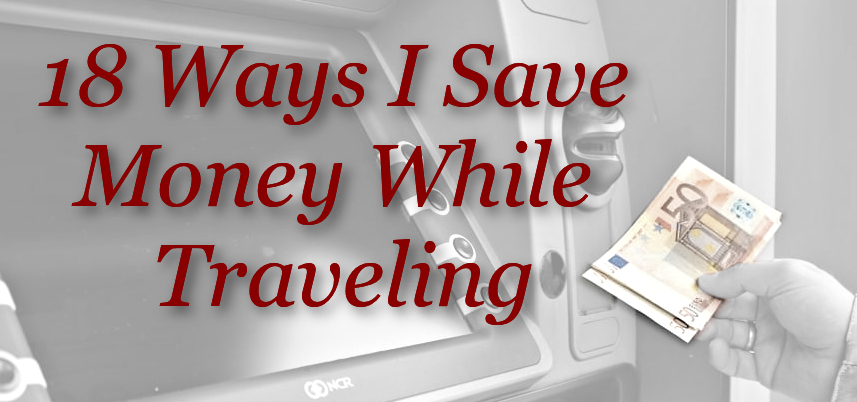 I spent 13 months in Europe during 2017-18 for less than $1,300 USD per month using the tips in this post.
Read More »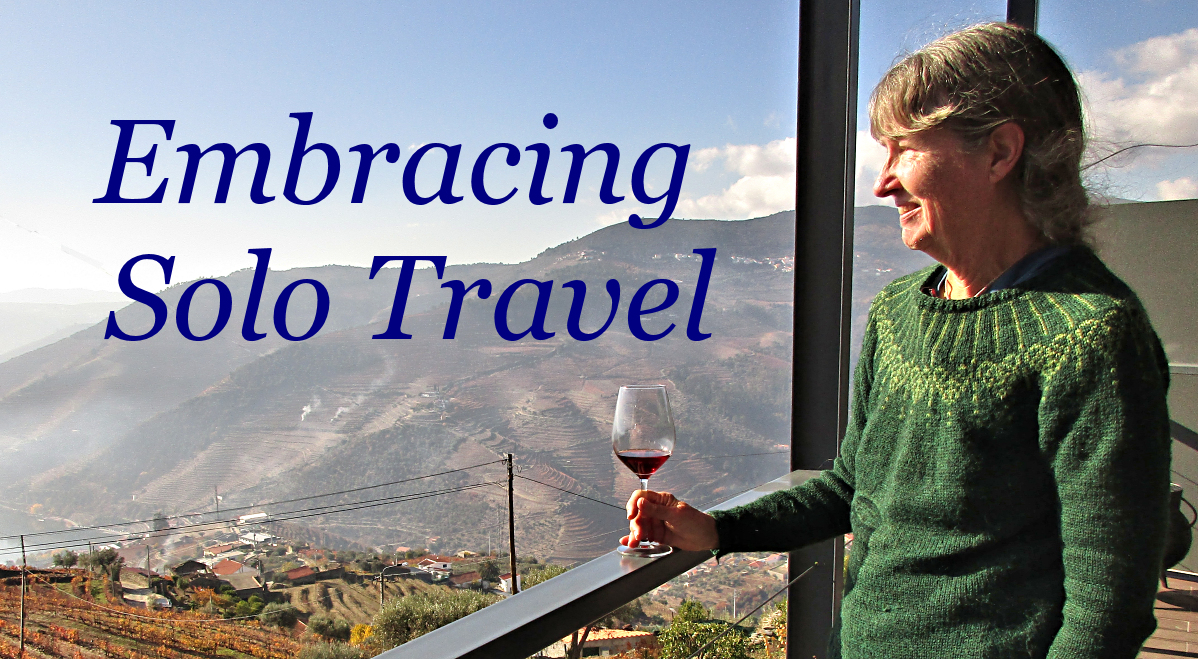 The main advantage of traveling alone is that you can decide where to go and how long to stay and you have all the say-so in your itinerary.
Read More »