Hiking the Peaks of the Balkans
Day 7: Vusanje to Theth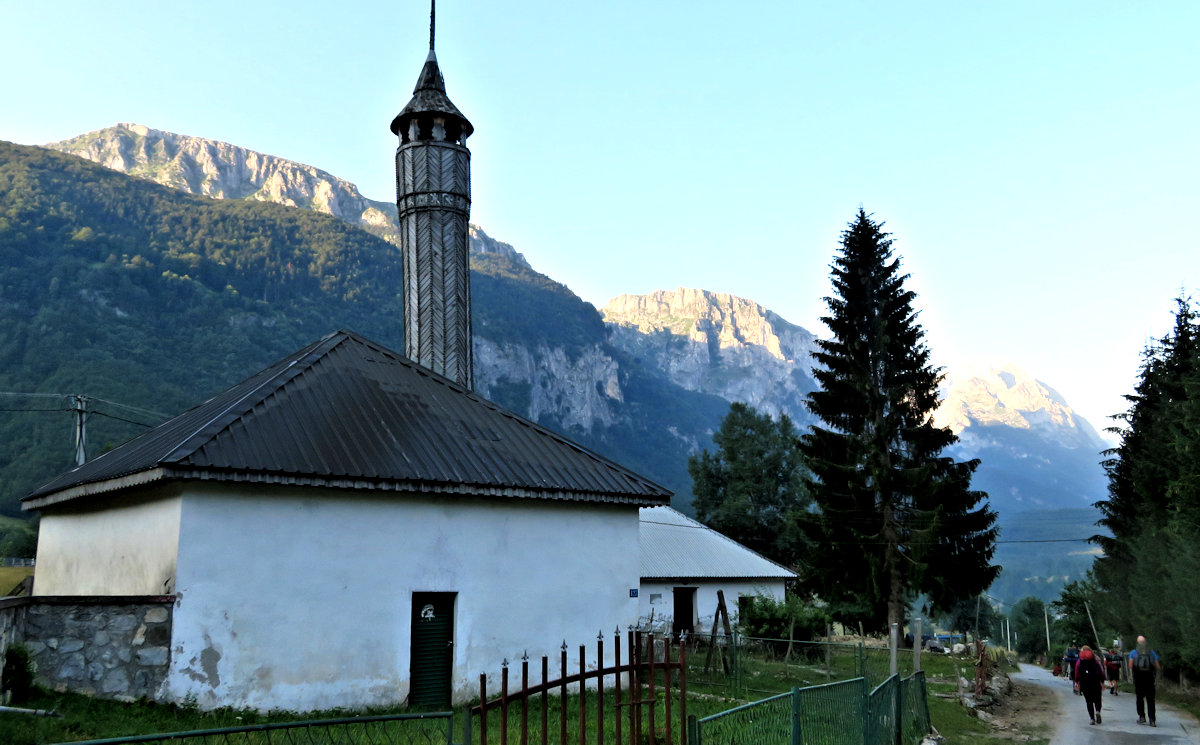 This is the eighth in a series of posts about our experiences taking on the Peaks of the Balkans trekking circuit. I traveled with my daughter Rebecca and a friend Nev Chamberlain from the UK.  We decided to make this journey without hiring a guide. 
If you want to read the series from the beginning, start HERE. 
In the last post, I will provide the resources that we used to make this excursion a success. I will also discuss the pros and cons of hiking the Peaks of the Balkans independently.
At the end of each blog post is a video recapping highlights from the day's  journey.
We began this trek right at the summer solstice. Because the sun rises so early we often wanted to begin our day's walking as early as possible. However, most guesthouses did not serve breakfast until 7:00 or 7:30 am. This usually meant that we did not get a start until 8:15 or later.  We did not question this until our last day. We knew this would be a long and difficult walk (the most difficult since our first day). We really wanted to start much earlier.
Breakfast was included in our lodging, but we would be leaving before the kitchen staff at Eko Katun Rosi guesthouse would arrive. The evening before, we asked if we could go ahead a pack some food to take for breakfast and lunch, so that we could leave by 6:00 am. The host showed me where breakfast and lunch supplies would be left out for us so we could pick them up early in the morning.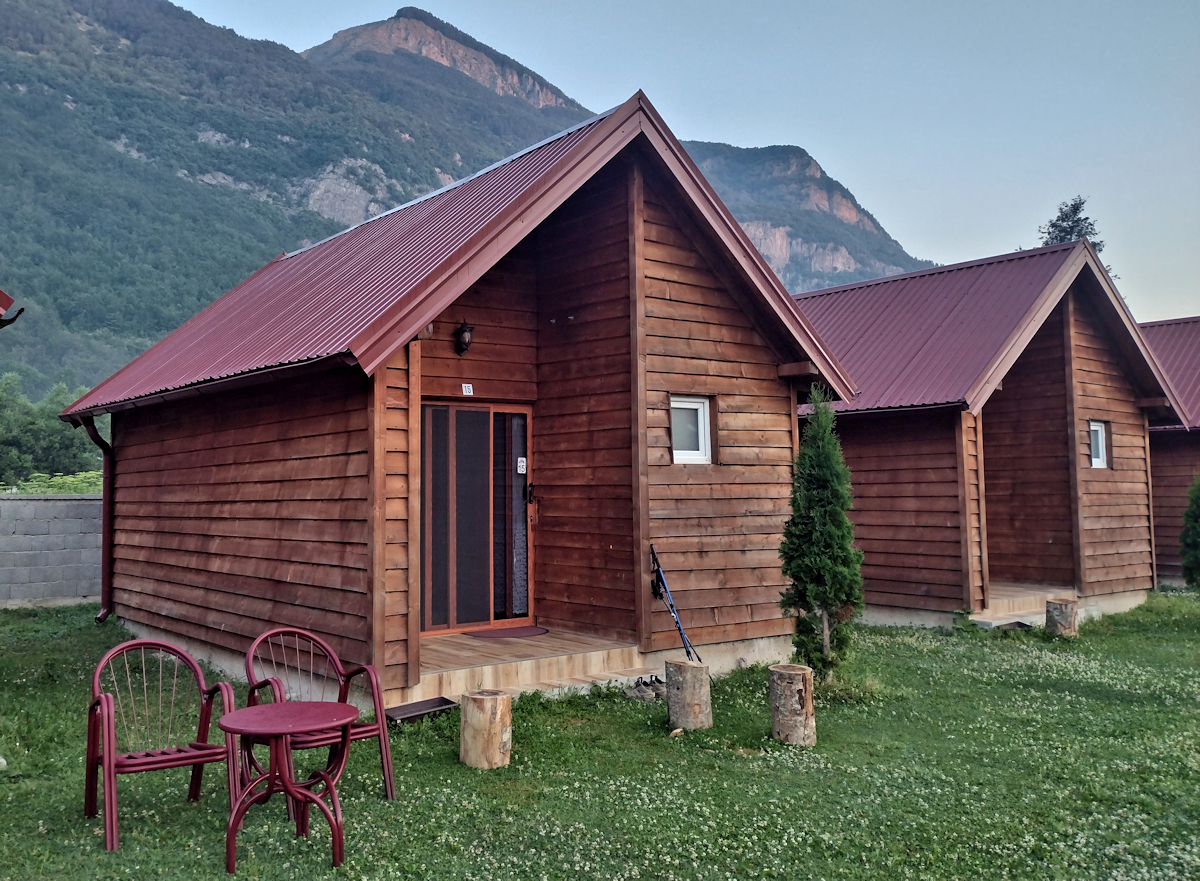 Sure enough, they even left a warmed carafe of tea for us. Breakfast and lunch ingredients were the usual boiled egg, tomato, cucumber, cheese, and bread. But paired with the nuts, dried fruits, jerky, and chocolate that we always carried, we figured it would suffice.
So, we got our early start! We wished we had insisted on this on more of the trekking days. But sometimes the language barrier held us back. Also, we did not want to be rude and ask for special treatment.
There were more advantages to the early start. Not only did we have the trail to ourselves, but the rising sun displayed the village and valley in all its glory.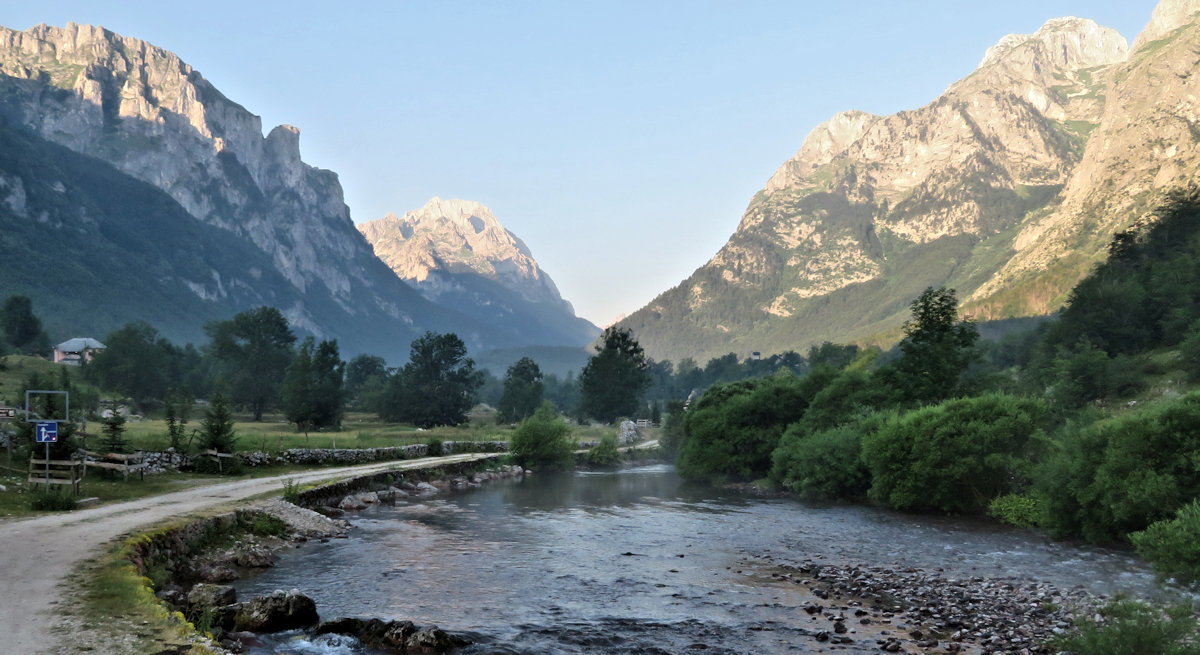 The day started out easy—with a gentle uphill following up this crystal clear river. We passed a number of campsites with trekkers breaking camp for the morning. Several of these people would pass us up as the day progressed.
We had a fairly gentle climb to the top of the pass, through beautiful meadows and forests.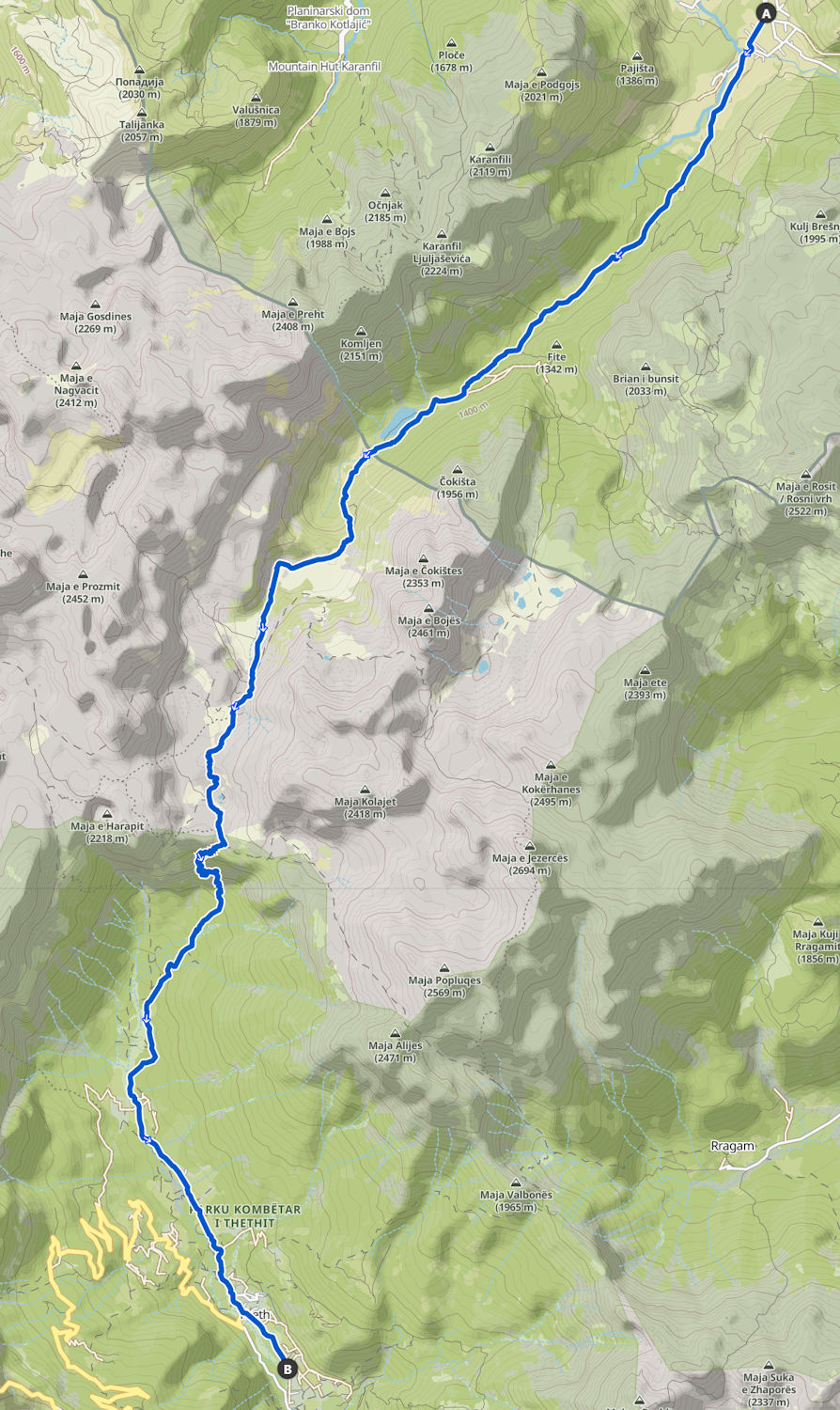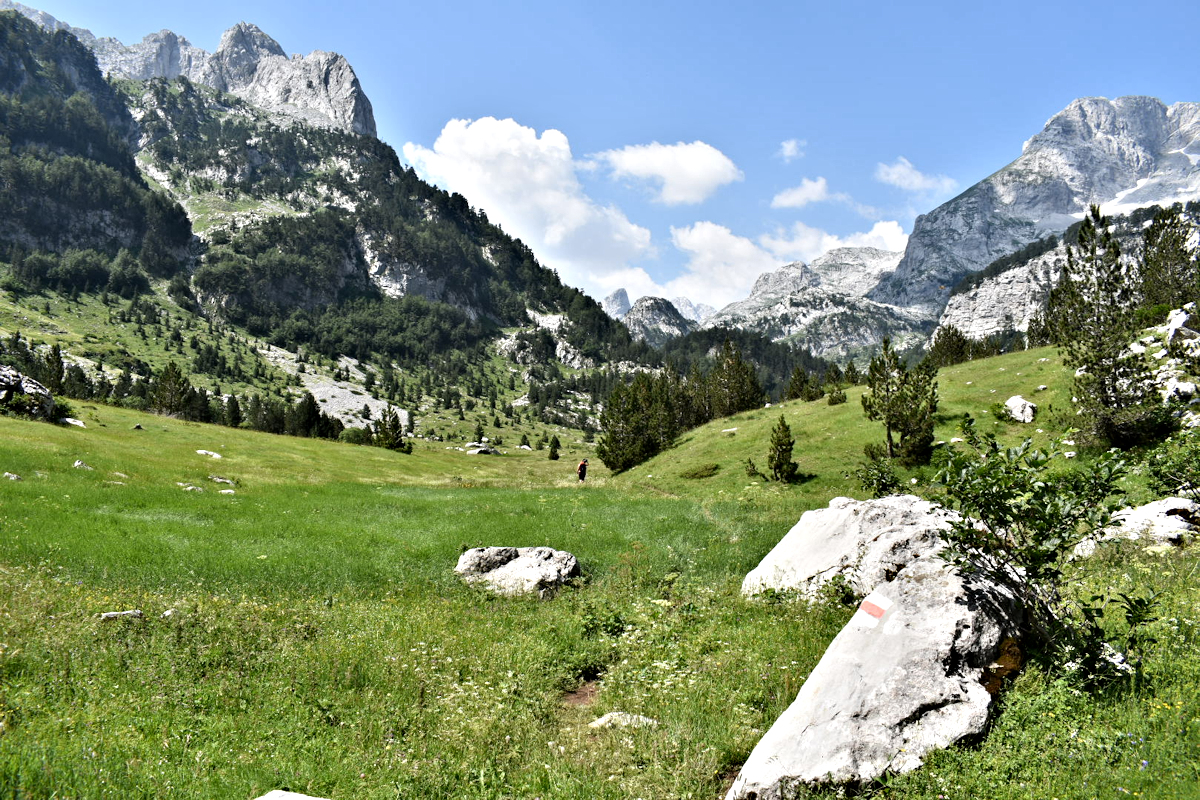 As we approached the top of the pass, the peaks became more and more rugged.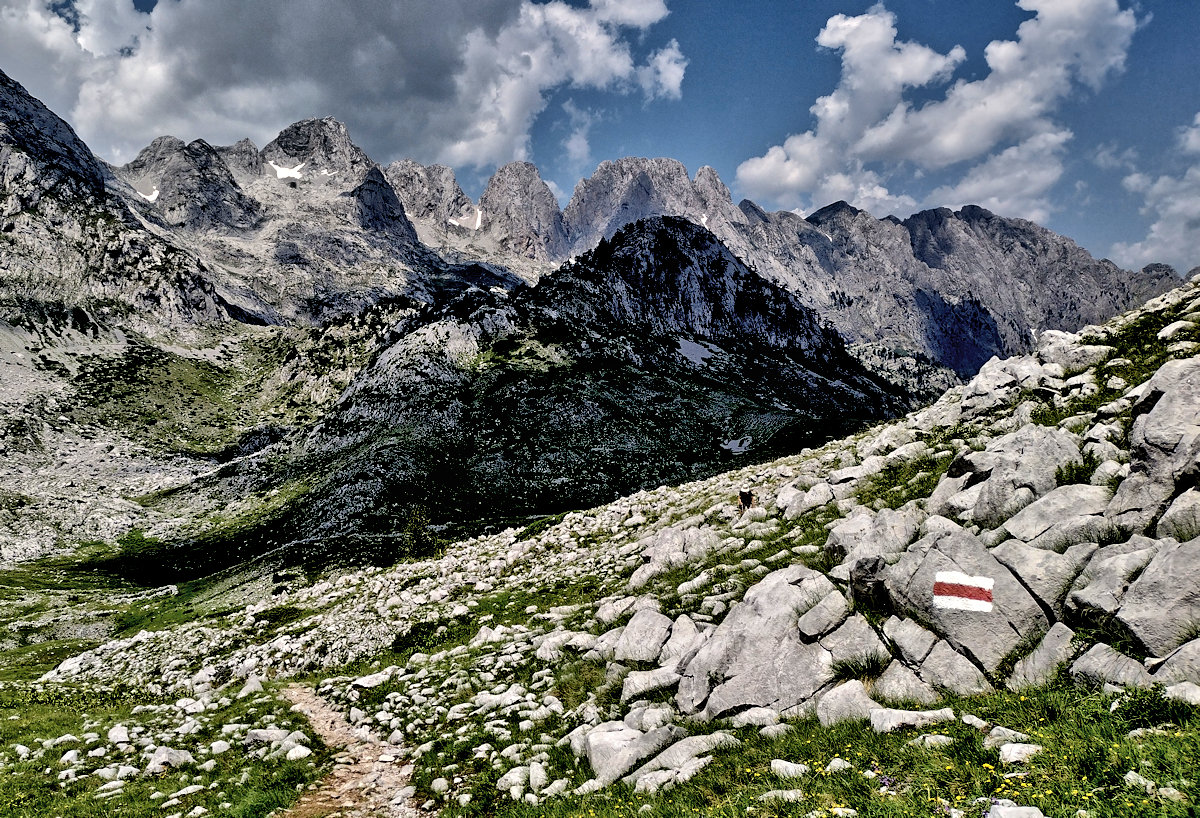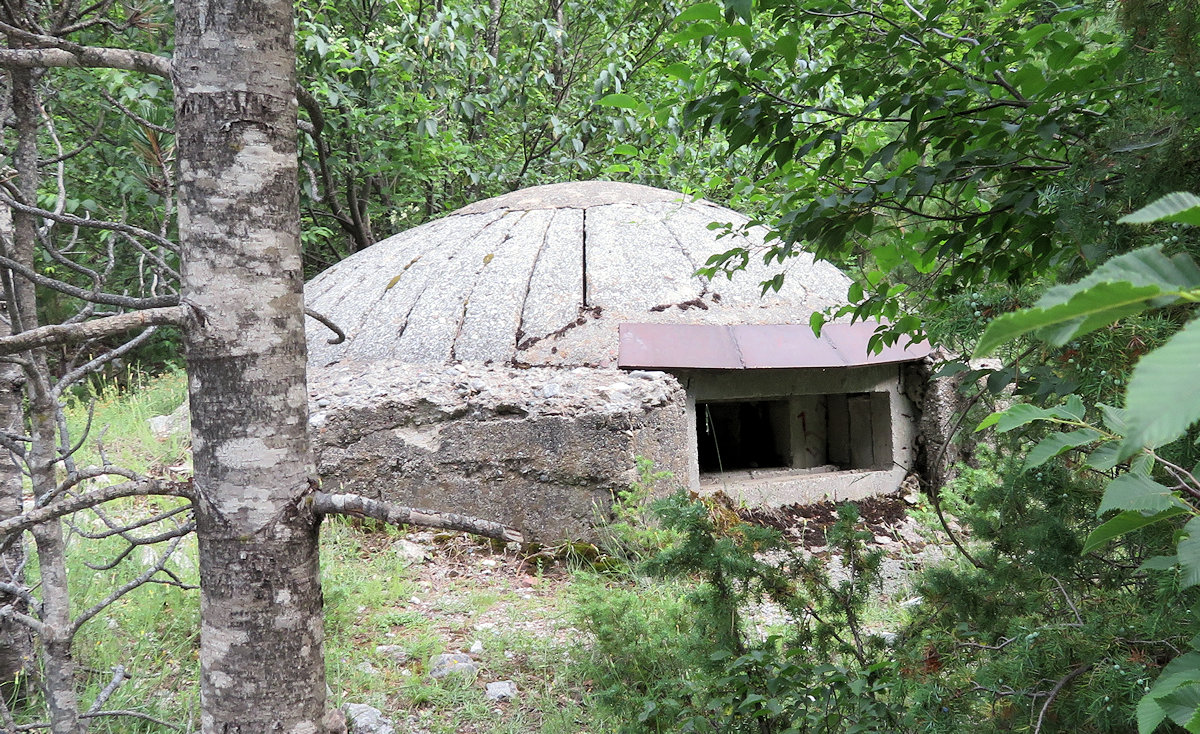 For more travel inspiration, stories, and how-tos,
subscribe to Cathleen's Odyssey.
I was having a hard time keeping up and I knew that Rebecca and Nev wanted to ensure that we finished this long day before night fell. I kept encouraging them to go on ahead and I would meet them in Theth. There were many more people on this stage of the trail because so many people come to Theth and only do this portion of the Peaks of the Balkans circuit. So, if anything happened to me, there would be other trekkers passing by, many with local guides with them. However, Rebecca would not let me get too far behind. She would stop and wait patiently for me.
Some trekkers have their luggage transported from guesthouse to guesthouse. For most stages, 4WD vehicles are used, but from Vucenje, such a transfer would entail a very long way around the mountains and a border crossing, so horses are used to take bags along the same trail that trekkers use. Soon after we topped the pass and began the challenging downhill descent, three pack horses passed us up. I looked back up the switchbacks. One horse was balking. Apparently, he knew how difficult that trail was! In the end, the horsemen had to distribute his load among the other horses. One of the horsemen also donned a pack, and they abandoned the (smarter) horse at the top of the pass. I wondered later what really happened to that horse!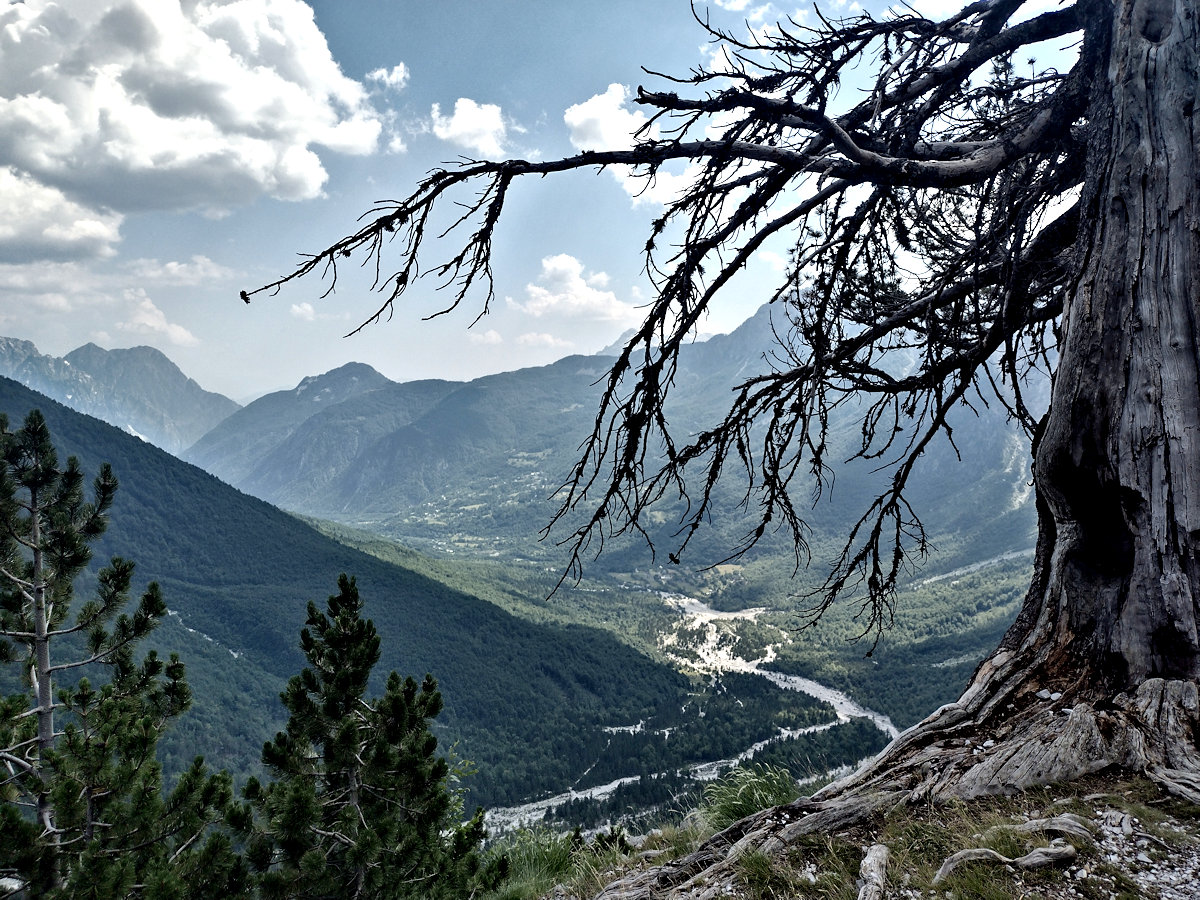 I had not been looking forward to this last challenge of the trek. And it lived up to its reputation, with myriad switchbacks and trails that were so narrow that faster hikers could not easily pass me. There were a lot more hikers—many in groups of 10-20 people—on this stage of the Peaks of the Balkans circuit. I was constantly trying to find places where I could step aside to let people pass. This slowed me down even more.

This was yet another trail with many rocks that tend to slide beneath your boots, making me constantly fear that my feet would slide out from under me. After almost three hours of this, I was thoroughly exhausted.
We took few photos of this part of the trail. We spent all our energy making our way down. The drop-offs from the trail were sobering at times.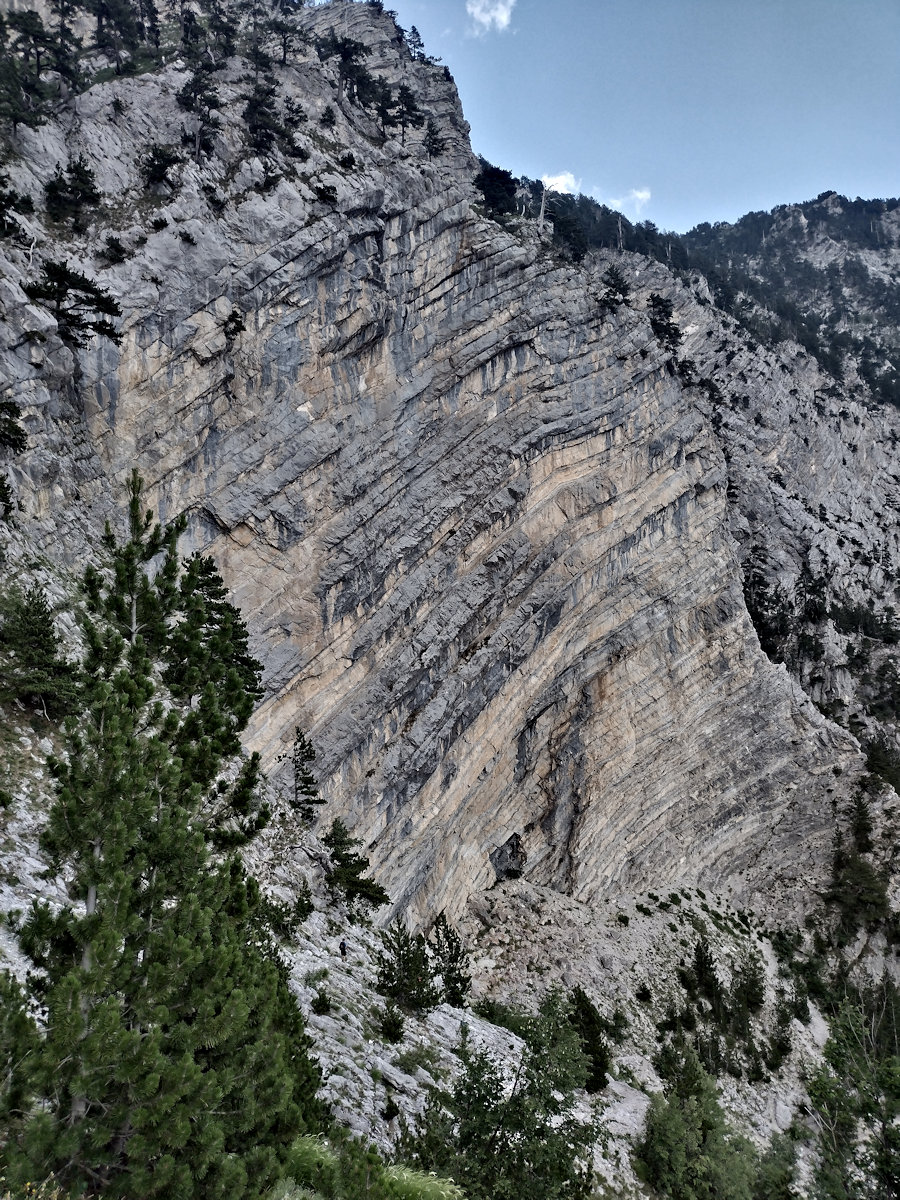 As we dropped over the pass, Nev realized that he might not have enough water if he slowed down too much. I was glad that he went on ahead, and we ended up meeting at the bottom of the steep downhill section of the pass, where a nice little café offered cold drinks to hot, tired hikers.
After refreshing ourselves, we still had about five kilometers to go. Again, I had misjudged the location of our guesthouse and it turned out that we had to hike almost to the opposite end of town to find our lodging for the night. Nev reported that we had hiked 18 miles (29 kilometers) that day—by far, our longest day of the trek.
As we trudged up the last pathway to the guesthouse, we were met by our hosts at Bujtina Miqesia who could speak a little English. I was beyond exhausted and really need to get off my feet. Nev and Rebecca were not much better.

It took us no time to get our showers and return downstairs to eat dinner—a set menu. As in previous guesthouses, food was just brought to our table for us to eat family style. We did a pretty good job at polishing off almost all this food before we crawled back upstairs to our beds. Ibuprophen taken with a bit of the wine calmed my inflamed muscles enough to make it possible to sleep.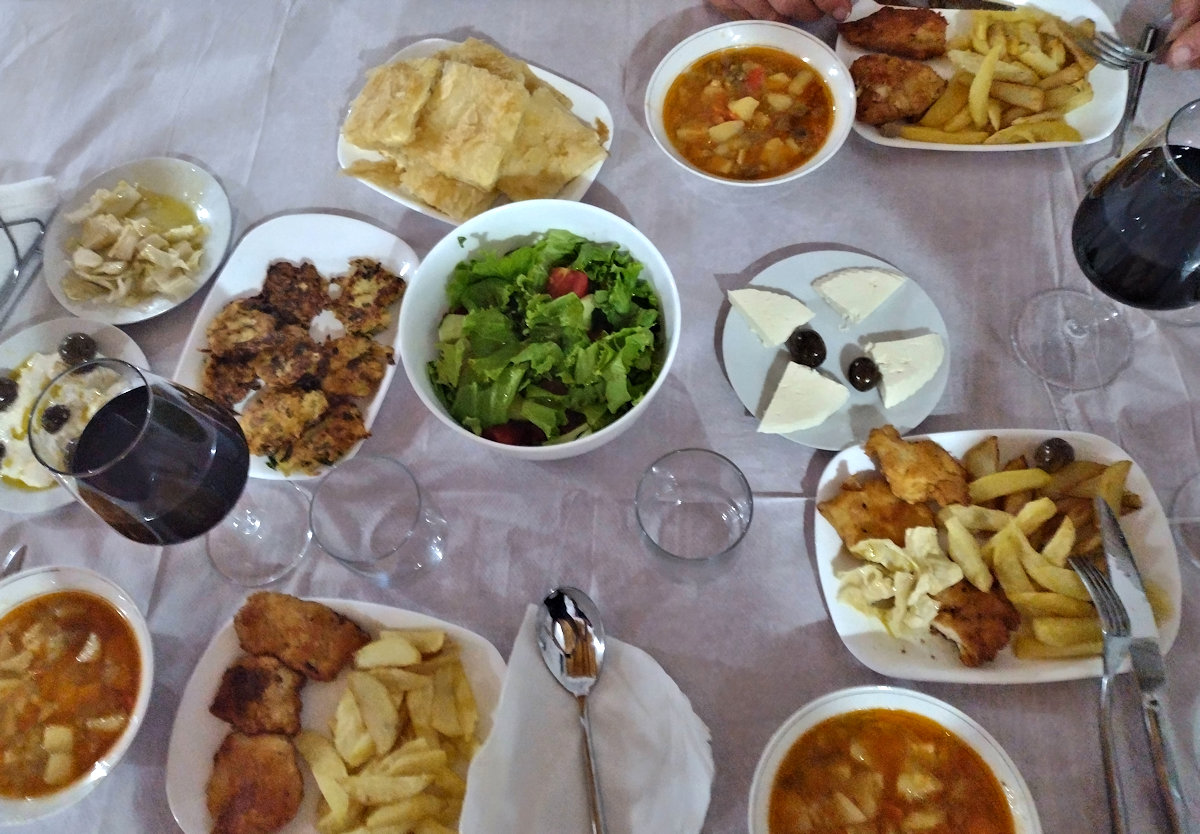 The next morning, we were relieved to wake up with the knowledge that we would not be hiking again for a while!
Our host was planning to go to Skhodër and offered to take us there for 1200 leks (about $10 US) each. That was a pretty much the going rate, and we did not have to walk down to the center of the village to find a local bus.
The driver told us not to fill out water bottles. After about 20 minutes, we found out why when we came to these pipes flowing with clear, cold, and delicious mountain water.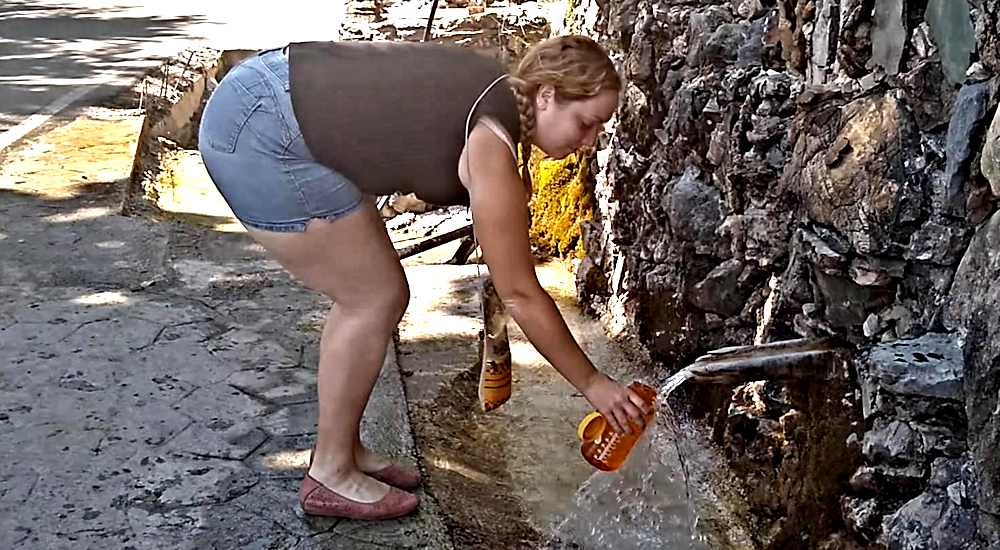 For a little bit, we shared the road with a large flock of sheep.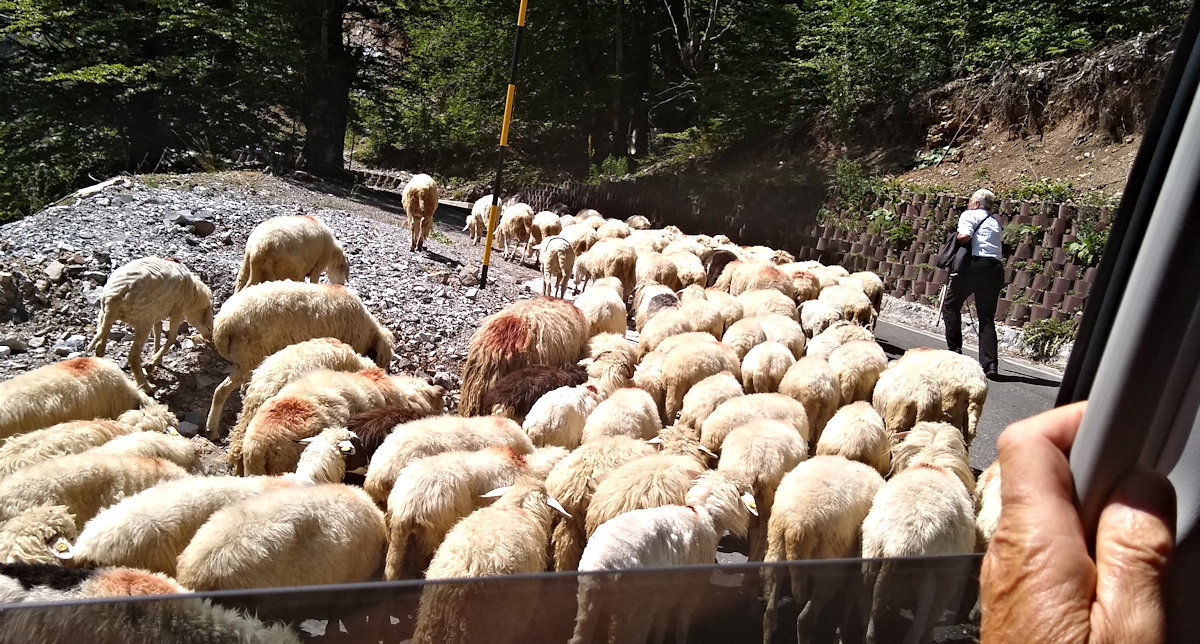 But it was not long before we were back in the beautiful city of Skhodër, Albania.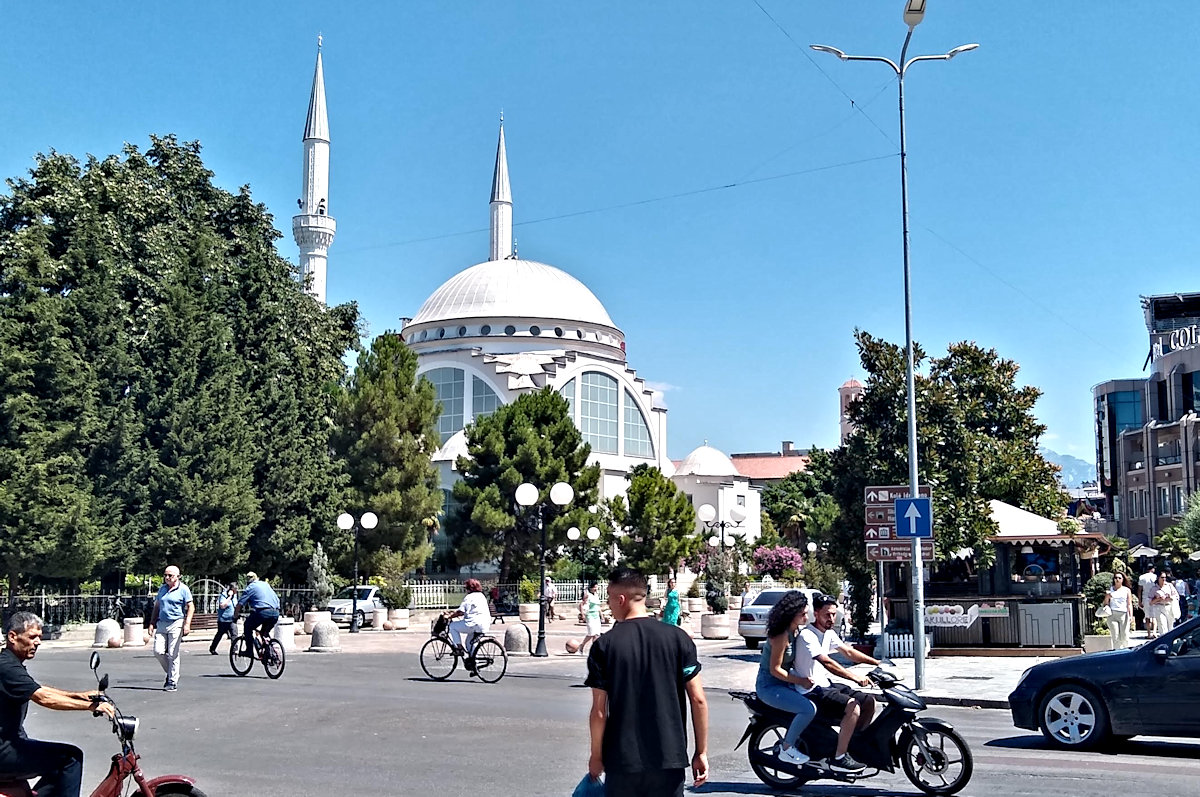 Other Blog Posts You May Find Interesting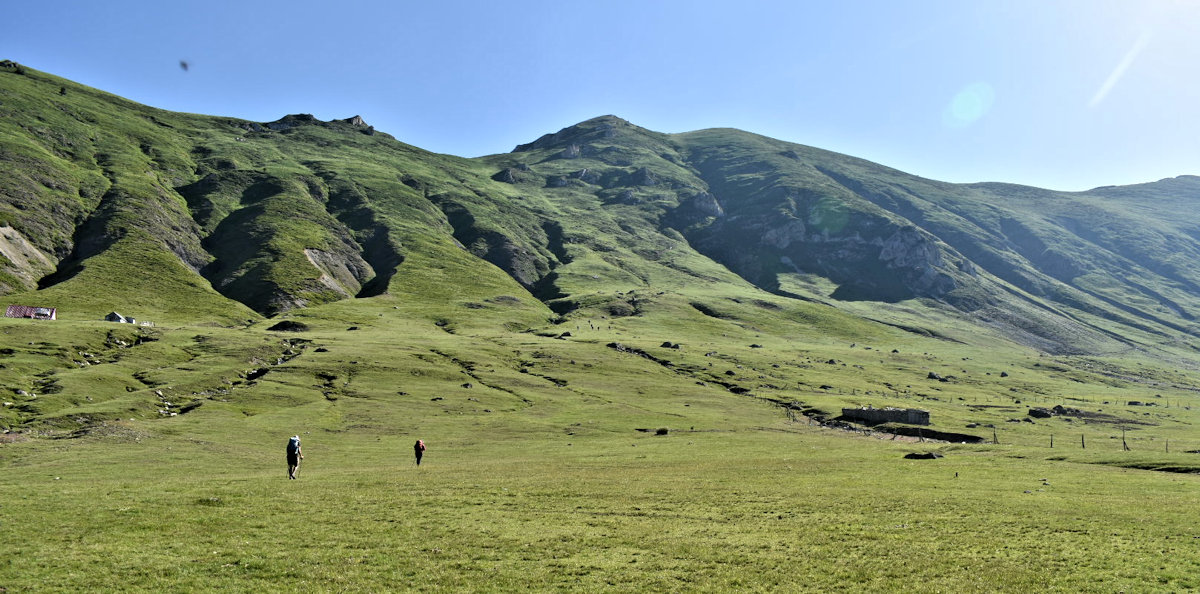 This was the longest stage so far….We enjoyed long easy walks up and down along ridges and over some low passes from one valley to another.
Read More »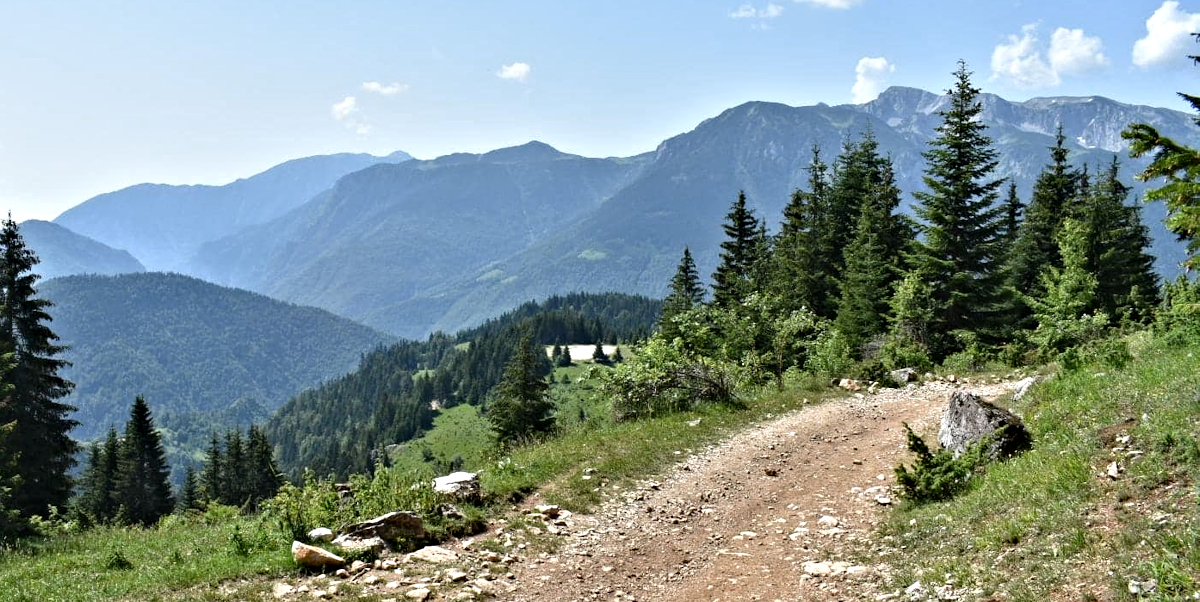 Becca and I were getting hiking weary. The steep daily ups and downs were taking their toll on our knees and feet.
Read More »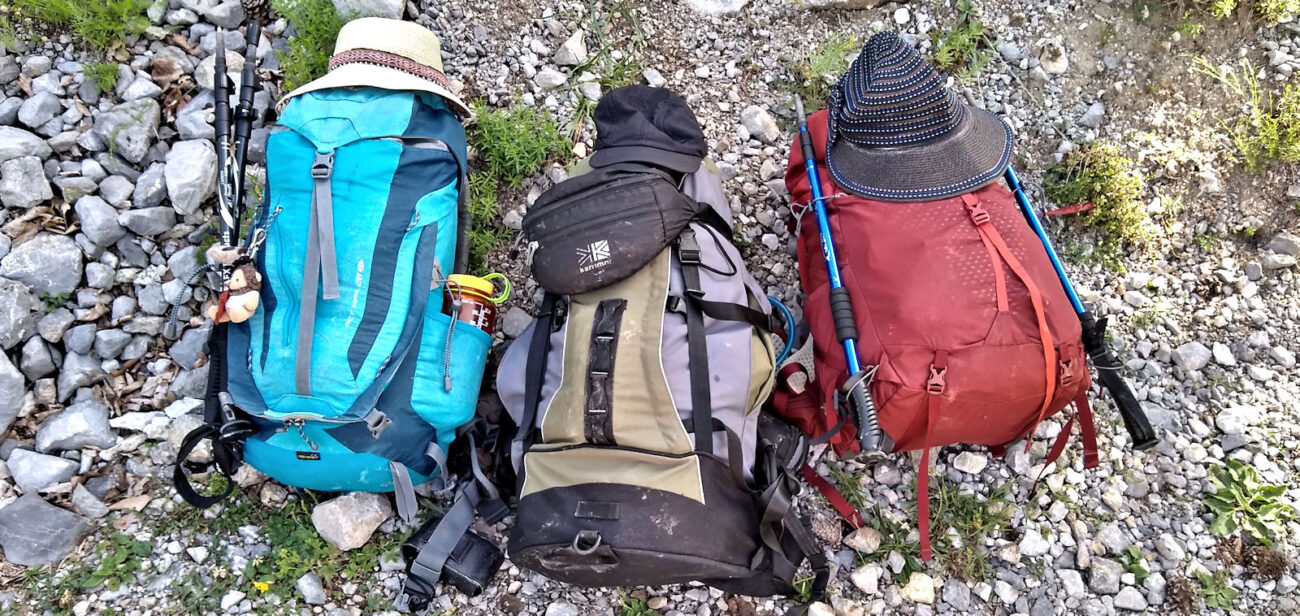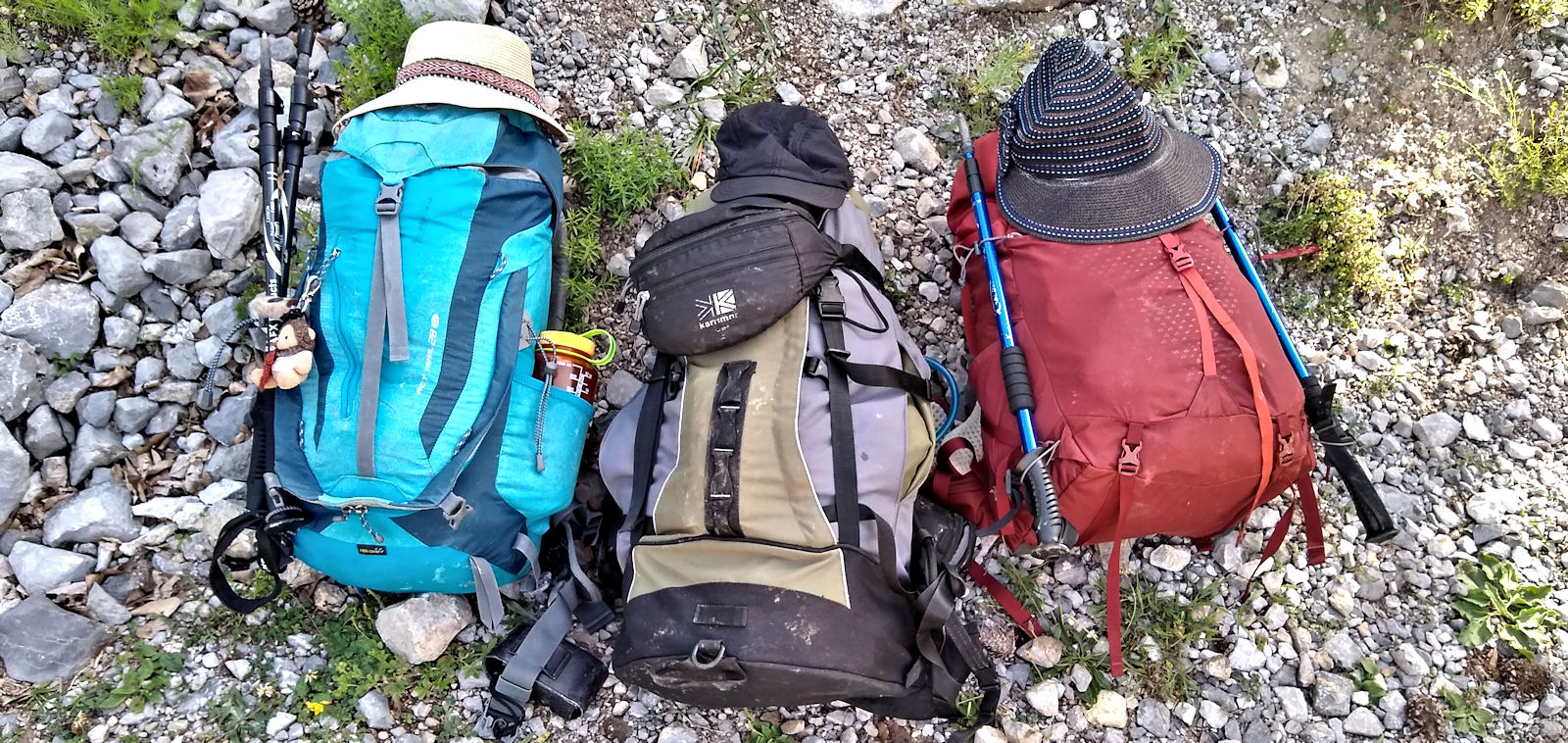 We decided to start our journey in the small town of Valbona, then hike counter-clockwise (anti-clockwise for my British friends) around the trail circuit ending in Theth.
Read More »