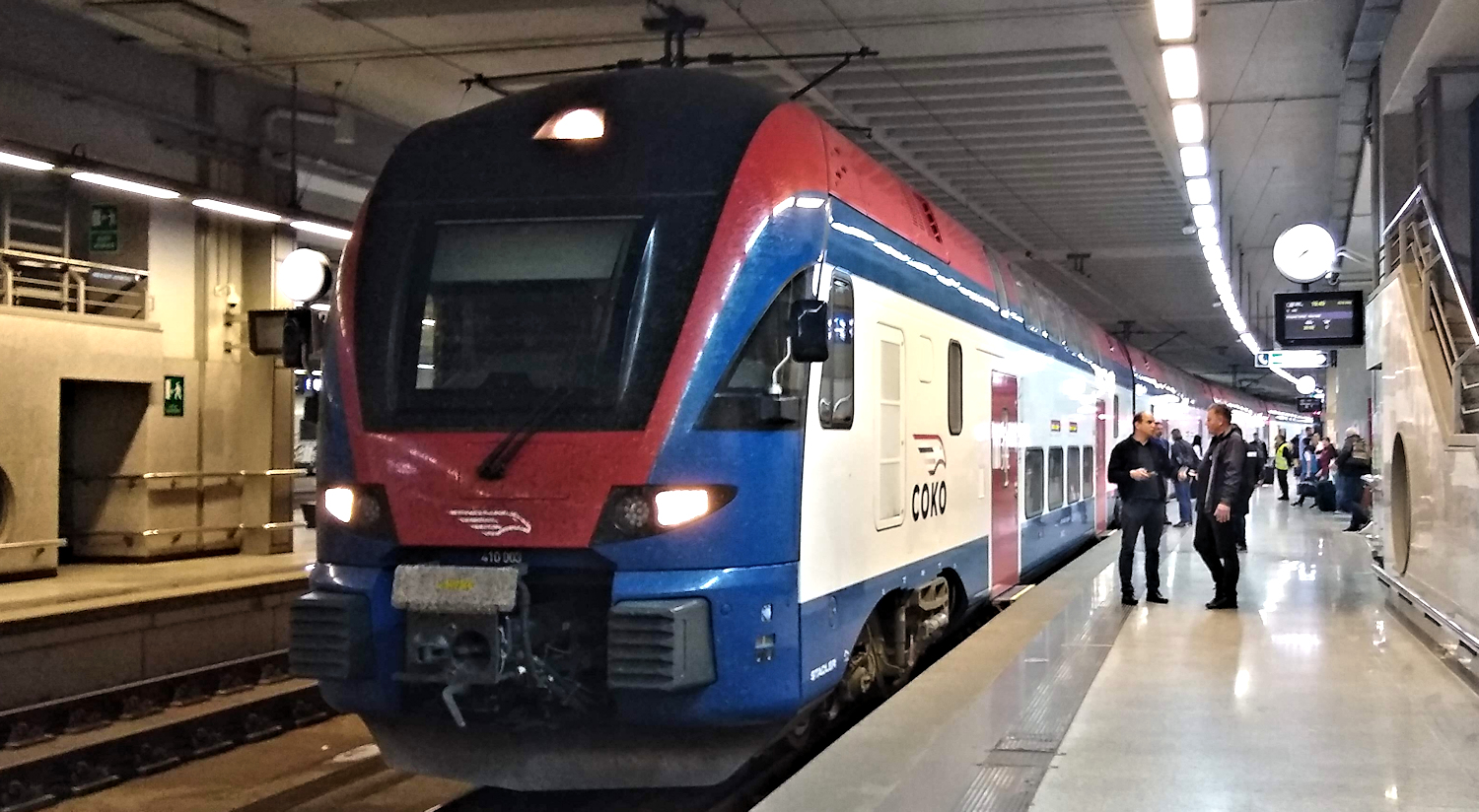 "The Best Laid Schemes of Mice and Men…"
You may remember from last fall (2021), I wrote a series of "how I travel" articles called "Look Over My Shoulder," where I outlined the methods I use to take journey planning from the Dream to Reservation Stage. In it I used a train journey across Europe as an example.
Let's back up a little. I finished Stage 6 in this series on Independent Travel Planning in October 2021. The Covid infection rates were down worldwide, and things were looking up for travelers…and everyone else in the world. These were the last paragraphs of that blog post (edited for brevity):
As I am writing this post, I am still in the detailed planning stage of my next trip. I have already added and deleted destinations…
I will continue to keep you updated as things develop. It is October 2021 and COVID may still have some curve balls to throw at us…We plan to begin the journey in February 2022. I hope we are prepared to cancel this trip without disappointment, if necessary. 
Enter the Delta Omicrom Variant…and the reservations I had made crumbled one by one. Country borders that had shyly opened slammed shut, making a multi-country train voyage impossible. I put those plans on hold. A couple months later, I began a new set.
Fast Forward…I'm Traveling Again!
In March I left for Greece and Turkey. Turkey had a "health passport" of sorts which everyone had to carry. I applied for it along with my visa and received both codes by email. The day I arrived in Istanbul was the day that Turkey ended the health passport requirement. At least I had not paid for it. And it would be easier to travel without having to scan it every time I stepped on a bus or crossed through security screens at train stations.
I enjoyed my six weeks in Turkey. Borders opened again and my daughter Rebecca joined me in Belgrade in April 2022. My epic train journey plans were left on the drawing board, but we were more than happy to spend three months in the Balkans together.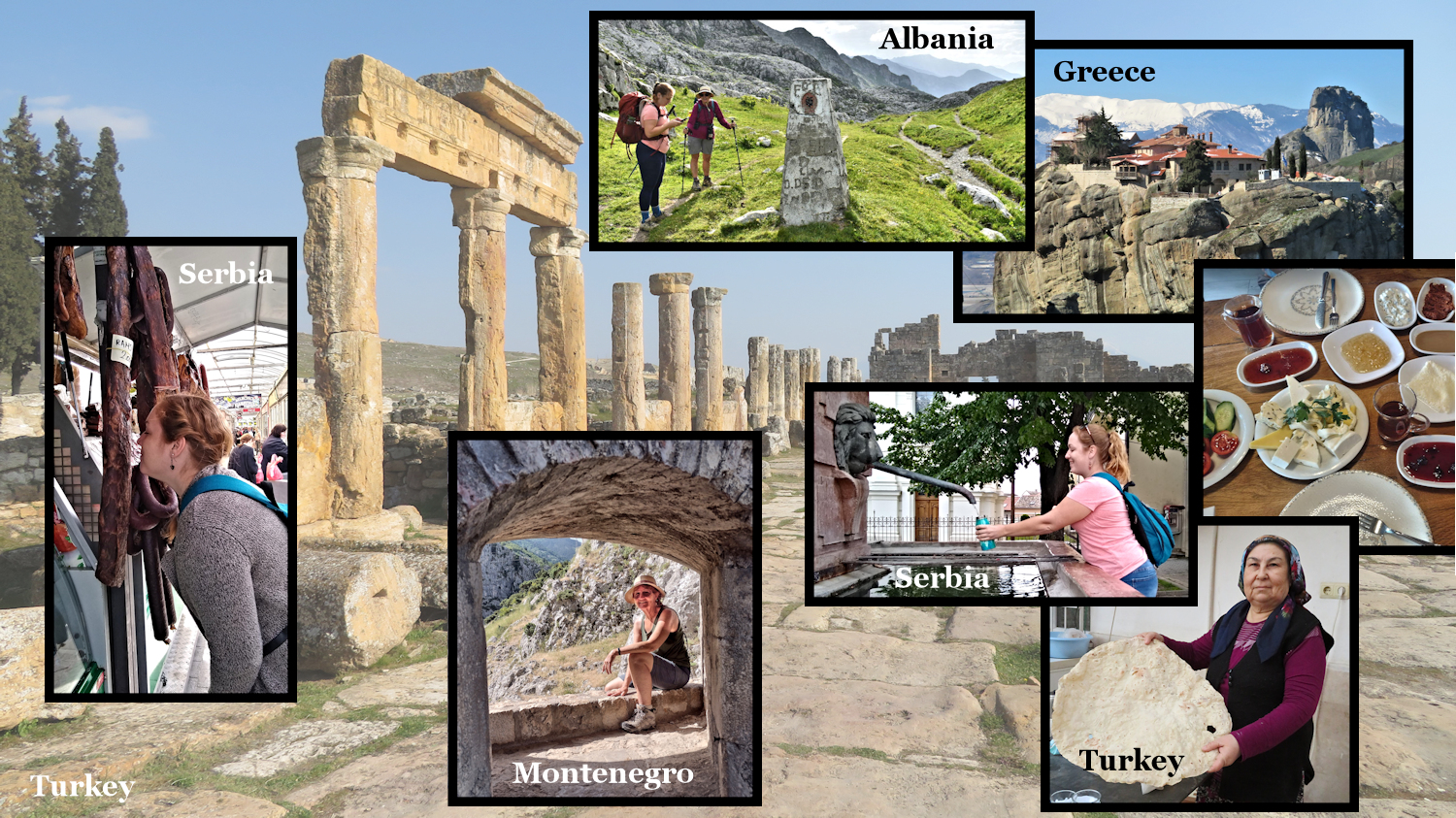 But What about that Train Journey?
You know? I could just not get that that epic "Orient Express" train journey out of my mind. By the time I revisited the idea a couple weeks ago, I was in Kutaisi, Georgia thinking about where I should go next. I found myself torn among four choices:
Heading for Central Asia (east) to Uzbekistan
Returning to Europe by taking my customized "Orient Express" westbound
Walking a winter Camino pilgrimage in Spain from Pamplona to the Atlantic
Get in some late winter-spring hiking in England, Wales and Scotland
I kept wanting to clone myself and do them all.
Then it hit me! I COULD do them all—couldn't I??? Out came the computer and all my epic journey plans. They would not go to waste after all. Here is my current plan:
 1. Fly from Tbilisi, Georgia to Almaty in Kazakhstan. Then begin my journey east along the "Silk Road" through Uzbekistan, across the Caspian Sea, the Caucasus and Asian Turkey—mostly by train and ferry. (November)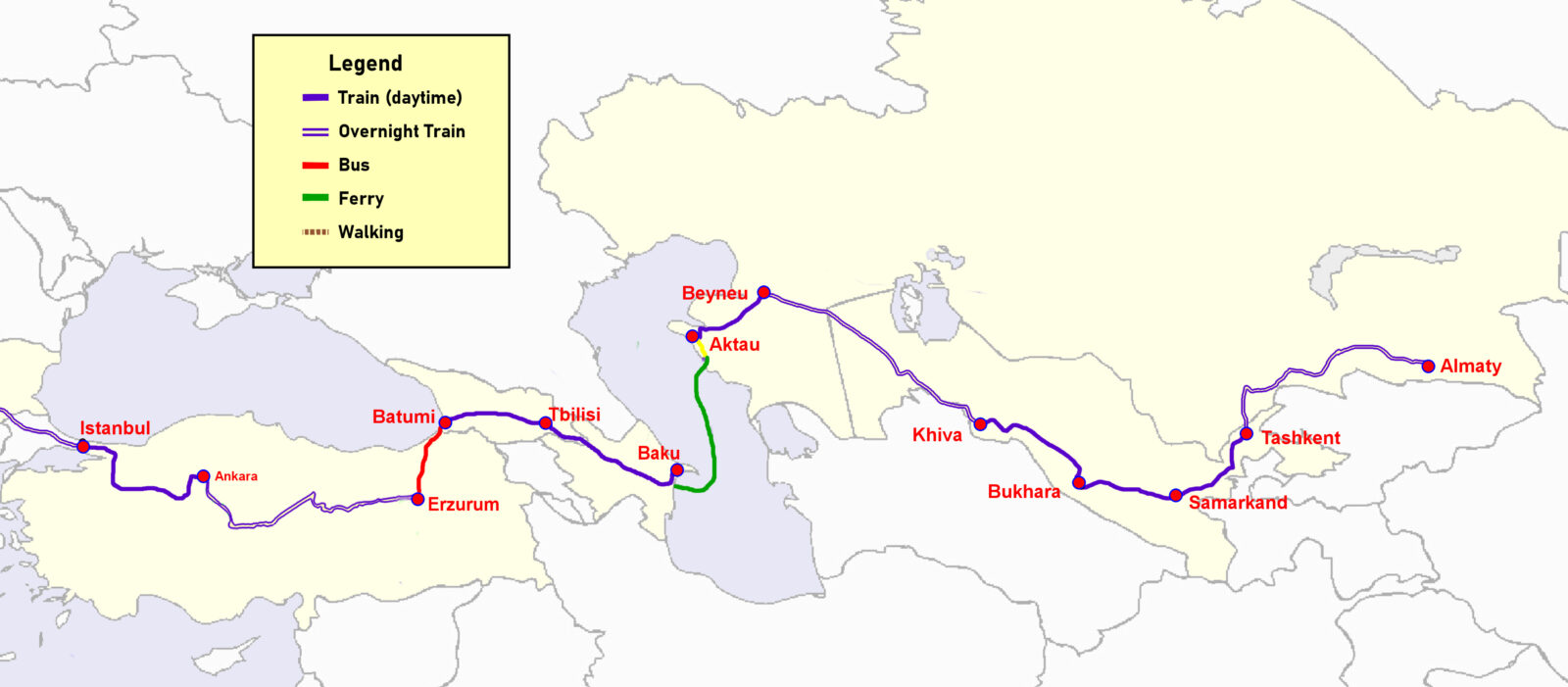 2. Hook up with my "Orient Express" route in Istanbul, where the original terminal railway station still stands but, sadly, is no longer in use. (December-January)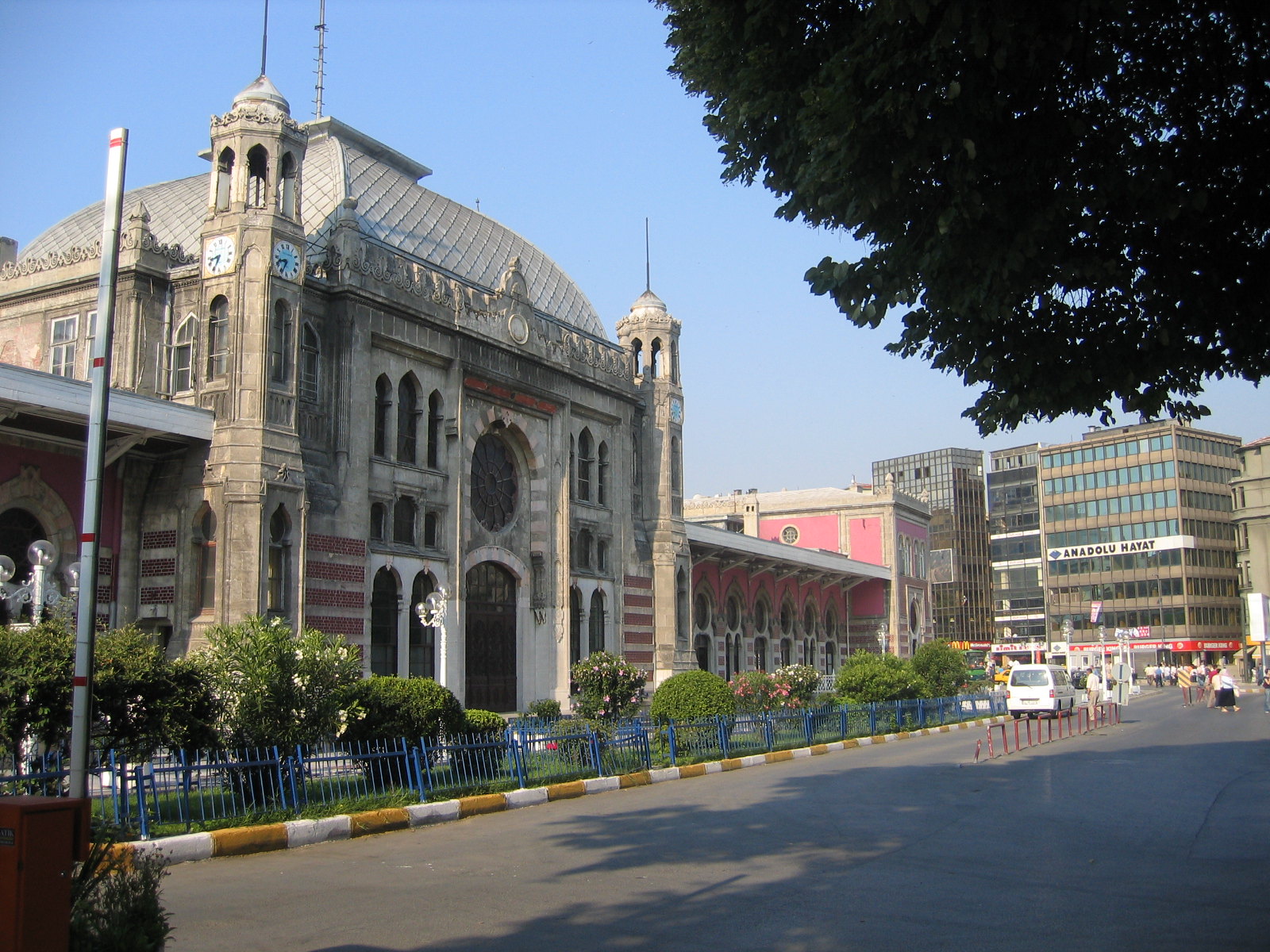 The Sirkecki Railway Station in Istanbul—the original terminus of the Orient Express— is still a majestic structure.        (Courtesy Luxury Train Club(CC BY-SA 2.0))
3.  After a couple days in Paris (the western terminus of the original train journey), hop on another set of trains to Pamplona in Spain to begin walking the Camino de Santiago to the Atlantic Ocean. This is the traditional end of the original Celtic pilgrimage in Northern Spain. (February)
4. Take a ferry from Santander, Spain to Plymouth in England and choose among many, many possible off-season walks. (March-April)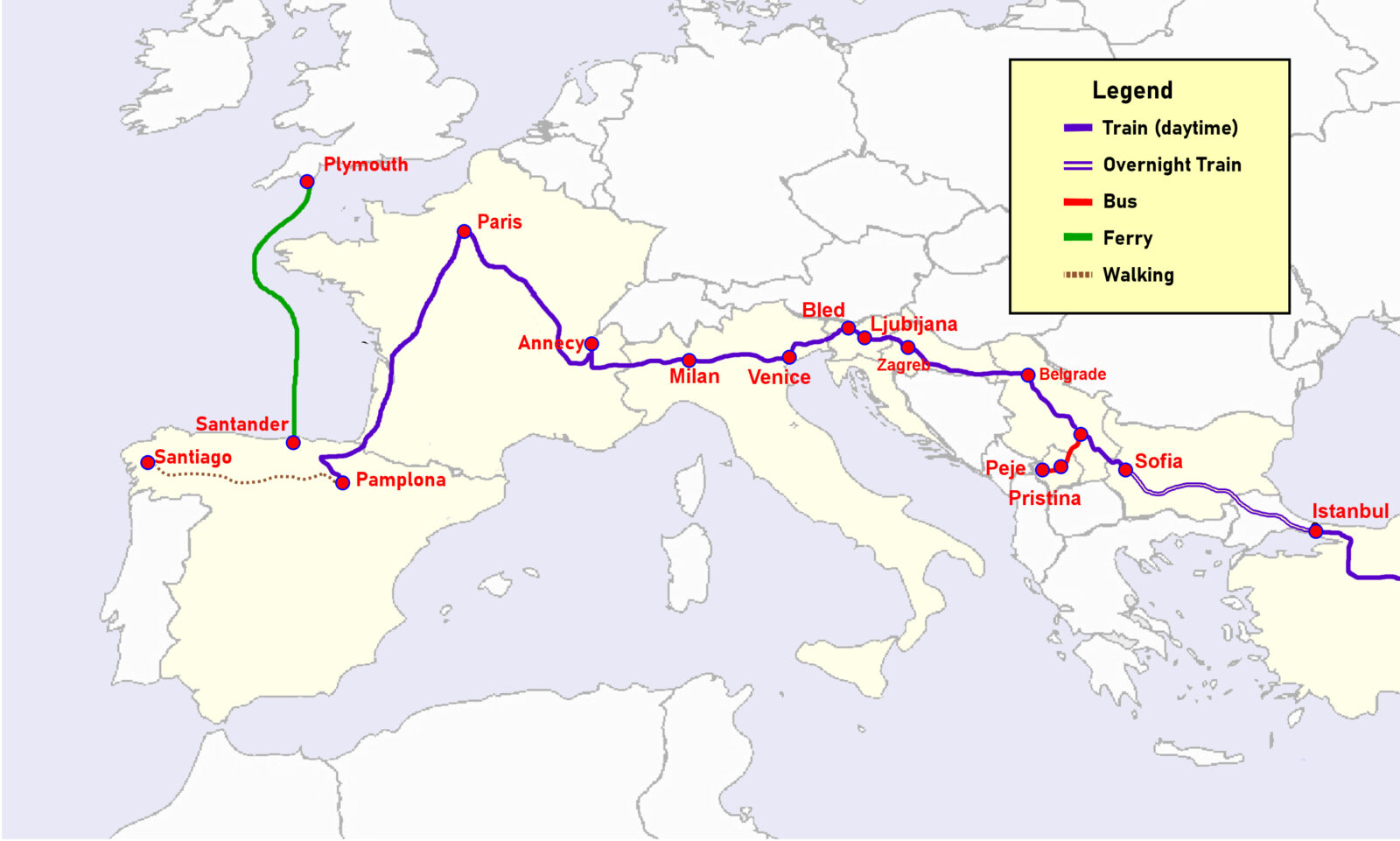 But Really…Can I Do This?
 Of course, it will take a great deal of perseverance to achieve the whole thing. And I fully expect to make changes in the plan once I am engaged in it. After all, flexibility is the blessing that is bestowed on independent travelers.
For example, it may not be possible to take the ferry from Kazakhstan to Azerbaijan because—as of this writing—the land borders into and out of Azerbaijan are still closed. (Interestingly, it is possible to fly to Baku, the nation's capital, but please don't ask me to make sense of that!)
It is also possible that I may get sick and tired of trains—or changing places so often—or horrid winter weather.*  And don't forget, Covid (or something else unexpected) may rear its ugly head again. I am giving myself permission to change the plan or bail altogether.
 "Why winter?" you ask?
Well, a few years ago, when I overwintered in Scotland and Ireland, I found that the solitude that you can find in winter can outweigh the cold. That is IF you have really good boots, a comfortable jacket, rain pants, wool tights, and a positive attitude. Watching the weather forecast and planning outdoor activities during lulls in winter storms is also a good strategy.
I am hoping to be disciplined enough to heavily document the journey with photos, videos, stories, and a bit of history as I go. So stay tuned for that!
So…the Looking-Over-My-Shoulder Part
(I created a new planning spreadsheet.)
In previous posts of the "Looking Over My Shoulder" series, you have seen images of various planning spreadsheets I have used. There was so much to keep track of that I developed a new one for this journey.
One problem I often encounter is that I find myself changing dates for various reasons. Sometimes I decide to stay in a city a few extra days because there are just so many things to do there.
A challenging issue on my upcoming trip is that the train from Khiva, Uzbekistan to Beyneu, Kazakhstan only runs on Sundays. So, I have to make sure that I will be traveling that leg beginning on Sunday.  If I miss it, I have to wait a week.
There are other reasons to know the day of the week you will be in each location. Some destinations may be more crowded or lodging prices may be higher on weekends or holidays. Knowing the day you will be landing there can be useful.
Also, when researching train and air fares, I may decide to alter my travel day to save money.
Changing dates has a fallout on the rest of the itinerary. This was driving me crazy.  So, I developed a Travel Planning Calendar spreadsheet. I can change the number of days I am staying in a location or change the start date and the spreadsheet will do the date calculations for me for all the following destinations and travel days.

This makes it less likely I will make a mistake when reserving lodging. Also, it helps with subsequent bus or train reservations.
You can download a free version of this Excel spreadsheet. (It will also work with other spreadsheet apps, like Google Sheets.)
So, all you travel planners out there: stay patient with this planning circus that has emerged after Covid. I am cautious that this may not be the end of our travel planning challenges.
Other Blog Posts You May Find Interesting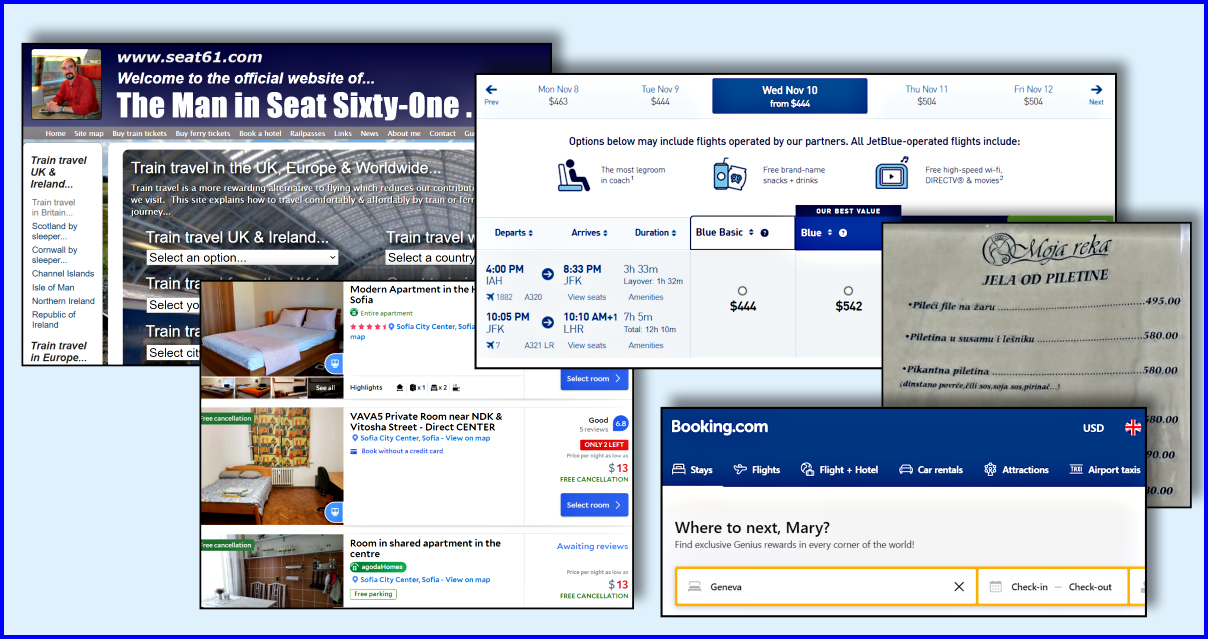 It is time to do some preliminary research to get a ballpark idea of how much this will cost. If it is beyond my financial means, now is a good time to cut out some venues, before I get my heart set on all of them.
Read More »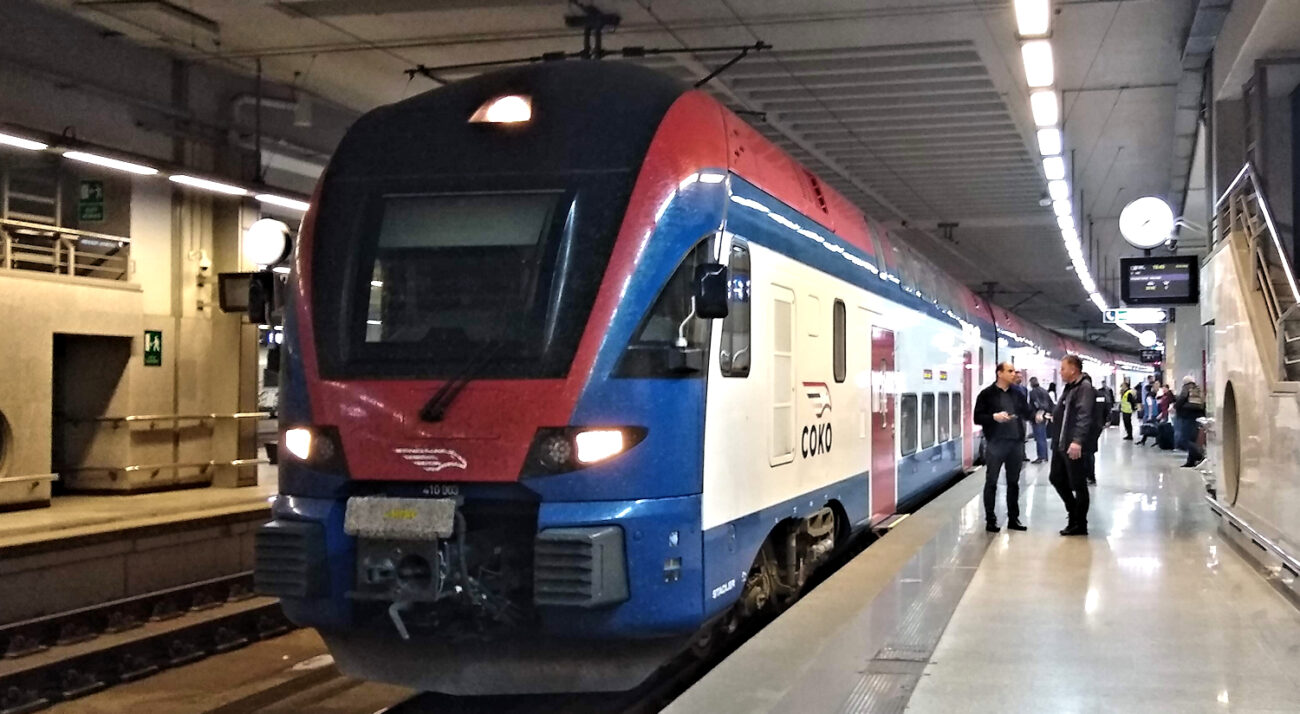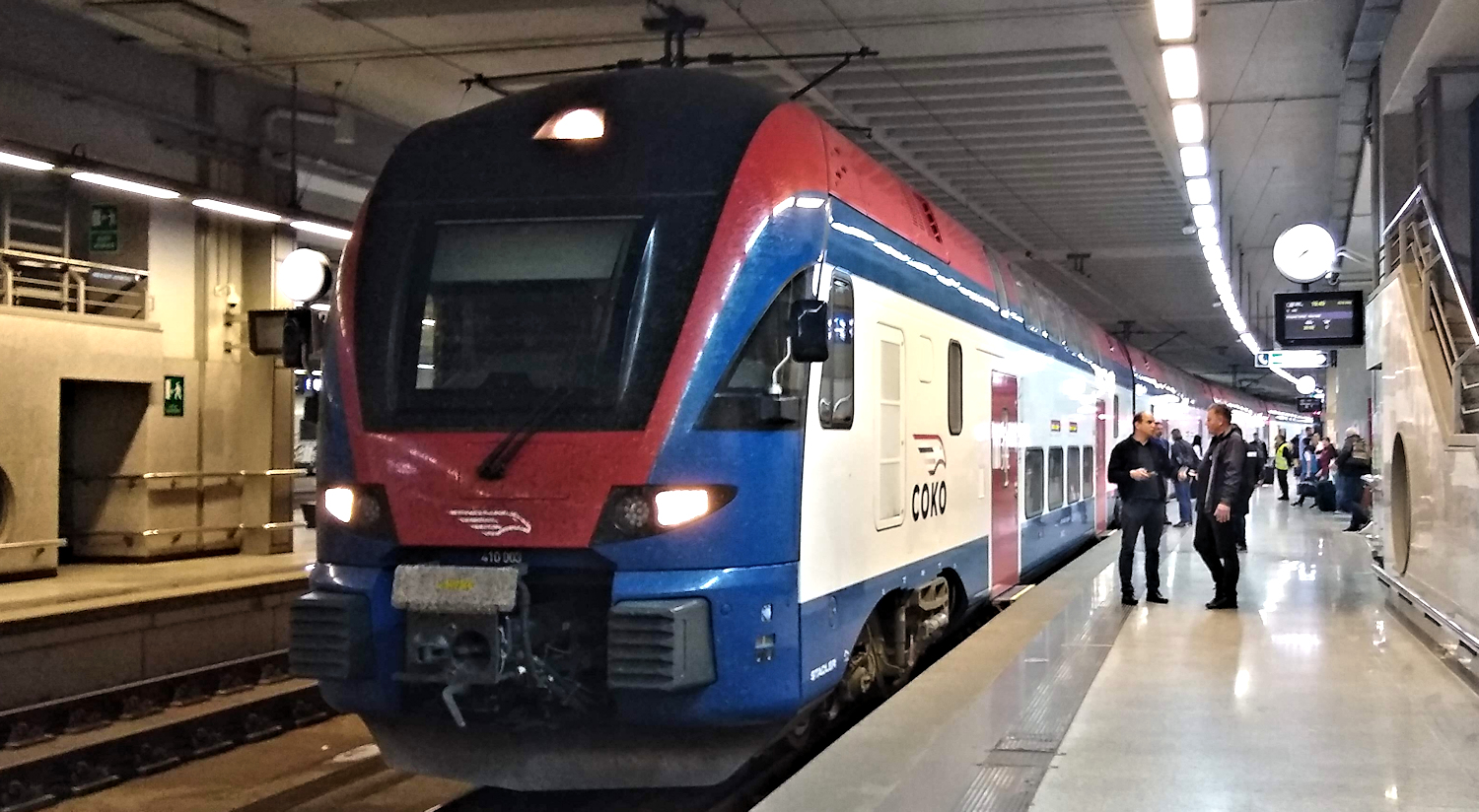 …the reservations I had made crumbled one by one. Country borders that had shyly opened slammed shut, making a multi-country train voyage impossible.
Read More »

Honing your skills for making your own reservations and travel plans is a core practice for becoming an experience independent traveler.
Read More »
Want to be notified when I publish a new post about how I travel?
Subscribe to my Newsletter here:
And don't worry…I hate spam too. You can unsubscribe at any time.