Quest for Fiber:
Serendipity Too Blatant to Ignore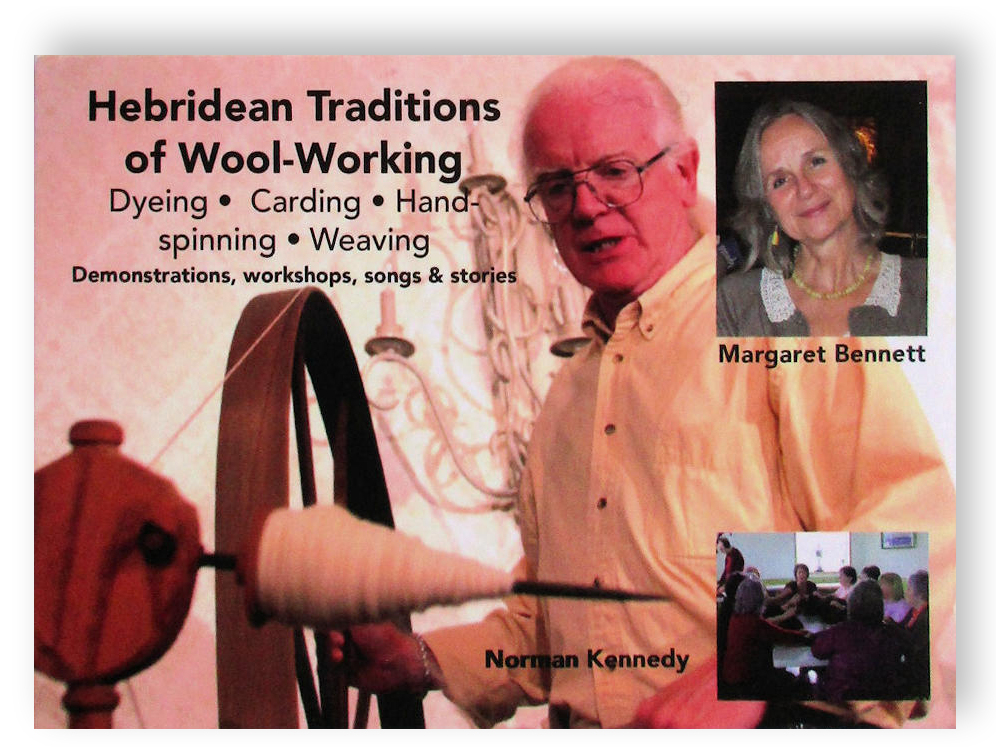 There are no such things as coincidences. This is a lesson I am learning repeatedly on my travels. The theme that I picked for my journey before I began was "Expect the Unexpected" because I wanted to keep my heart open to every possibility. Little did I know how profoundly this theme would manifest itself in the coming year. (Yes, I have been wandering around for over a year now, and I don't see an end to it.) Believe me—the coincidences have been enlightening and thrilling. 
I could probably relate twenty or more serendipitous events since I began this sojourn, but then we would never get to the subject of today's post. For now, I will mention a couple significant ones: 
Last July, I was standing in the stern of a ferry on my way to the Shetland Islands. Striking up a conversation with me turned out to be Catherine Henry, who mentioned that her husband (talking with friends nearby) was Oliver Henry, the wool broker for Jamieson and Smith, the main fiber processor in the Shetland Islands. I knew of Oliver from reading about him in various fiber books and magazines. She did not even know at the time that I am on a journey searching for fiber wherever I go. A few days later, I sat in Catherine's living room, knitting with her and learning about the modern Shetlands. (Remember that ferry encounter…it is relevant to this story.) 
 While walking the Camino de Santiago, I made a planning mistake and ended up in an unexpected albergue (hostel) one evening. That same day, Caitlin and Gerry Browne, made a different planning mistake and arrived in the albergue soon after I did. We were the only ones staying there that night. We shared a bottle of wine and great conversation. We planned to meet the next night again in Oviedo, but circumstances resulted in our losing track of each other. I was disappointed. Then out of the blue, while walking down a street in Oviedo a few days later, Caitlin called out to me. We reconnected, and they invited me to come visit if I came to Ireland. At the time, I had no plans to visit Ireland, but I later ended up there and spent two wonderful weeks in their cottage in Roscommon, Ireland. We have become great friends and in May I returned yet again to help with their annual Lamb Festival and demonstrate and teach lace knitting techniques. And all because we had all made planning mistakes on the Camino back in October!
Now for my story: On April 3, I boarded another ferry in Oban, Scotland bound for the Outer Hebrides. There were many reasons I decided to visit these islands, not the least of which was that their name just sounds exotic. I had settled in the bow of the boat and pulled out my knitting along with the hope that the five-hour crossing would be gentle. (I am not a very good seafarer—I get seasick at the slightest wind.)
Shortly, a woman accompanied by an older gentleman came over and asked about my knitting. It turned out that the gentleman was Norman Kennedy. I had not heard of him before, but I was about to become fast friends with him and Robin Baird. Norman is a famous spinner, weaver, and knitter. He was born in Aberdeenshire, Scotland and is Scottish through and through even though he has been living in the States since the 1960s. (And, in fact, he worked at Colonial Williamsburg, the living history museum in Virginia, for many years demonstrating traditional ways to process fiber.) He has a passion for wool and singing and the folklore of both. Also, with them was Margaret Bennett, a well-known folklorist and singer, who works to preserve the old songs and culture of Scotland. 
As it turned out, they were all on their way to the Outer Hebrides to present a series of free workshops on spinning and waulking (more on that later) in several island communities. And, in fact the first two events would be held just two blocks from where I would be staying in Castlebay! I could attend! And would it ever be magical for me!
But first, while on the ferry, Norman and Margaret both contributed the The Traveling Scarf!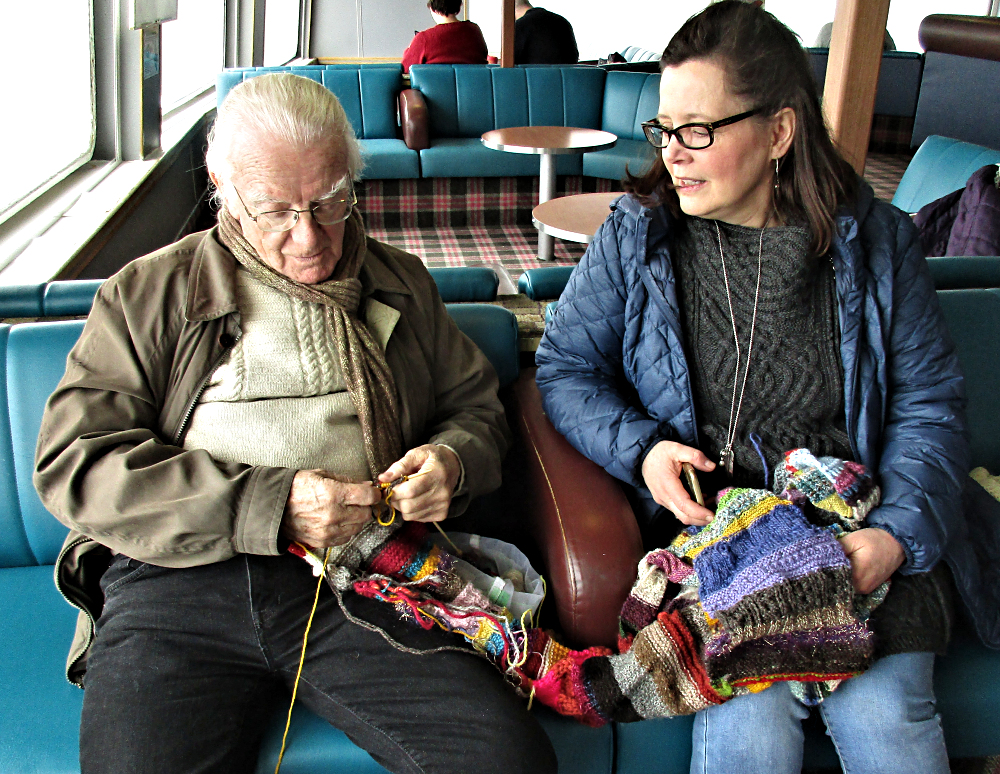 On Wednesday, I watched Norman show us how to use a distaff and to spin on both a spindle and wheel. His hands moved smoothly and naturally as he drafted long segments of fiber and fed them into the wheel.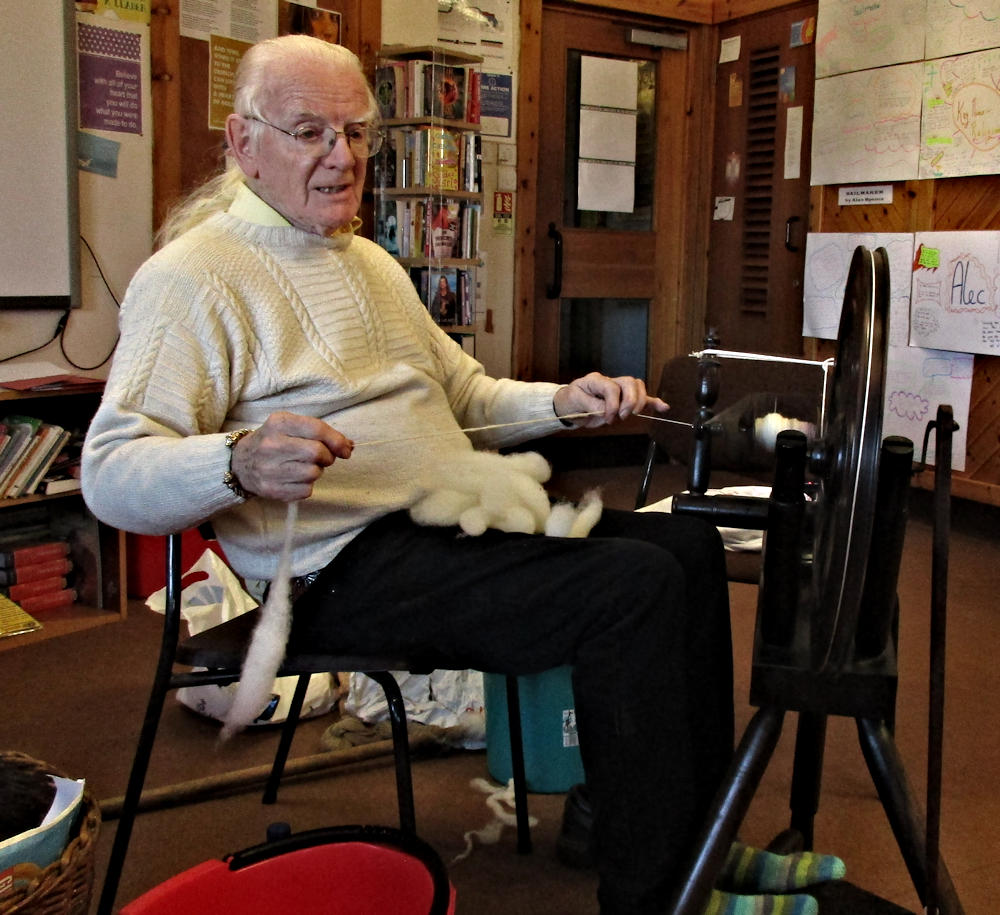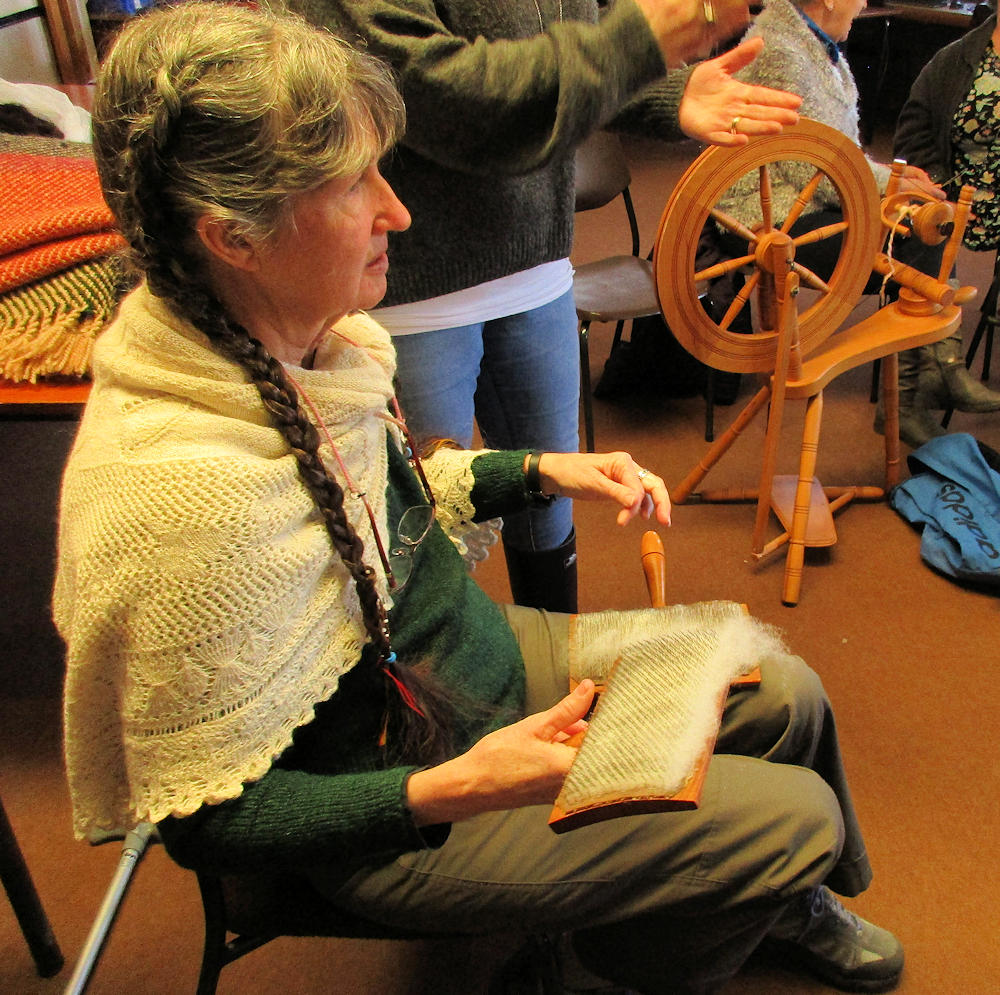 He created some of the softest loveliest rolags I have ever seen from his carders. (Rolags are the results of carding wool—one technique to prepare it for spinning.) I have always been a clumsy carder but I tried his technique and saw that, with practice, I could—maybe, eventually—create nice rolags. It was a good lesson.
On Thursday night, they organized a waulking demonstration and ceilidh (gathering) for the community. First was the event I had been waiting for. I had seen videos of women waulking wool, and now I was going to participate.
Traditionally, when a bolt of wool fabric was woven, it would be lightly felted to make it warmer, as well as wind- and water resistant. First, the two ends of the bolt were sewn together making a long loop of fabric. Then it was soaked in a solution of urine and water to remove oils and encourage the fiber's scales to expand. (Normally it is a smelly, messy process as you can imagine, but Norman was nice and soaked our cloth in a slightly soapy solution, which works as well.) Now the fabric was ready for fulling. A group of women would sit around a long table and pound the cloth and pass it to the person next to her, over and over and over. This would be a pretty boring job, but the women used it as a social and gossiping session and over the years special waulking songs were composed to make the time go by faster and synchronize the pounding.
You can learn a lot more about waulking here.
Tonight's demonstration would be more about the songs than the cloth, but Norman's bolt did get sufficiently felted.
I made sure to get a place at the table with mostly local women who knew the old songs. I sat next to Norman and a couple young boys—about eight-years-old—sat across from me. One of them knew all the songs and proudly sang the choruses with his whole heart. 
After the waulking, we listened to some young local musicians play traditional violin music and one young girl perform the challenging sword dance. Then there was more singing. Of course, they were all in Gaelic and I just had to listen, but at one point, Margaret Bennett ask if any visitors would like to share a song as she looked directly at me. Normally, I am pretty reticent about singing, but I was having such a great time that I did volunteer to sing. Since many of their songs are ballads, I decided to sing a wistful cowboy ballad I had learned as a child, I'm Goin' to Leave Ol' Texas Now. I have to say, I managed a decent rendition.
And so, another "chance" meeting on a ferry turned into a remarkable and very special beginning to my trip to the Outer Hebrides. My sojourn there would continue to manifest magic over the next week.
Other Blog Posts You May Find Interesting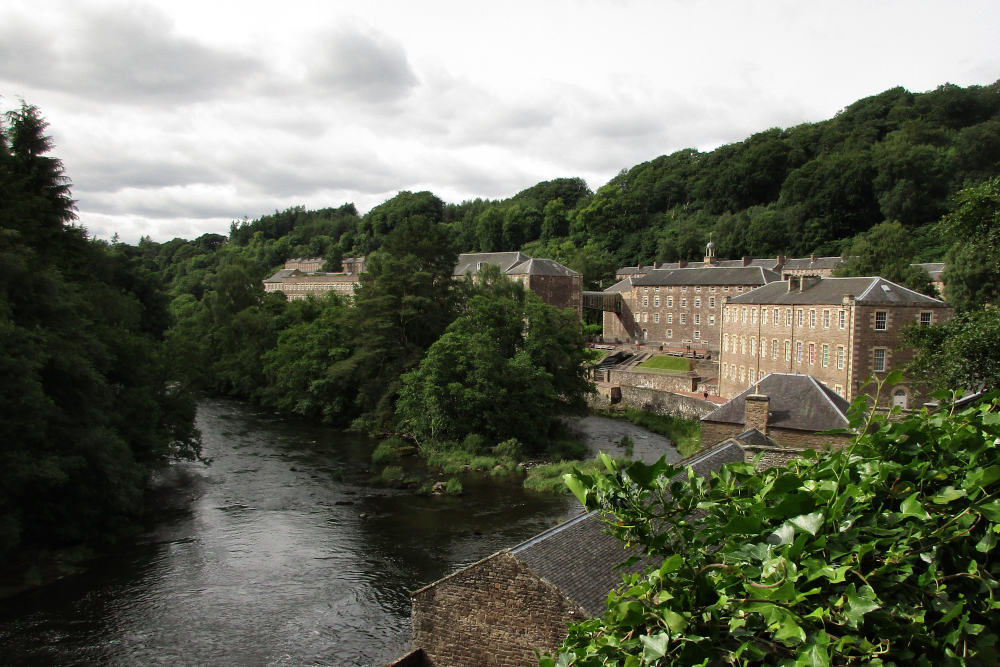 I spent the entire day walking through the exhibits showing the living quarters, spinning machinery, children's living conditions, the non-profit company store, and today's working spinning mill making the New Lanark Wool Yarn.
Read More »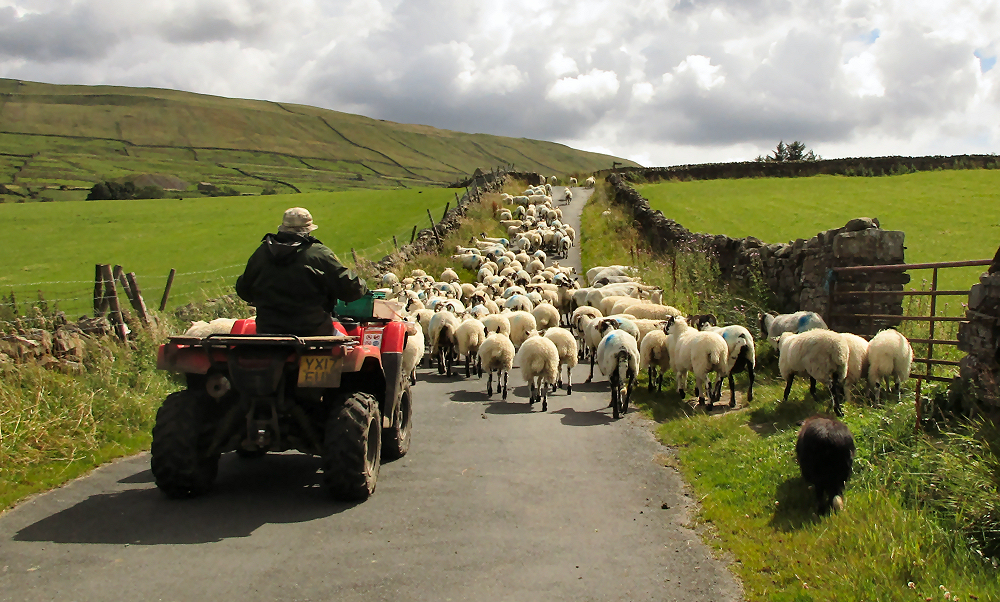 But then, the sheep came to a wide place in the road and as they spread out, the dog went to work. The farmer only occasionally had to give him direction; the dog zig-zagged behind the tractor making sure there were no slackers.
Read More »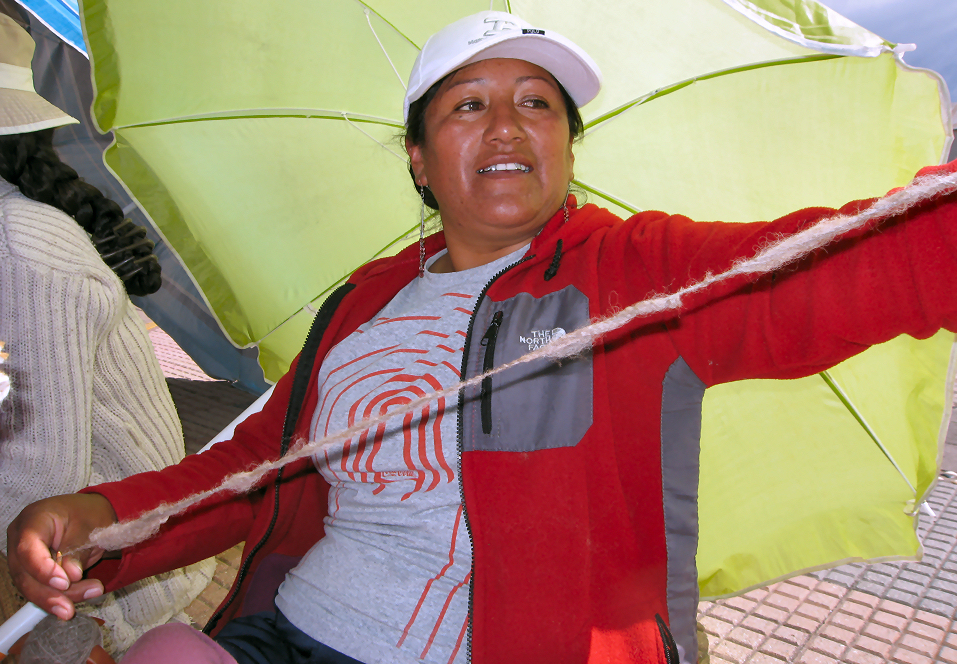 Sitting there with no work reminded me of a very classic American story by Mark Twain. In very broken Spanish, I tried to recount Tom Sawyer's method of snookering his friends into whitewashing the fence.
Read More »