Trip Planning Technique: San Sebastian, Spain to Utrecht, The Netherlands
Honing your skills for making your own reservations and travel plans is a core practice for becoming an experienced independent traveler.
Introduction

I really enjoy all aspects of travel planning. For me, it is like a puzzle to be solved. There have been times when I have spent several hours working out all the aspects of an excursion and it is so rewarding to see all the pieces come together.
A challenging part of the planning is to do everything I can to make the travel day (or days) go as smoothly as possible—anticipating where there may be hiccups along the way. When I arrive at my new destination after a flawlessly planned journey, I feel like giving myself a high-five!
One of the most interesting journeys I planned during my two-year odyssey was a trip by train from Spain to The Netherlands in June 2018. I gathered the details of the planning process here as an example for those who may feel a little daunted by the process.
TIP
Before I begin my research, I set up some way to take notes and keep track of information. You can use a pen and paper, but if you open a blank text document, or use a note-taking app, like OneNote or Evernote, it is easy to cut and paste websites and schedules, edit, make comments, and then finalize your schedule into a workable itinerary.
1. Get Reservations for Lodging FIRST.

The FIRST thing I did was to make sure I would have a place to stay when I arrived in Utrecht. You never know when there might be some festival and all lodging in a city is booked up. Using Hostelworld.com, I spent plenty of time perusing the reviews, photos, and facility listings for several  hostels in the city. I generally look for a non-party hostel with a good guest kitchen. Location, cleanliness and staff friendliness are also high on my preference list. I decided on Stone Hostel and booked it for the first night. I would have a place to lay my head after a long journey.
Since I am booking lodging before train reservations, I try to choose bookings that will allow me to cancel within 24 hours without penalty—just in case the train reservations don't work out.
2. Decide How to Travel

I had already decided that I wanted to take the train rather than fly, mainly because I had never experienced travel on a high-speed electric train before. It was more expensive than traveling by air, but less hassle and more relaxing.
I LOVE trains for so many reasons: 
stations are usually located in town centers
rarely are there security checks 
show up at the station 20 minutes before departure
carry on everything and have all your stuff available to you during the trip–even a bottle of wine if you so desire!
wide seats and reasonable legroom—sometimes you even get a table
easy to walk around
scenery 
low-carbon footprint 
AND I can have my knitting!! 

I am often not ready for the journey to end.
3. Start the Itinerary Search.

Next, I went to Rome2Rio.com, and typed in my origin and destination. Lots of options were listed, but I knew I wanted to go by train, so I clicked that option to see a route map and details of each train and station. (See accompanying images.)
Take note that the prices and schedules listed in Rome2Rio are sometimes inaccurate. But you can click on a link for each carrier to get more details. You are usually presented with the carrier's own website where you can purchase tickets on line. For example, below is my route as shown on Rome2Rio.com. 
When I click on the "Train" icon, I am taken to a detailed itinerary for that route. 
Notice that I will be taking four trains and using four different carriers, purchased through three different websites, and each with a separate ticket. 
I learned that I could purchase the  ticket for the first leg from San Sebastian to Irun at the station because trains run every hour.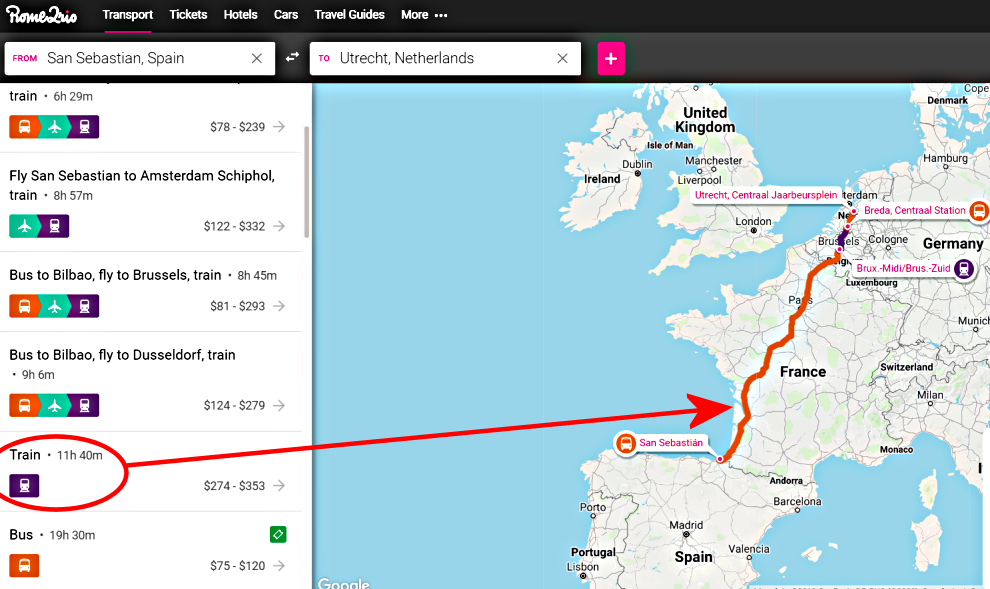 I had to be careful when purchasing tickets to watch the schedules and give myself plenty of transfer time between each train, especially in Paris, where I would change stations.
TIP: Use "The Man in Seat 61"

Before booking the tickets, I checked each link of the journey on the website Seat61.com. I learned that I would have to change train stations in Paris. That sounded daunting. But Mark Smith, the author of the Seat61 website, provided me with detailed instructions for making the transfer, including Paris station maps, metro maps, and how to buy tickets. There was also an up-to-date warning that one of the Metro routes was not currently running, and I was presented with detailed directions of the alternative Metro trains to use. 
The site also explained how long I should allow for the transfer in order to not miss my train to Rotterdam. Later, when I got to Paris, the transfer was still a bit challenging, but I made my connection—without having to ask any directions. Because of the great service Mark Smith provides for free, I always try to purchase train tickets through the links on his site, because he earns a small commission with each purchase.
4. Decide How to Get to and from Your Terminals.

I already knew how to get from my hostel to the first train station because I had arrived in San Sebastian by train a week before. But Utrecht was a new place. I used Google Maps to show me the directions to my hostel both by bus and on foot, so I had the options when I arrived.
I also made screenshots of the maps. Sometimes Google Maps offline don't work as well as expected, so I always have the screenshots, just in case. Here are my screenshots for bus (top) and foot (bottom) travel from the Utrecht train station to the Stone Hostel:
5. Collect all confirmations and directions.

I received email confirmations for all the trains and the hostel reservation. I downloaded the confirmations to my mobile device. I would be claiming my paper tickets for two of the legs upon arrival at the train stations. In most stations, you can get your ticket quickly at ticket machines, but you need your reservation number.
TIP

To make it easy to find all my confirmations on my device, I place a shortcut to each one on my home screen and place them on the screen in chronological order and with meaningful filenames.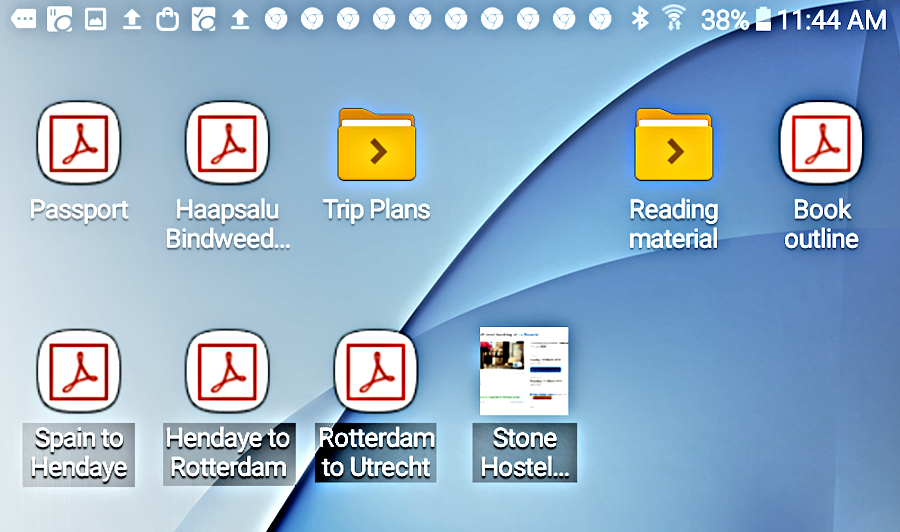 I ended up with four tickets.
I would also have to purchase my Metro ticket for the transfer between the Paris stations, Montparnasse and Nord from the ticket machines in Montparnasse.
My ticket from Irun to Paris Montparnasse was sent as a QR Code! I was able to just store it on my tablet and scan it before boarding the train in Irun. I have to admit that I did not think the code on the tablet would work, but it did!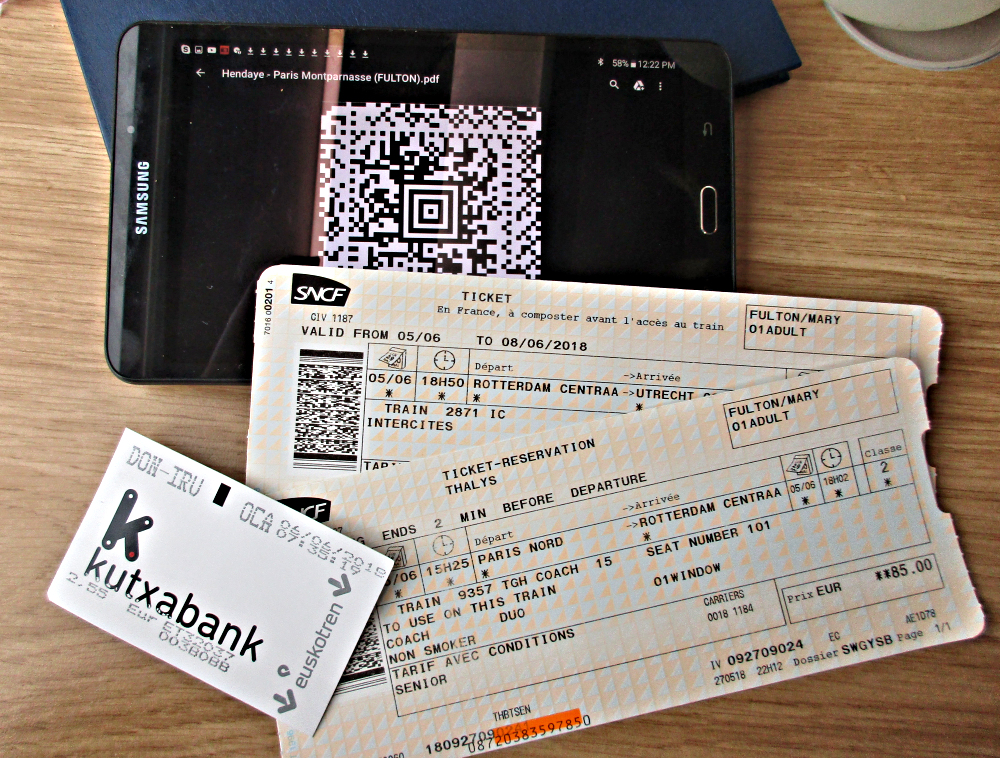 My four tickets (from top): QR code for Irun to Montparnasse (I did not need a paper ticket.); two paper tickets I retrieved from a ticket machine using my reservation code at the Paris Nord station; the small ticket for San Sebastian to Irun purchased right before I boarded the first train.
6. Download local maps to your mobile device.

I don't carry a cell phone, so I don't have access to live maps when walking around town. I downloaded an off-line map of the central part of Utrecht utilizing the option on Google Maps. When I arrive and don't have access to the internet, I will still be able to get around easily.
(The screenshots of walking and bus directions I made in step 4 above are really backups in case offline maps don't work. Sometimes they don't!)
Now I am all set…ready to travel…
well, except for planning what meals and snacks to take with me and…
OH…pack!
Advice

Send your itinerary to a family member or friend. Promise to let someone know when you have reached your destination.
Other Blog Posts You May Find Interesting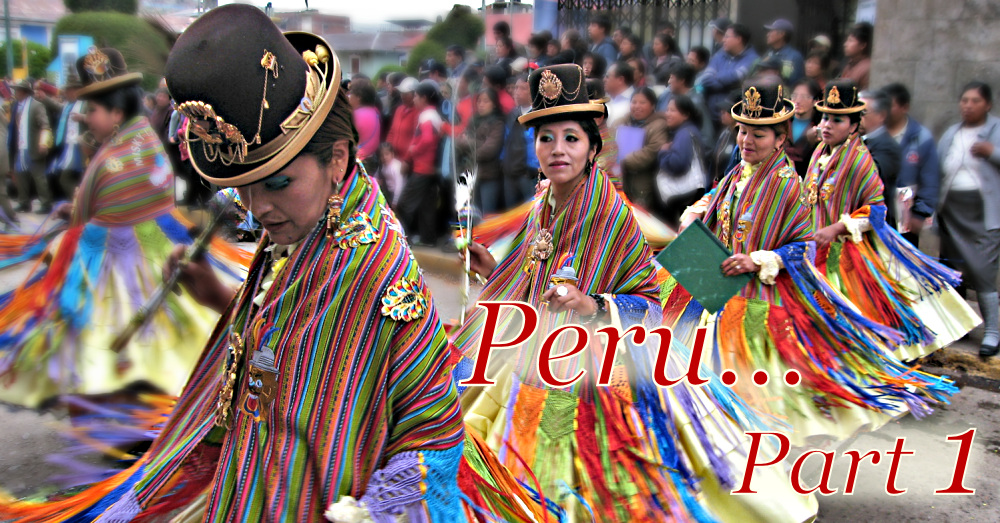 This post accompanies my LIVE YouTube broadcast on 28 March 2021 about my explorations of Arequipa and the Lake Titicaca area of Peru.
Read More »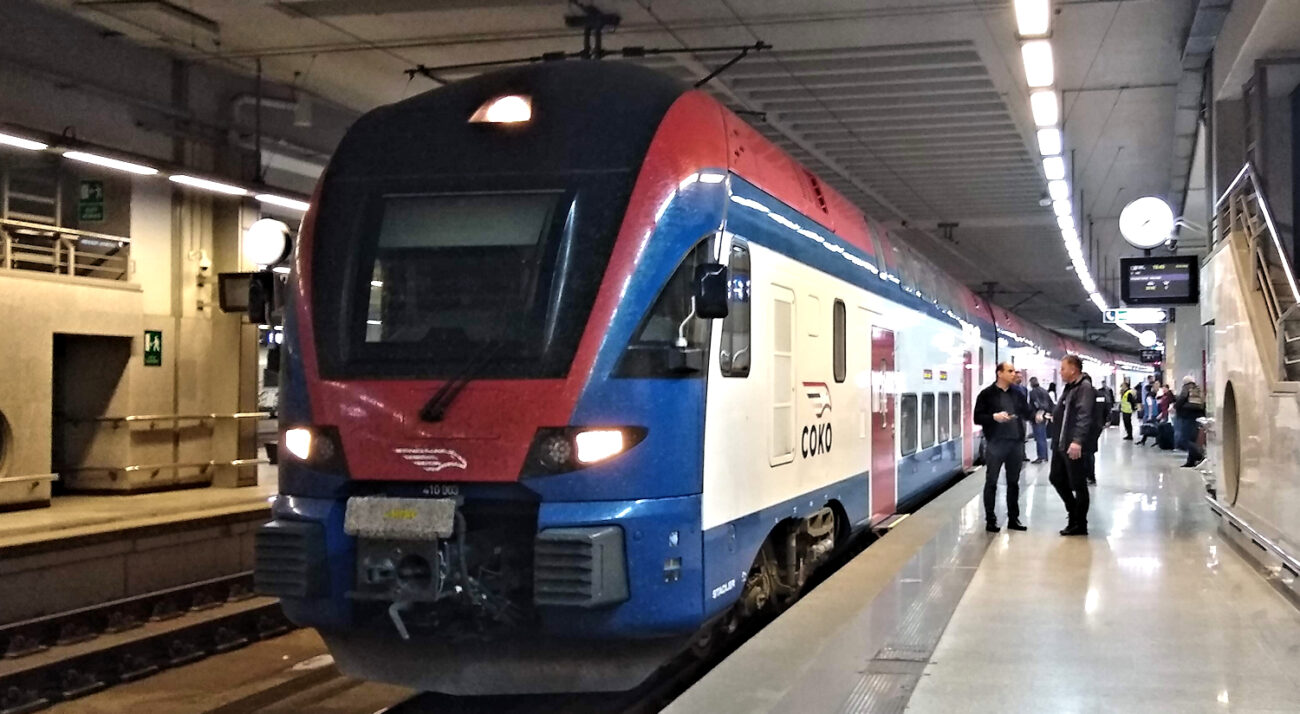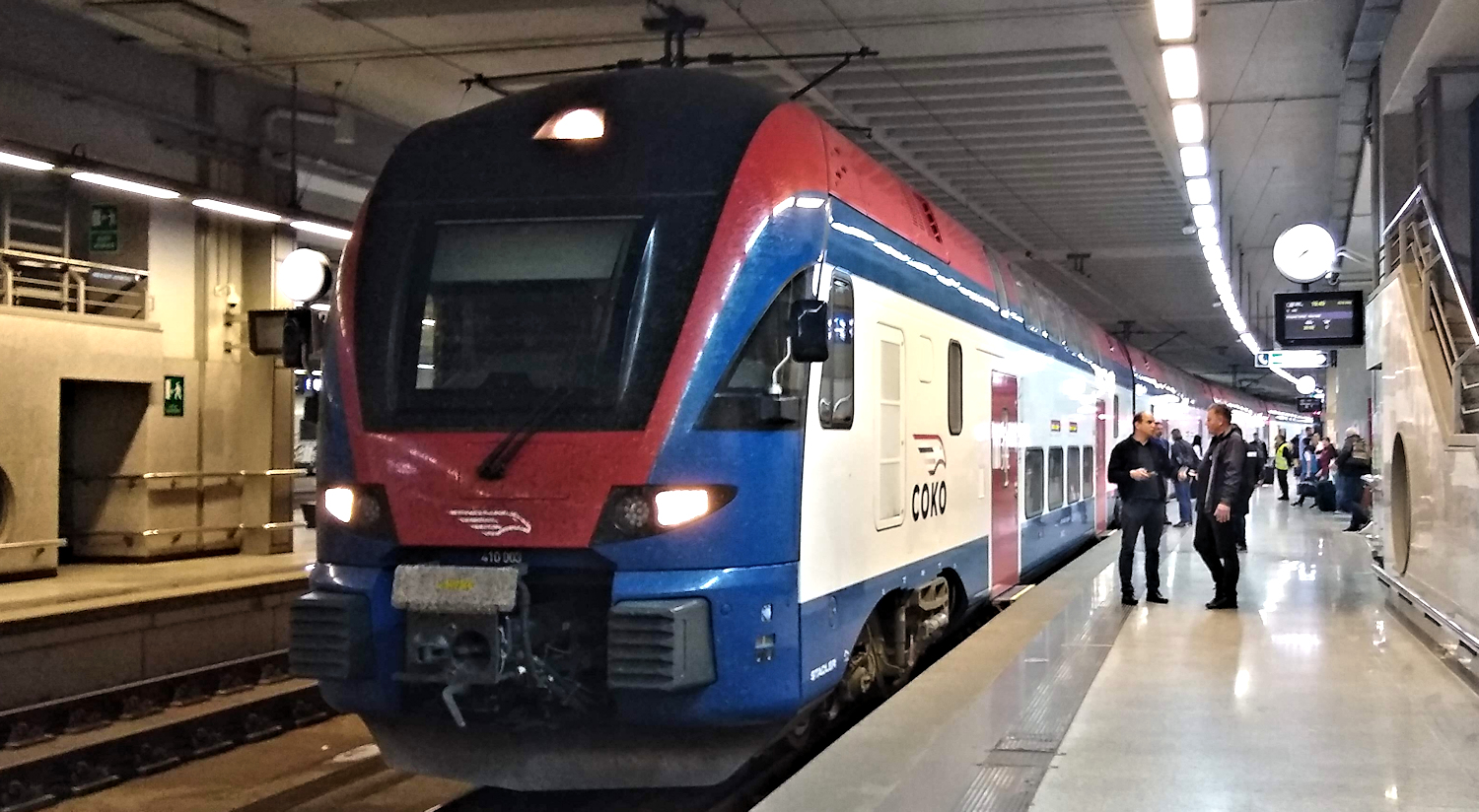 …the reservations I had made crumbled one by one. Country borders that had shyly opened slammed shut, making a multi-country train voyage impossible.
Read More »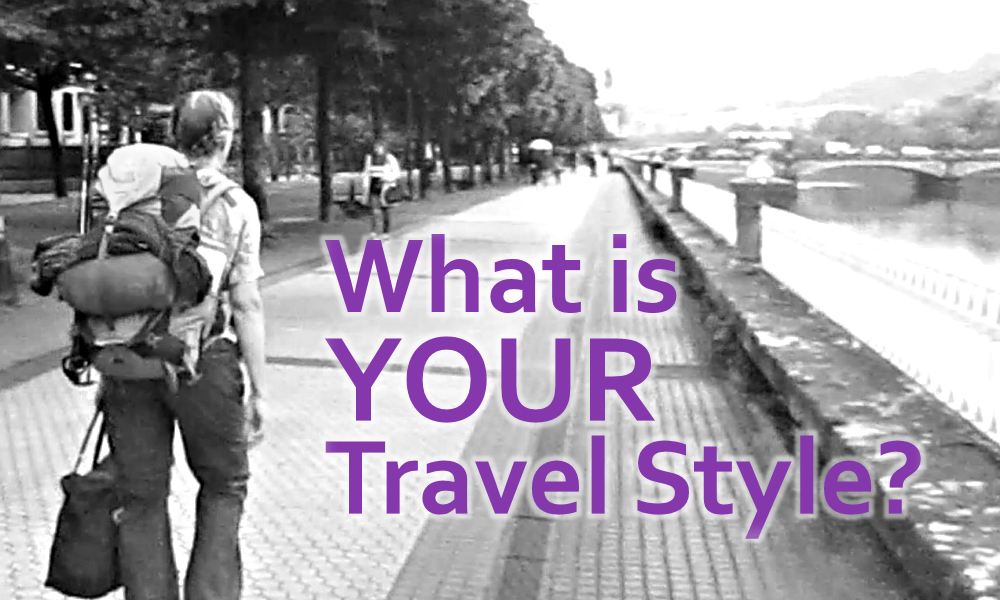 It is important for each person to figure out what his/her travel style is. It may take a while, and it may change from time to time, and place to place. Don't allow others determine what your travel style is.
Read More »