We Travel to Cook: Coconut Sambol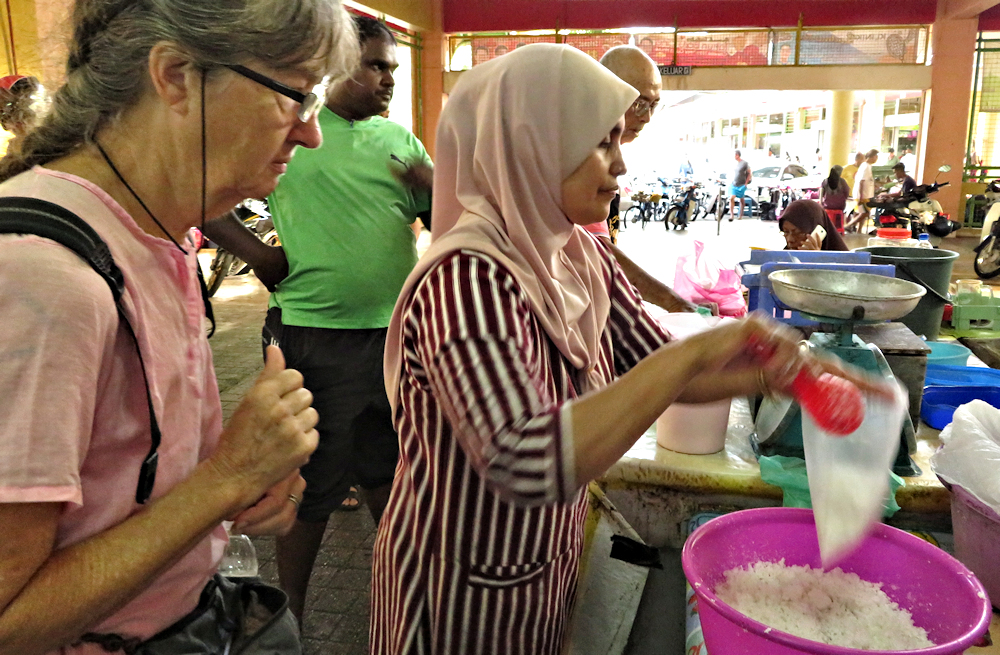 When I travel with my daughter, Rebecca, it is all about the food. She has been passionate about how food is created since she was about 7 or 8 years old. Now, as a chef, she loves to try all the new flavors and dishes wherever she goes. She met me last May in Portugal and Spain and we ate an incredible array of food and drank way too much wine. I often quip that when we travel together, we have to roll ourselves onto the plane when we leave.
A Guest Kitchen is Essential
This trip to Malaysia has been no different. But this time we added a special twist. Since we both love to cook and we both really love traditional food markets of all kinds, we added some food shopping and cooking to our itinerary. This requires that we find a hostel or guesthouse with a guest kitchen to work in. We carry a few of our own tools. A good knife is essential because in my 18 months of traveling, I have yet to find a sharp knife in any public kitchen.
In the town of Tanjung Bungah on the north shore of Penang Island in Malaysia, we hit the jackpot: G Beachfront Villa, a lovely and comfortable guesthouse with a nice kitchen and it is only about 4 blocks from the local public "wet market."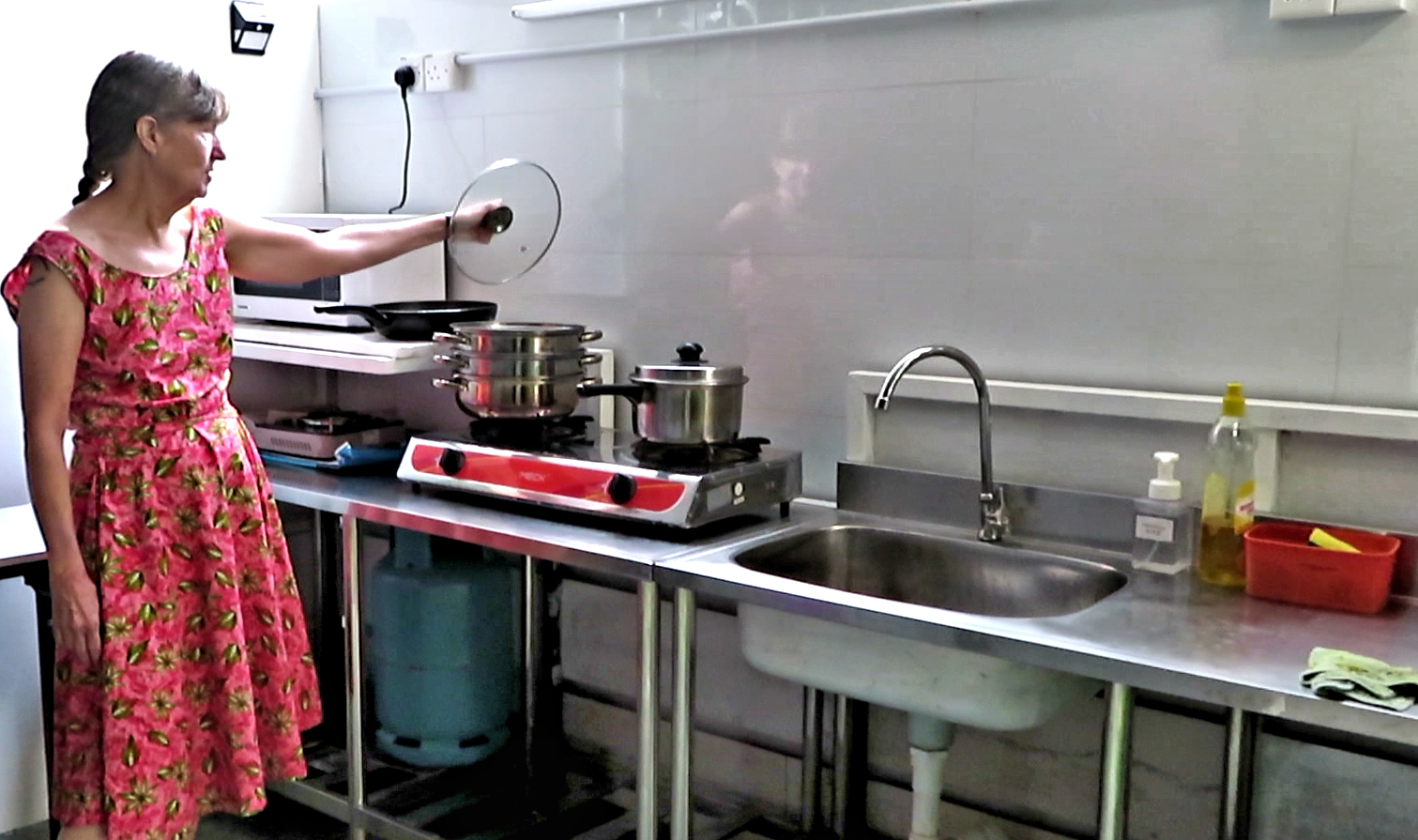 On our first morning in Tanjung Bungah, we made a bee-line to the market and collected the ingredients for dinner. One dish that I had learned to make while I was in Sri Lanka is Fresh Coconut Sambol, and I was anxious to share this taste sensation with Rebecca.
A Fresh Coconut Processing Stall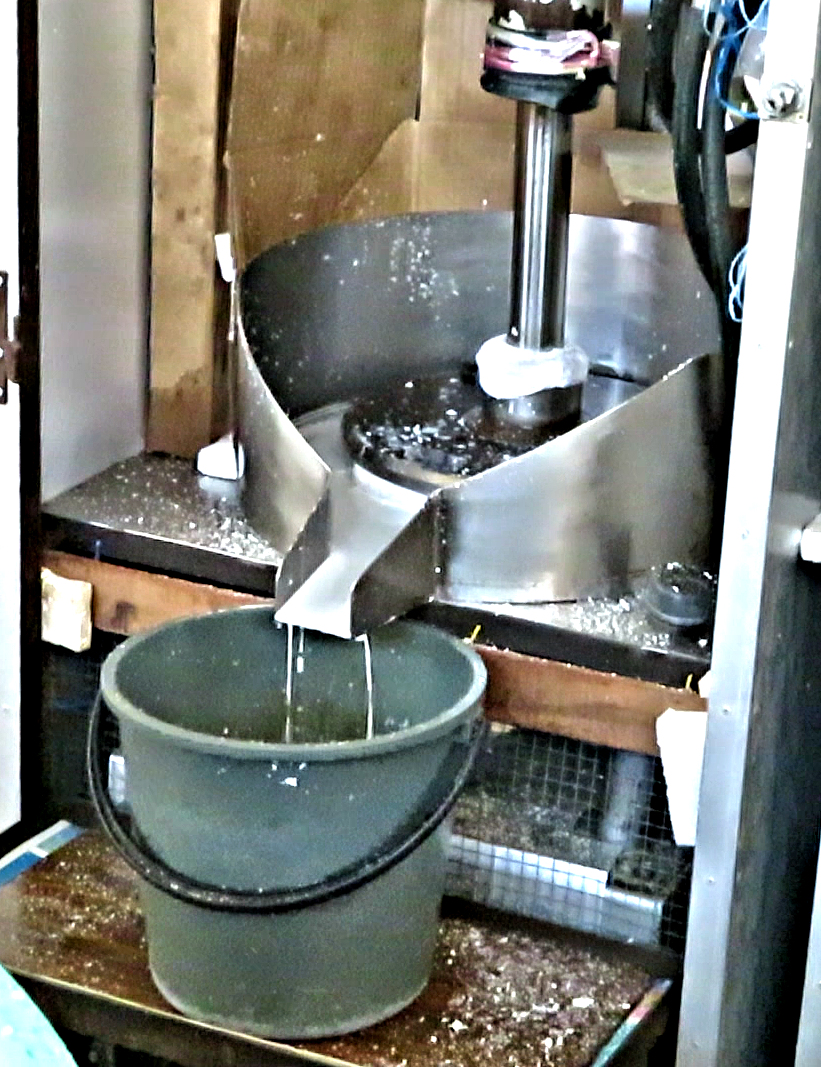 You absolutely must have freshly grated coconut for this dish and we really lucked out! There was a fresh coconut processing operation right at the front door of the market. They had machines which shaved the brown kernel off the white meat (also known as "copra") and grated the copra perfectly—ready for your favorite recipe. Another machine just grated the white meat with the brown kernel. This mixture was scooped into large bags and put into a large press and the milk and oil were extracted together into an extremely rich coconut cream. Bags of the cream and grated coconut could be purchased very cheaply: 11 Malaysian Rupees (about $2.70 USD) for a liter of the cream, and 5.50 MYR ($1.35 USD) for a half-liter of the grated meat.
You can see the operation here:
Getting Ready to Make Coconut Sambol
We purchased some coconut milk (I call it coconut cream because it is so very rich) for another dish and a half-liter of grated coconut. In other stalls we found fresh ginger, garlic, onion, and limes. In Asia, dried red chili powder can be found in any market, but this is not like the Mexican chili powder you have encountered in your local grocery store. It is more like dried red chili flakes, so that would be a good substitute.
In this video, Rebecca shows how to make this condiment in your kitchen.
Here is a rundown of the ingredients:
1 cup (220 grams) freshly grated coconut
1½ tablespoons (20 grams) minced garlic
1½ tablespoons (20 grams) minced ginger
1½ tablespoons (20 grams) minced onion
½ teaspoon (2 grams) salt
½-1 teaspoon (2-4 grams) red chili flakes
Juice of one lime
These amounts are  approximate. Everyone has a different idea of what sambol is supposed to taste like—and how spicy it should be.
Here in South Asia, these ingredients are mixed and pounded in a mortar and pestle. If you have one, pound everything except the coconut together first, then mix in and pound the coconut. If you don't have a mortar and pestle, mix all the ingredients at once and just use your hands to squeeze and mash everything together thoroughly the way Rebecca does in the video.
Give the sambol a taste and adjust the ingredients. Some people like more ginger, or more lime. Others want it to be really spicy, so they would add more chili flakes. You may want to add some minced fresh red or green chilis. We did not have any freshly ground black pepper, but that is a great addition as well. You can see that this is a great dish to "riff" on.
Tips
We were also lucky to find the coconut freshly grated for us. If you need to grate your own, I recommend a food processor (into which you could add all the other ingredients after preparing the coconut) or the fine side of a hand grater.
The first time I made this dish, I used pieces of homemade roti (similar to Mexican flour tortillas) to pick up the sambol and I popped everything in my mouth. Chapati, pita, bread, or even crackers work as well.
Traditionally, sambol is served as a condiment on the side of a plate of rice and curry or dahl.
In Sri Lanka, a bit of dried and grated Maldive fish (a type of preserved, salted tuna) is also added to the sambol. We did not have any available for making this dish and most cooks in the US and Europe may find it hard to find this salty ingredient, so we have left it out of this version.
Give It a Try!
If you can get your hands on some fresh coconut, the hardest part will be detaching the meat from the husk of the coconut. Once that is accomplished, the rest of this recipe is easy. When you taste it, you won't be able to wait until you can share fresh Coconut Sambol with friends.
Inspired? 
Want to learn more about how I travel?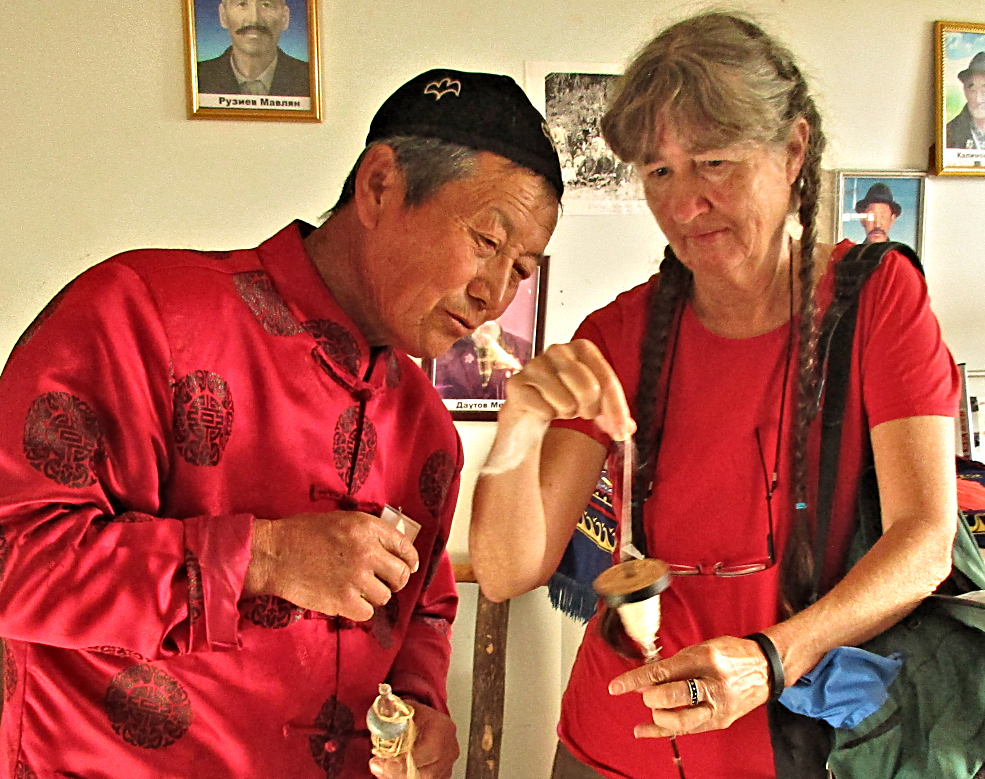 Other Blog Posts You May Find Interesting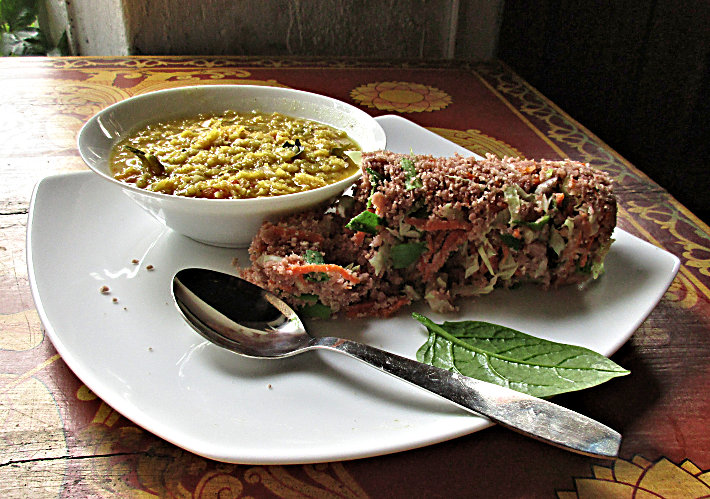 He made a mixture of red rice flour, salt and a small amount of water. Then he sliced and grated vegetables into thin slivers—carrot, onion, and cabbage and tossed them into the crumbly mix. "Three vegetables is good," he informed me. You can use about any vegetable combinations you want.
Read More »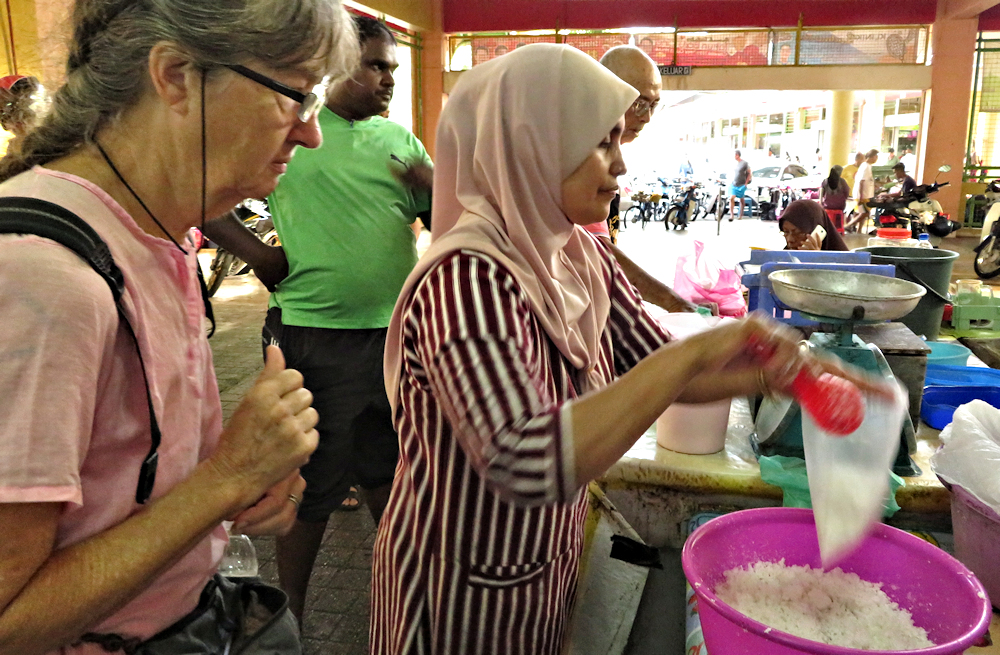 You absolutely must have freshly grated coconut for this dish and we really lucked out! There was a fresh coconut processing operation right at the front door of the market.
Read More »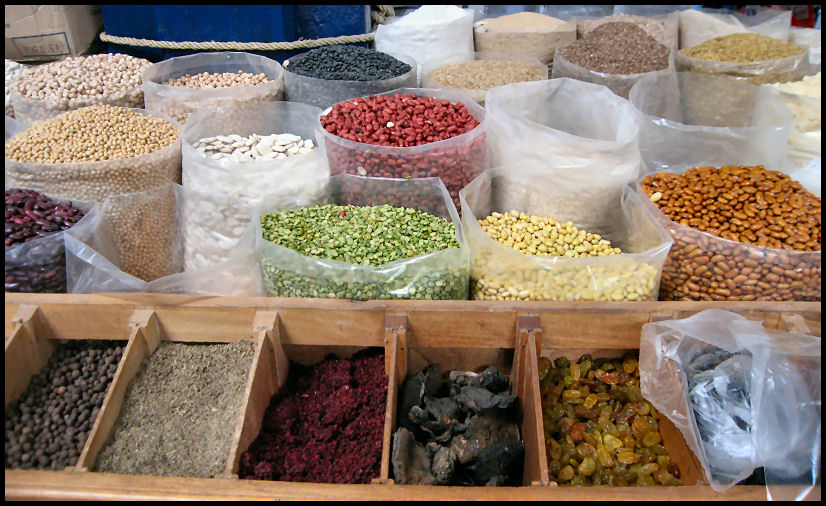 So, on Friday I decided to make empanadas. With some advice from Mabel in mind and suggestions as to where to find fresh chicken, I walked the 10 blocks to the mercado and started shopping.
Read More »