Quest for Fiber:
Revisting Arequipa's Fiber Mills
Last year, when I was in Arequipa, I wrote about my disappointment in trying to find natural alpaca fiber and yarn in the city that has several large fiber mills.  This year, I made another attempt to explore Arequipa's fiber and was a bit more rewarded for my efforts. However to find women (and men) working with yarn in a more traditional way, you must leave the big city and find your way up into the Andes mountains. More about that in another post—first, I want to report on my visits to two of the alpaca mills in Arequipa.
The first one is Michell's Mill, the place where more tourists go because of their very interesting alpaca museum, Mundo Alpaca and high-end apparel shop located on the mill grounds. You can read more about this in my previous blog: Fiber: Chapter 2—Experiences with Alpaca and Acrylic. And there is a nice video about Mundo Alpaca here. Drops Designs is one on-line yarn store which contracts with Michell's to create yarn for them.
In Michell's high-end store, Sol Alpaca, you can only find a little bit of sport weight baby alpaca yarn and it costs just as much (maybe even more) than what I can find on-line or in stores. However, thanks to my friend and host, Adela Laguna, I found Michell's outlet store right down the street. This is a warehouse kind of place, filled with a huge variety of yarns—many on one-kilo cones. They also have bins of seconds and clearance items, which are really inexpensive. 
Above right, F/S Alpaca; lower right, Brushed alpaca and silk
This year I spent quite a while exploring the shelves and, after much deliberation, decided on some lace yarn.  There was lots of baby alpaca, but I decided on a one-kilo cone of 3-ply laceweight FS (Fino super) Alpaca. In the sales bin, I found some packages of 77% brushed baby alpaca and 23% silk balls—ten 25-gram balls in each package. This is very soft yarn and the brushed alpaca lends a beautiful and full halo to the end product. I took 2 packages of natural color to the desk to ask the price. (There are no prices on any of the yarn—you have to ask.) Imagine my surprise when I was told that each package was 20 soles—about 65 cents for each ball! Now we're talkin'! The FS alpaca cone that I picked out cost about $34.  

I will probably be able to get 2-3 shawls from that cone! 

I could not wait to get home and knit up some samples!
There is another outlet shop in Arequipa for the mill, Inka Tops, but my experience there was quite different. I ended up purchasing some yarn and I am not sure why. I learned about Inka Tops after doing some internet research and found their very interesting website. The part that intrigued me the most was the recent construction of their new "green" scouring and combing plant. Their solar pre-heated washing water is re-used and the solids are filtered out and put on the plant vegetable garden from which they harvest food for their employees! They also placed their fiber sorting  station on the top floor with lots of natural light to make it easier for the classifiers to grade the fiber. You can read more about this innovative mill here. )  Cascade Yarns which is based in Seattle contracts with Inka Tops to make some of their yarn.
I had to make an appointment to visit the Inka Tops store and was put in contact with Elizabeth Herrera, a very nice and gracious company representative. Even though she knew that I was not a "big-client" possibility, she met with me and my friend Annie in their offices to show me the kind of yarn we would find in their store. I had to choose the yarn I wanted and then we walked down a few blocks to make our purchase.  They also had some beautiful fiber and it took me a while to decide on some very, very fine 65% baby alpaca/35% linen. I had never heard of an alpaca/linen blend and was intrigued. 
Baby Alpaca and Linen–ONE KILO!
When we got to the Inka Tops store, we had to wait while the clerk waited on another person who was buying about 12 cones of yarn. The outlet store here, apparently, mostly sells yarn to people and cooperatives who are making garments to sell. Many women here in Peru have knitting machines in their homes. This is a large cottage industry that caters to the high-end stores like Sol Alpaca and to exporters of fine alpaca garments. Once the clerk was available, I told her which yarn I was interested in and she then gave me the price and brought out the cone from the back room. I am not sure yet what I will do with this yarn. When I knit with it, I can feel and see the linen.
And about those knitting cooperatives: I would like to share my experience with Intiwawa. Intiwawa provides tutoring and after-school services for children in San Isidro (a very poor part of Arequipa). One of their projects is
Kalpaca
, in which they work with the mothers, who make wool and alpaca apparel in their homes to sell to European markets. Intiwawa helps the artisans purchase yarn at a good price and then get the best price possible for their work.
Some of the products created by the women of the Kalpaca project.
Several times last year, while I was in Peru, some of the knitting women here eyed my small knitting needles with much interest and asked where I got them. So, this year, I asked my knitting friends on Vashon Island to donate any small-sized needles they no longer used, for me to give to the women here. I brought 32 sets of needles and I decided to leave about half of them with Intiwawa for the Kalpaca project.  After several back-and-forth emails with Julia, one of the program coordinators, we were finally able to meet for me to give her the needles. Unfortunately, the program was currently on hiatus while school was out, so I was unable to meet the women themselves. I had a nice visit with Julia, who was very happy to get the needles and really appreciated the generosity of the Vashon knitting community. Thank you ladies!
Other Blog Posts You May Find Interesting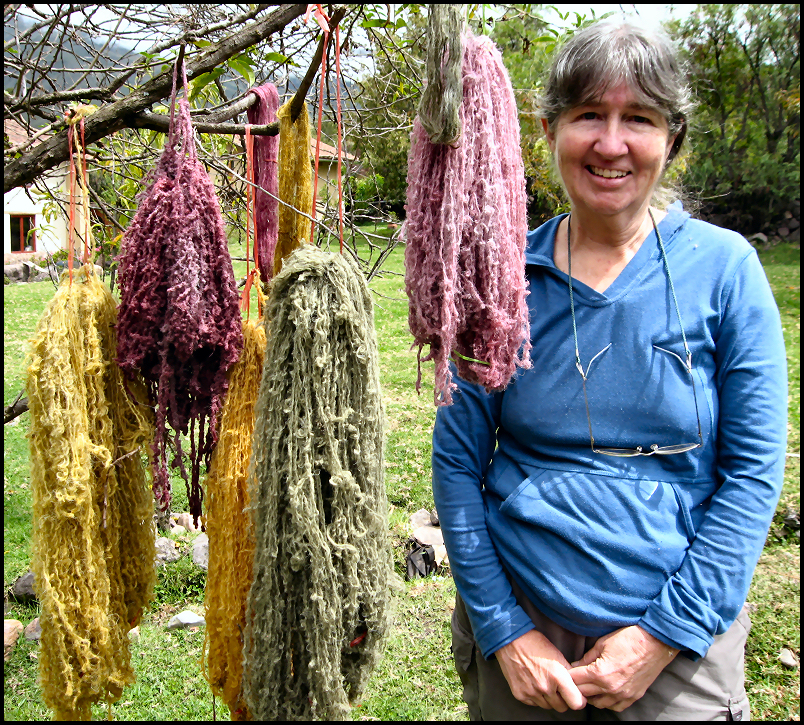 Since I arrived in Calca, I have been trying to find a natural dyeing workshop to learn how the Quechua traditionally dyed their fiber.
Read More »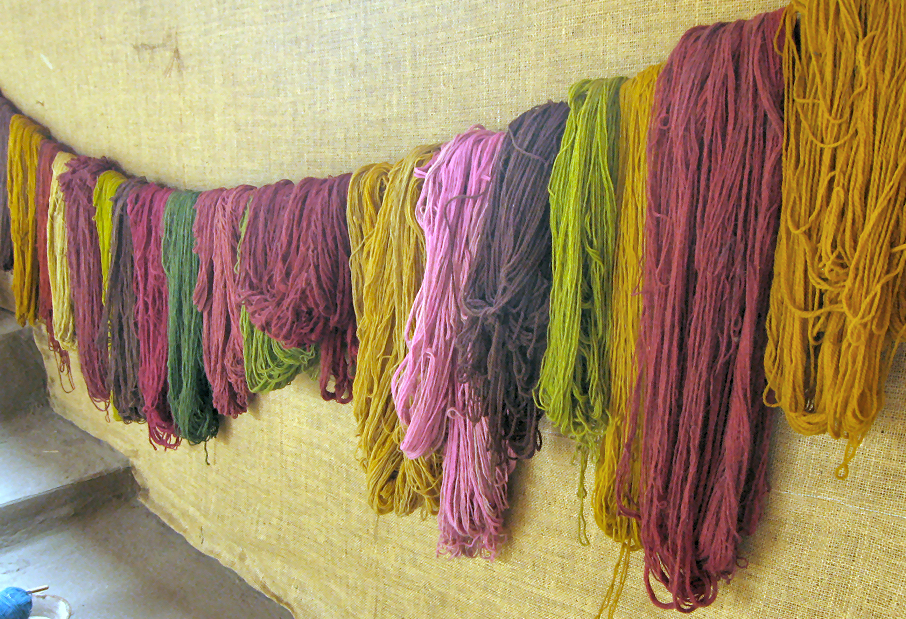 On my third day in Arequipa, Adela took me to Michell's Fiber Mill. There is an outlet store there with all kinds of alpaca yarn at very good prices. Adjacent to the mill is Mundo Alpaca, a museum showing the process of preparing alpaca fleeces for market—both by hand and by machine.
Read More »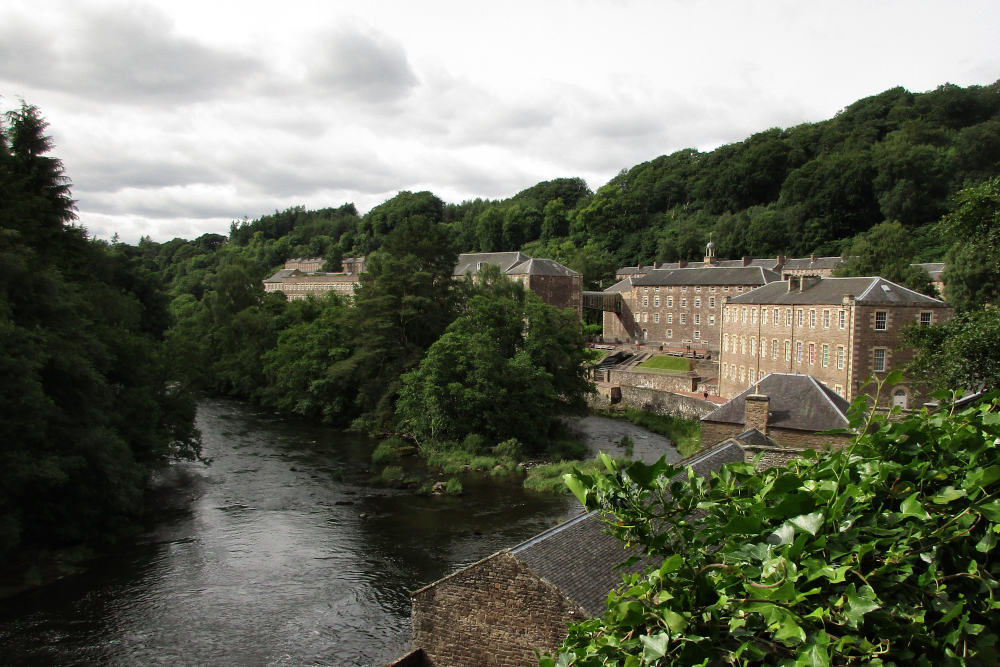 I spent the entire day walking through the exhibits showing the living quarters, spinning machinery, children's living conditions, the non-profit company store, and today's working spinning mill making the New Lanark Wool Yarn.
Read More »