A Quick Sojourn in Greece
The Monasteries of Meteora—Part 1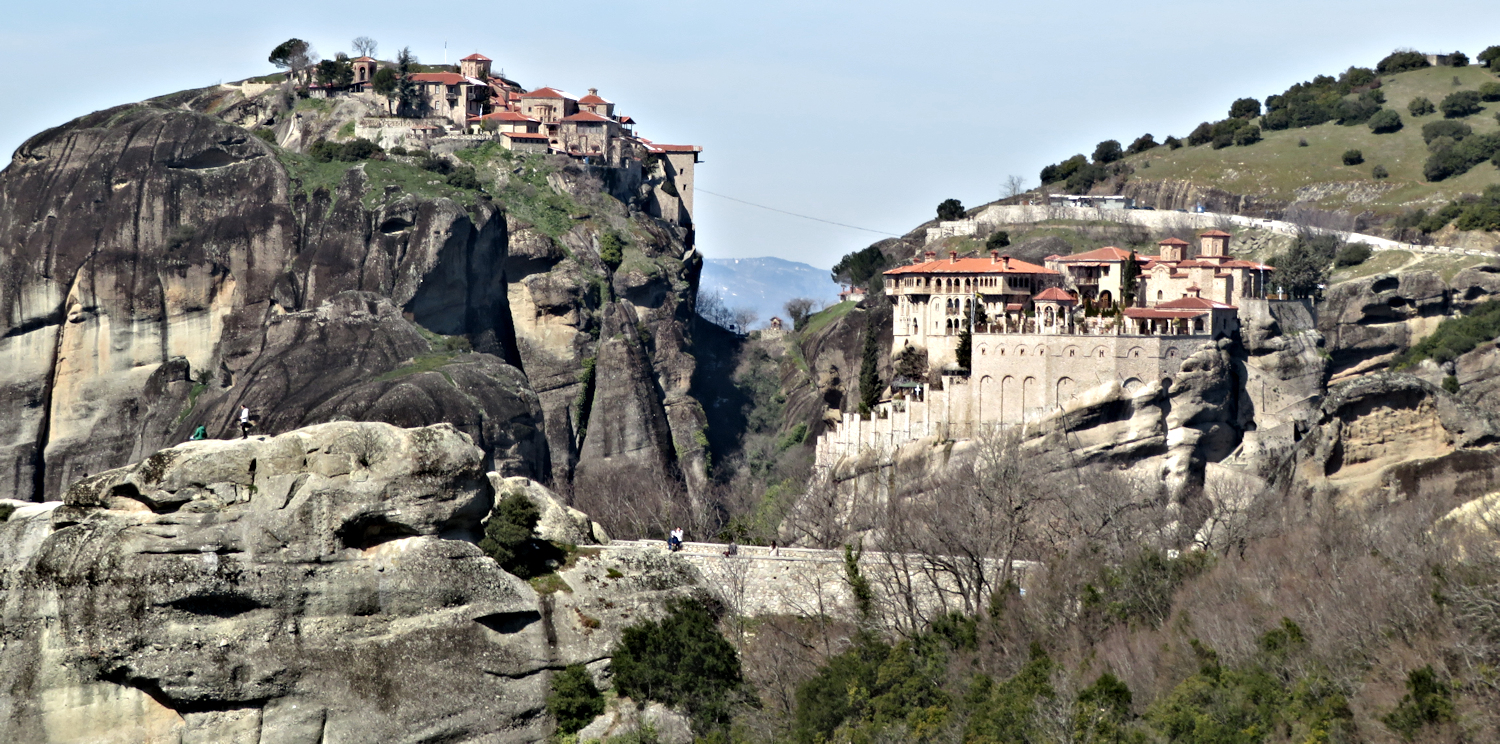 How does one decide what to visit in Greece. It is a country so full of culture, deep, deep history, food to die for, stunning islands and mountains, friendly people and oh, so much more. For this trip however, I am on a very strict budget. It is cheaper to travel in most Western European countries than it is in the United States, but it is still a little pricy for me. While researching a different trip (one I never got to take), I came across some articles about the monasteries of Meteora in Central Greece. Not only do they have a fascinating history, but being precariously perched on the tops and sides of cliffs, they compel visitors to examine them more closely. 
The Advantages of Low-season Travel
I was headed to Turkey, but since it was cheaper to fly to Athens and then on to Istanbul on another flight, I decided to plan a six-day layover in Greece JUST to visit Meteora.
 While overwintering in Ireland and Scotland in 2018, I discovered that, despite the cold, I could experience some very special places in solitude by avoiding high tourist season.
This is especially true if you long to visit some of the world's over-touristed locations like Venice, Edinburgh, Cappadocia, and even Paris. Yes, you have to be prepared for dicey weather conditions, but it may pay off when you find yourself on, say, the Isle of Inish Mor in January with barely another tourist in sight. (This tiny island's native population is about 900, but it swells to 3000 tourists per day in the summer!)
I have wanted to visit the monasteries of Meteora for years, but the area is buzzing with full tour busses all summer. I chose to go in March. Snow and rain were threatening, but I persevered and was rewarded. Lucky me—the weather was perfect if a bit cold in the mornings. And I almost had the monasteries to myself.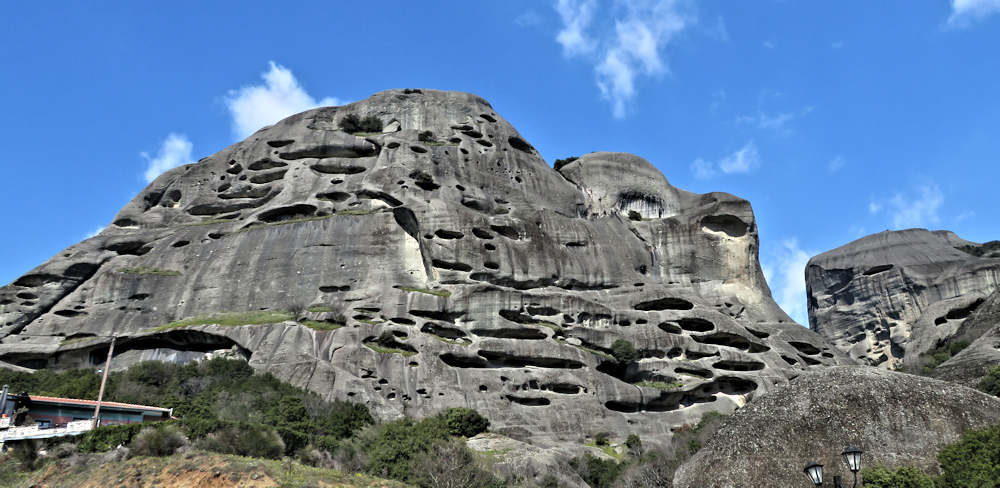 A Short History
During the 9th Century A.D., hermit monks moved to this area to live in the caves and hollows of these rocks. This deterred visitors so the monks could live in solitude and contemplation. They would meet with each other on Sundays to worship together. Here is one of the ancient habitations.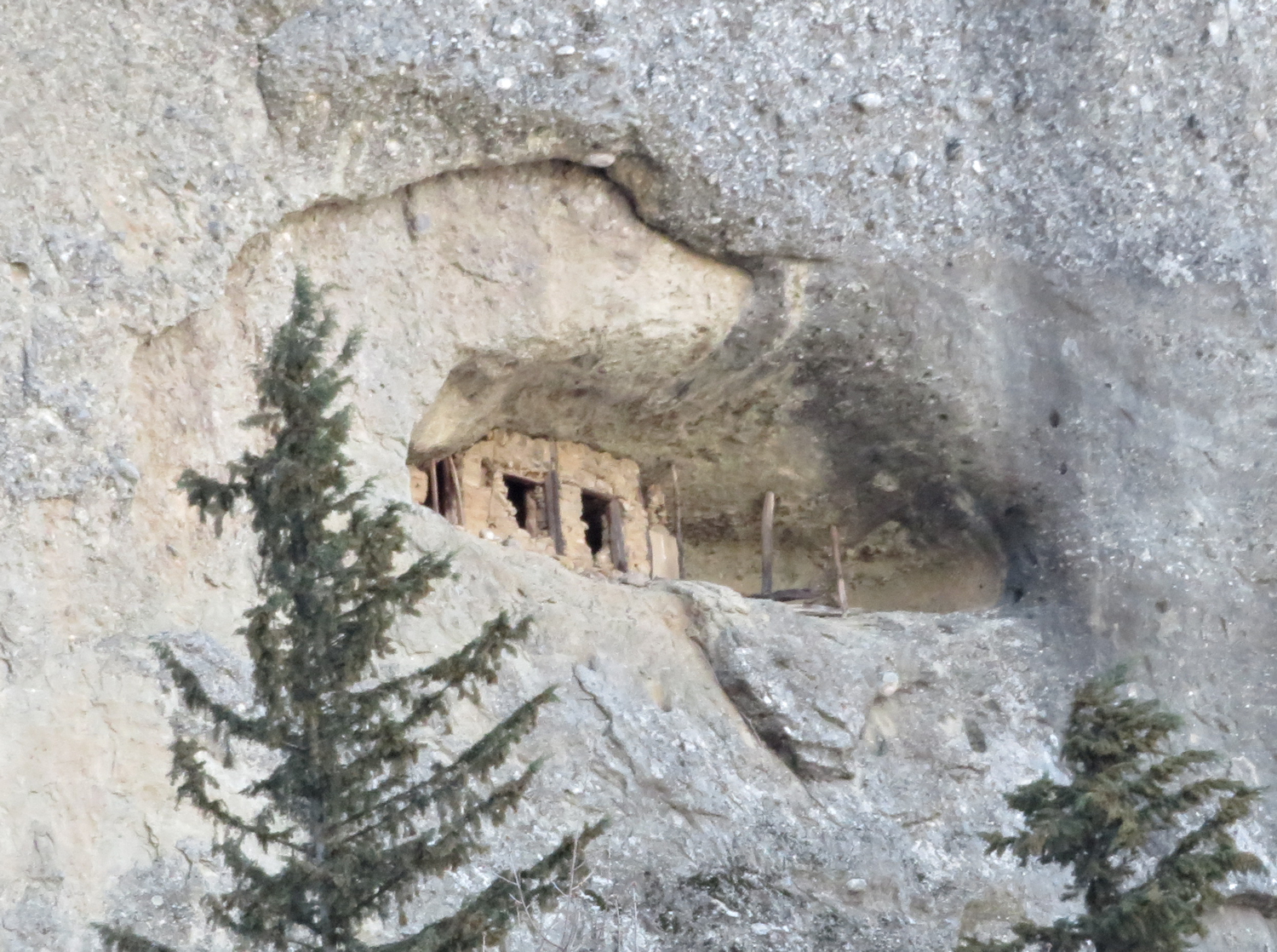 The monks lived this way until the 14th Century when Turkish invaders threatened. Then they banded together to build monasteries on the tops of the monoliths. Until about the 1920s, the only access to these monasteries was via removable ladders or windlasses. This vintage 1924 footage shows how it was done. (This is a silent film.)
Courtesy: Michael Dorizas, Public domain, via Wikimedia Commons
Here is the windlass hook and the platform that still exists at the Monastery of the Holy Trinity. I don't know if it is still in use, but the room where the rope is cranked up looks just like the one in the above video.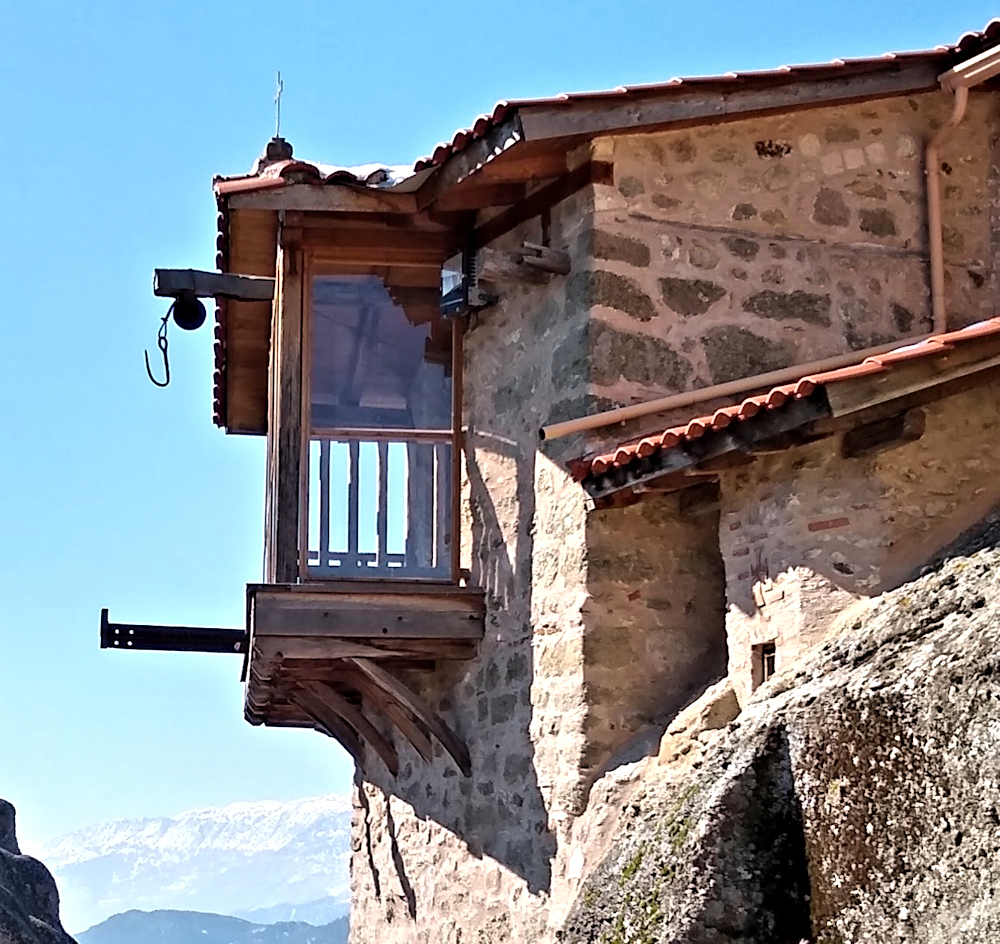 At one point 24 monasteries existed at Meteora, but now only six are functioning, each housing fewer than 10 individuals. Originally only monks lived here but now two of the edifices are nunneries.  Meteora became a UNESCO Heritage Site in 1988.
You can learn more about the history of this fascinating place in this Wikipedia article.
Meeting Fernando
On my first day, I scouted around the town and paths. It had recently snowed and many of the paths up to the monasteries were still icy. I thought waiting an extra day would be safer. Besides it was nice to rest a bit more…I was still feeling the effects of traveling through eight time zones two days earlier.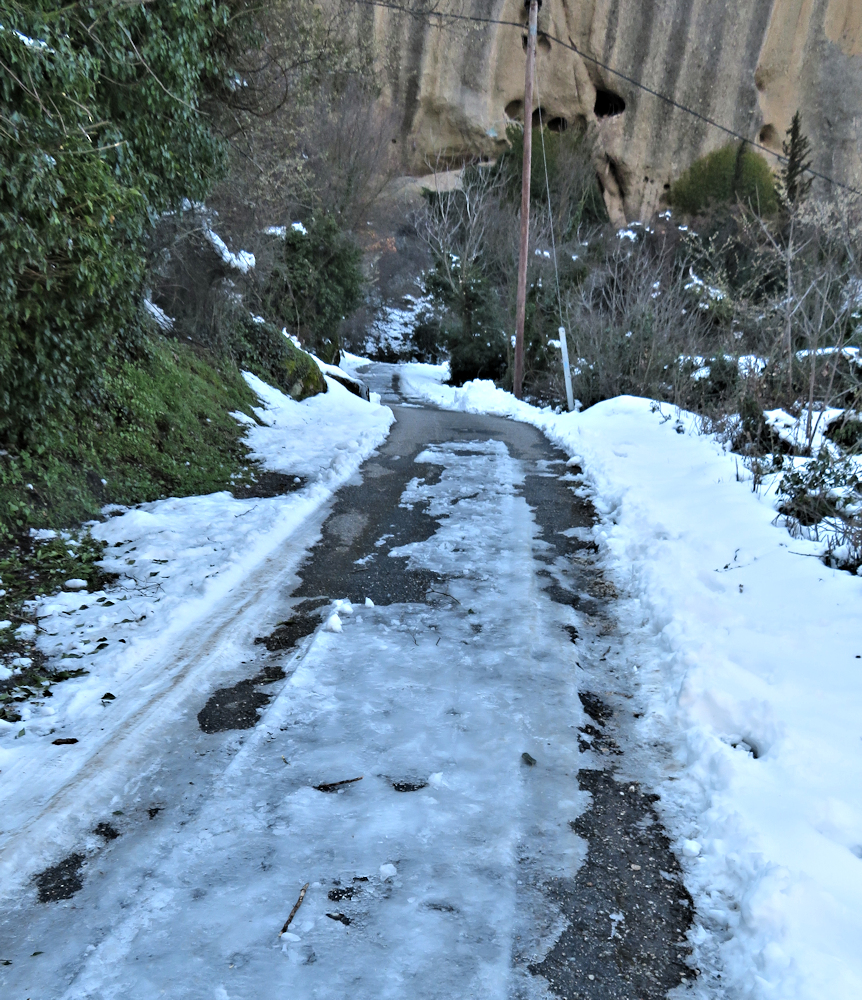 There are two ways up to the monasteries—the long way around on the road (you can walk or take the bus) and the short way up through one of the canyons. The latter is much quieter and scenic. But it was shady, and even though I waited the extra day, there were still some sketchy ice patches.
On day two, I planned a full day at the monasteries (six are open to the public—but on different days). I started up the trail and did encounter a few icy patches, but nothing that I could not manage…UNTIL I came to one that was just too challenging for me.
Serendipitously, a man was walking up this lonely trail just at that moment and offered his help. His name was Fernando, and he was from Spain. We ended up spending the day together—I have adopted yet another son on my travels.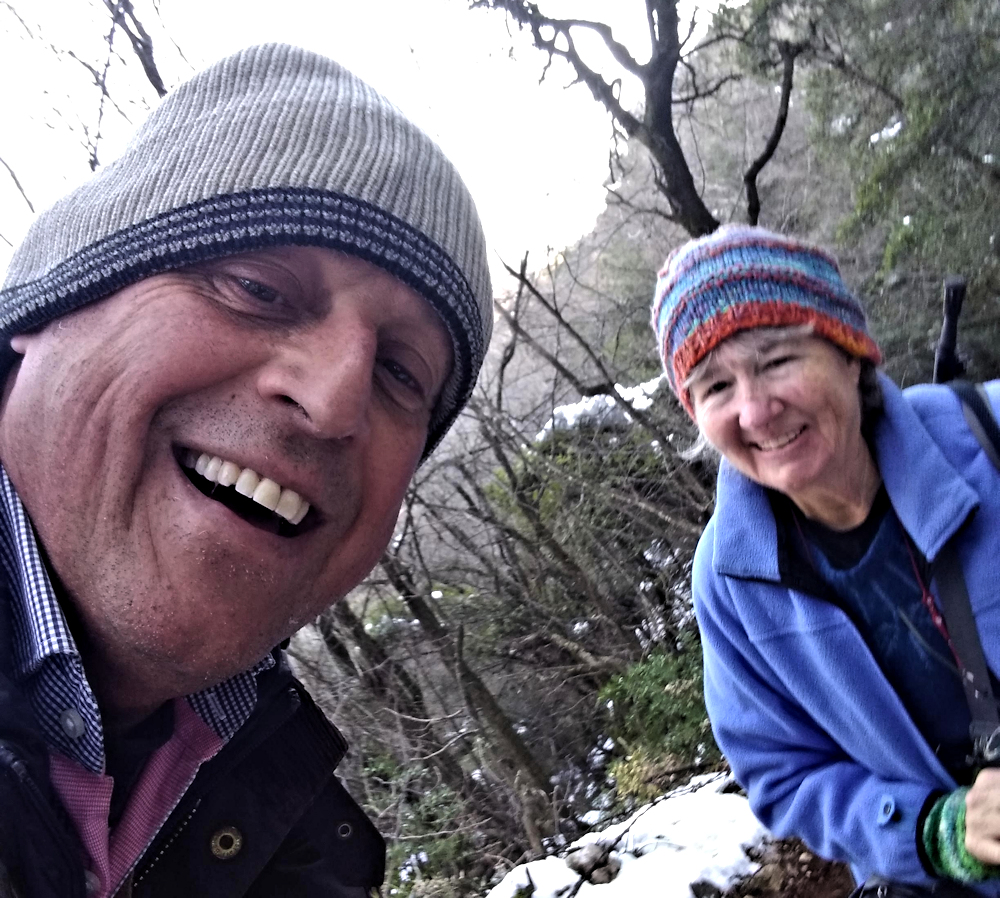 I would go inside two monasteries on this day—Holy Trinity and St. Stephens in the morning. And I would walk with Fernando along the winding road between the other four for the rest of the day.
Every weekday, at least one of the monasteries is closed, so unless you visit on the weekend, it is almost impossible to see all six on one day. But taking in two to four of them is sufficient.
Dressing modestly is the strict rule here. No shorts or tank tops for anyone and all women must wear below-the-knee skirts—even if they are wearing pants. Many women don a makeshift wrap that some monasteries supply (or sell). But since I had researched Meteora to death beforehand, I was prepared and before I left home, I decided to bring along a special skirt just for this visit.
I had purchased this handwoven Guatemalan skirt in 1972. (I had to let the waist out a bit!) This would be my monastery skirt. You can see it here in this photo of my obligatory visit with one of the monastery cats.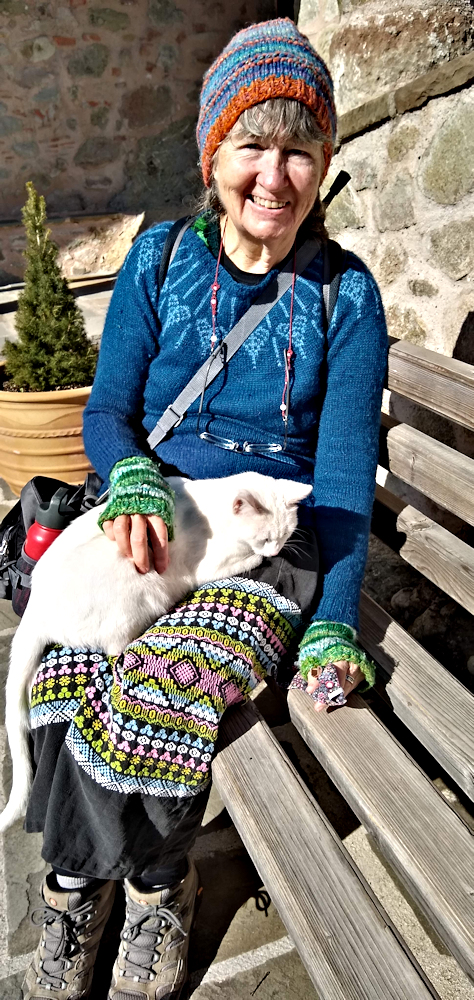 Once inside, you discover that the courtyard is a landscaped paradise that invites contemplation. Fernando and I were the first visitors of the day and got to experience the solitude of the place before the deluge of tourists ascended.
(We were not allowed to take photos inside the monastery, but I have some exterior images later on.)
Up next would be the Monastery of St. Stephen.
Tackling Those Icy Paths
As mentioned, the trails and some walkways were still icy from a recent snowstorm. Going UP that last patch was not too hard with the help of my trekking poles. But after leaving Holy Trinity, I had to cross it again–this time downhill. As soon as I started down, I fell on my bottom. Then it was almost impossible to get up, so I decided to just slide down around the ice. With the expectation that you would be entertained by this, I handed Fernando my camera.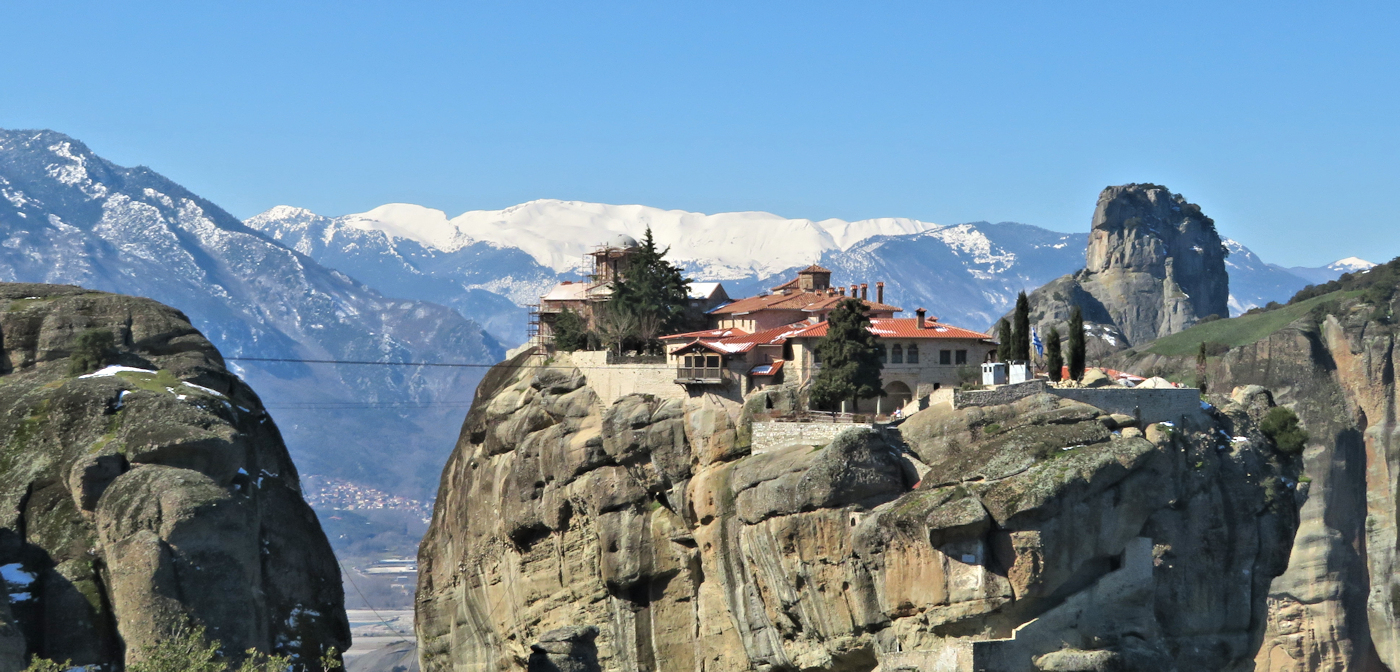 The Monastery of St. Stephen
The Monastery of St. Stephen was probably built around the 14th Century. The history is not clear. There is an old tradition is that at some point it may have been connected with female monasticism. It later became inhabited by monks. By 1960, however it was almost vacant again and in 1961, it became a convent and currently over 20 nuns reside there.
So, it was a nun who took my three euros and reminded me that photos were okay outside, but not in the church or museum.
Whereas the entrance to the Holy Trinity Monastery had an icy patch, many stairs to climb, and a walkway hanging off the cliff, St. Stephen's gate was right off the parking area.
The iconography in the chapel was brilliant and colorful. I appreciated the art, despite how graphic the martyrdom of saints was depicted in some. I am pretty sure that most of the artwork here has been recently restored. The iconography at Holy Trinity was not nearly as clear and brilliant as the work here.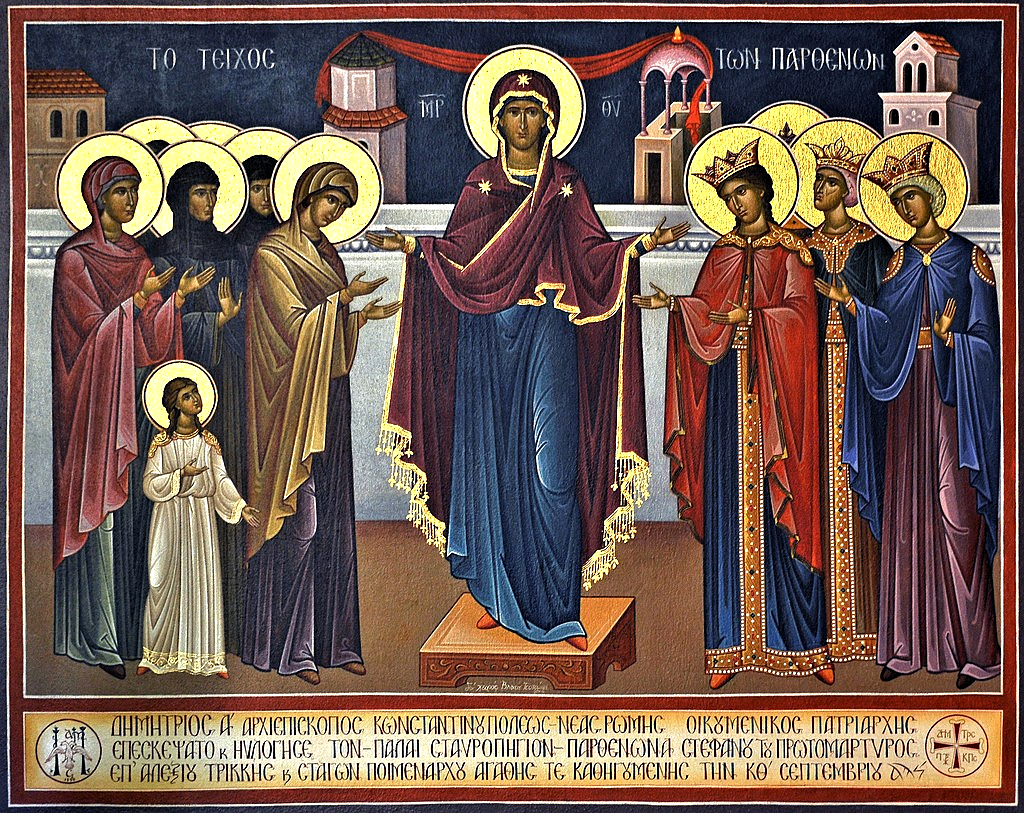 The manicured courtyard was lovely and had a magnificent view of the valley below.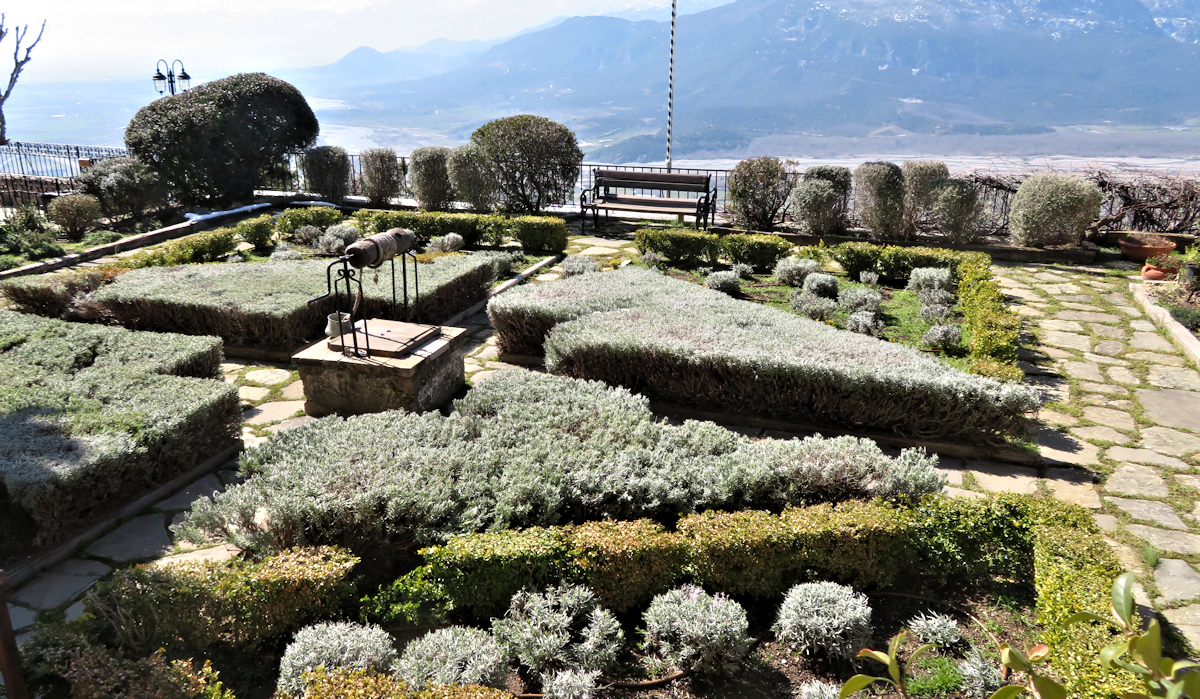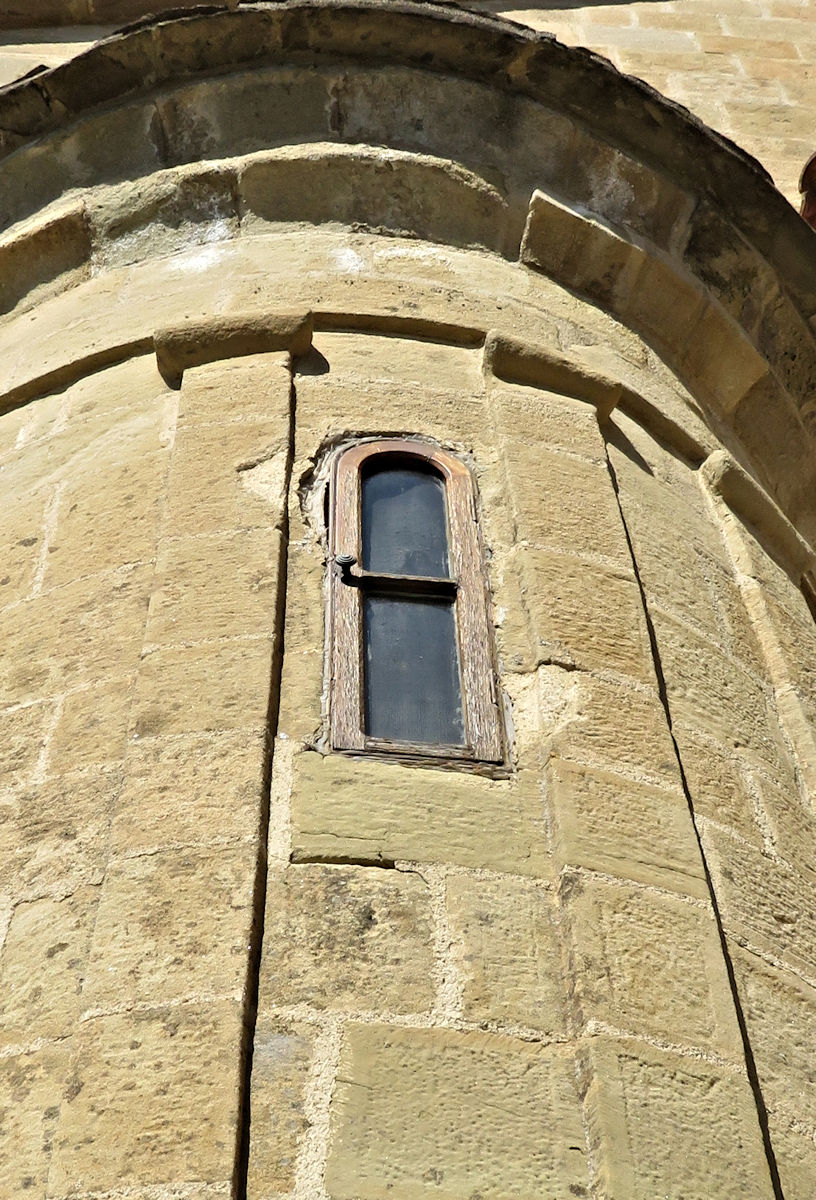 Fernando chose not to visit the interior of this monastery and waited outside while I made a brief visit. He was conducting business by phone on and off during the day, combining work with pleasure—a working holiday for him. So, he made calls on his phone while he waited. I insisted that if he should continue on if he got tired of waiting, but he was still there when I emerged from the monastery.
Amazing Views
We continued on together by foot on the winding road. By the end of the day, our feet would be aching from the mile walked on asphalt. We got to know each other as we walked the twisty up-and-down road stopping mind-blowing viewpoints along the way.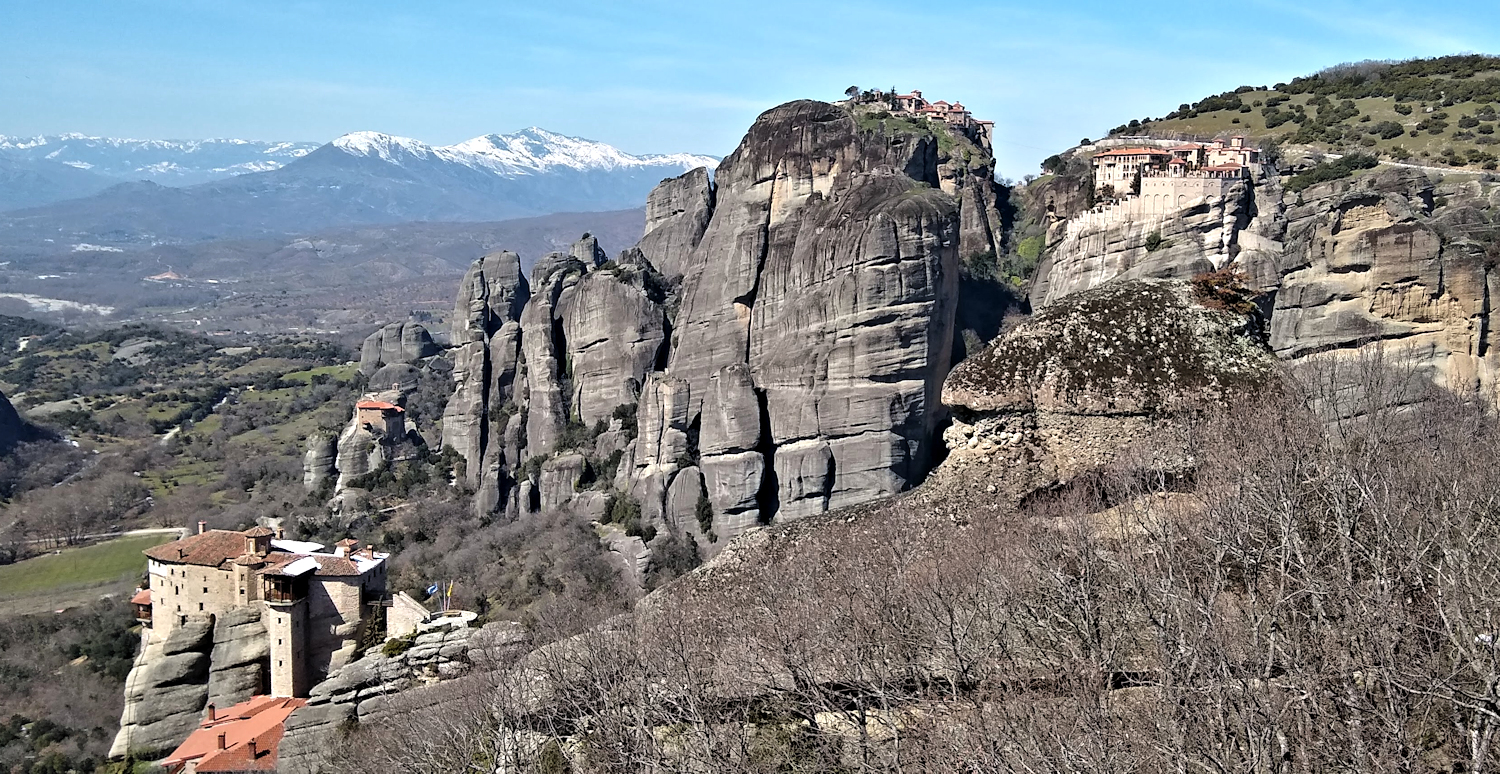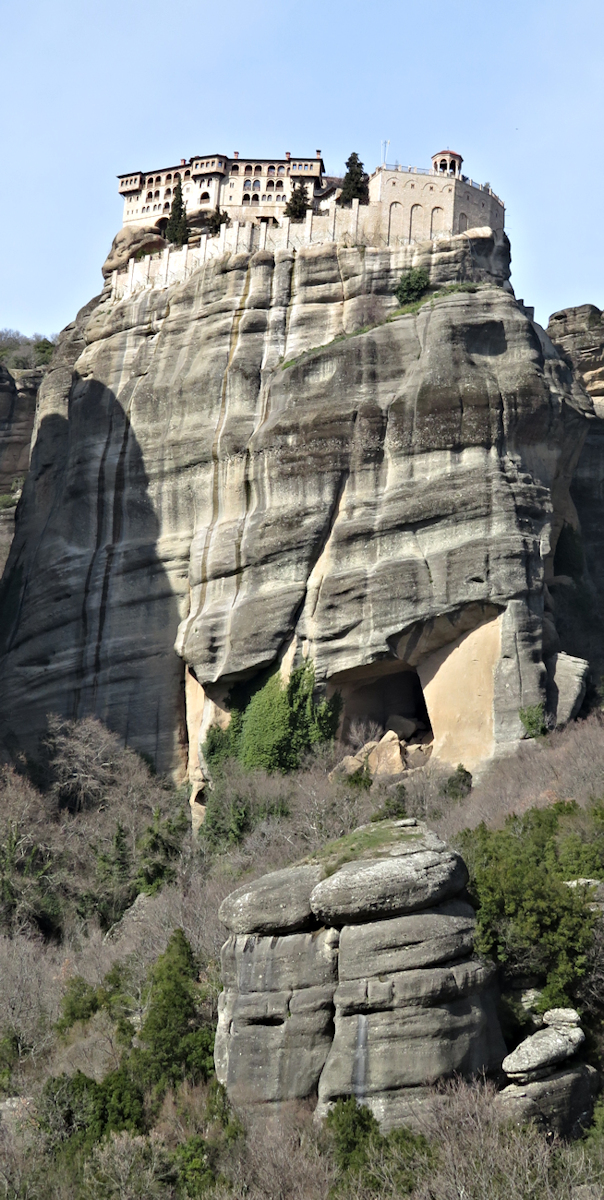 I cannot imagine how challenging it would be to build these sanctuaries in modern times, but these were mostly constructed the 13th and 14th Centuries. There were no roads and everything had to be brought up via ropes or carried up ladders and footholds carved into the cliff faces. How was this possible?
It is challenging to visit all six monasteries in one day—especially on foot. But the monasteries are open on different days of the week, and it is likely that one or more will be closed.
We were told that the Monastery of Varlaam is the most interesting to visit. But by the time we arrived it was close to closing time, so we decided we would return the next day by local bus.
It was a fairly long walk back to Kalampaka, but it was all downhill. If we had been ready to return by 3:00 pm, we could have taken the bus down. But the the day was pleasant and we enjoyed our visit as we walked.
A Perfect End to Our Day
I told Fernando that I was going to try a restaurant, Valia Calda, for dinner, and that he was welcome to join me. So, we dined together on huge slices of leek pie. I fell in love with the smoked eggplant "salad" which is actually a kind of dip for the luscious bread. Add a glass of wine and after that long walk, you feel like you have arrived in heaven.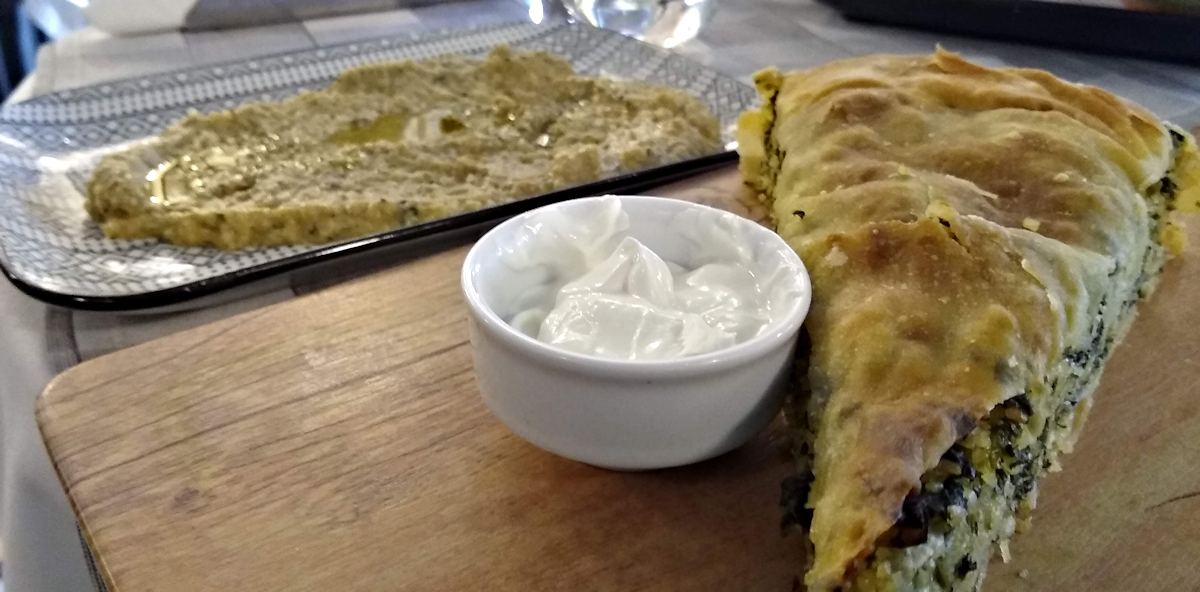 Other Blog Posts You May Find Interesting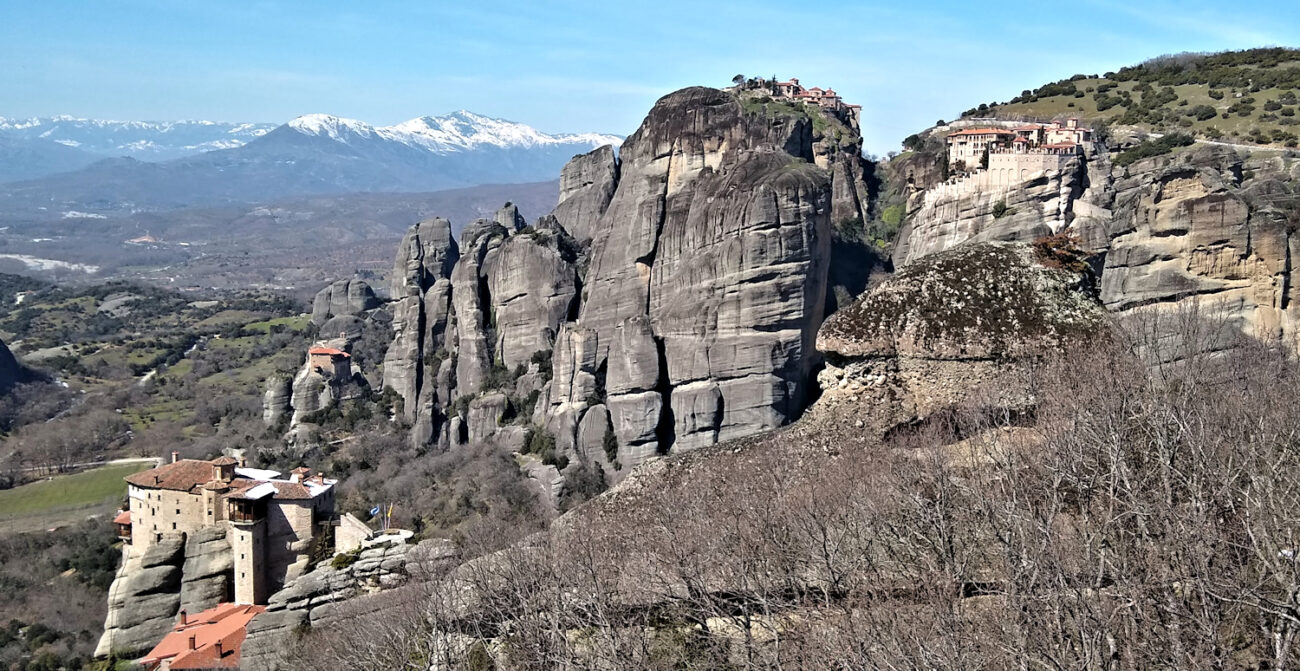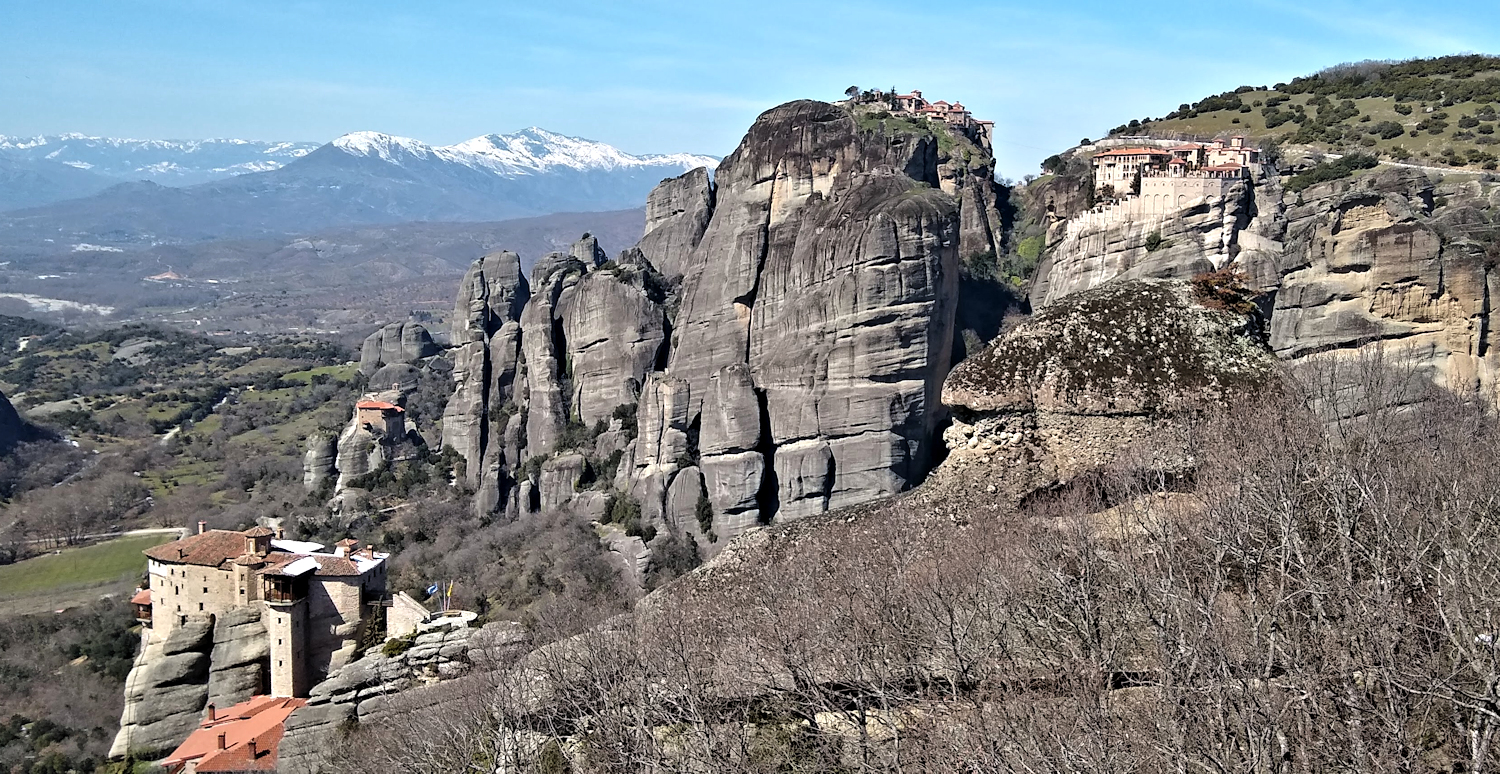 While researching a different trip … I came across some articles about the monasteries of Meteora in Central Greece. Not only do they have a fascinating history, but being precariously perched on the tops and sides of cliffs, they compel visitors to examine them more closely.
Read More »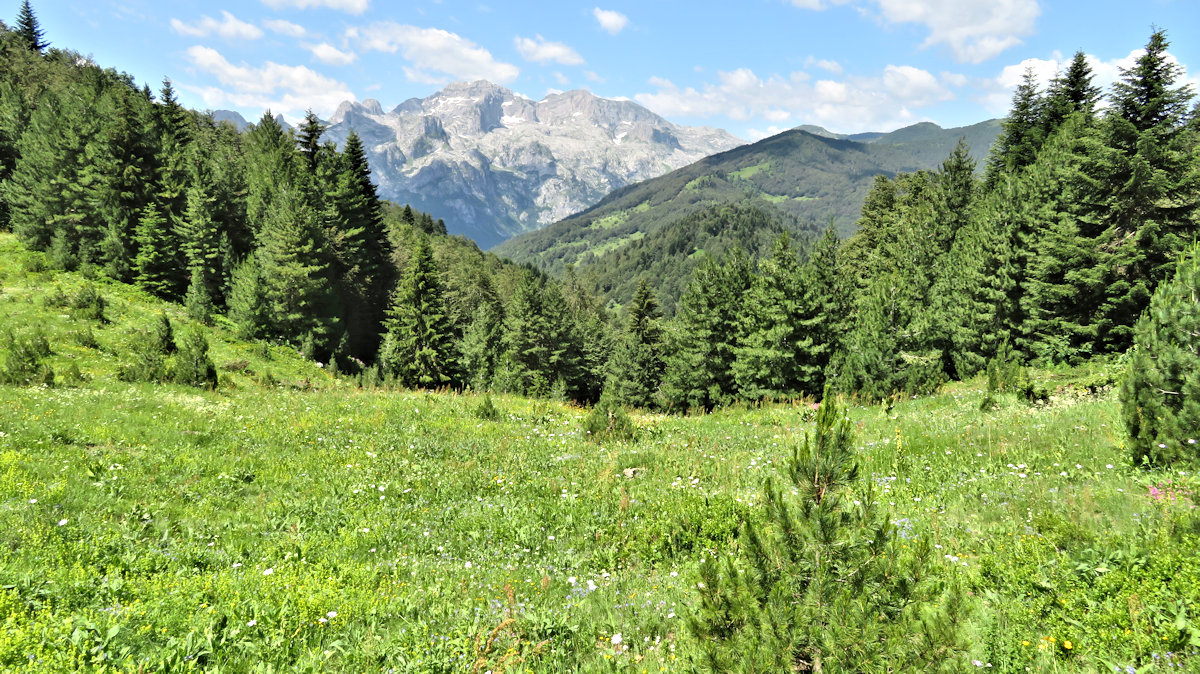 Today, as we had expected, was easier overall. There was an easy uphill until about the halfway point. Then we had lovely rolling hills and ridges to traverse for the rest of the day. There were no real hurdles.
Read More »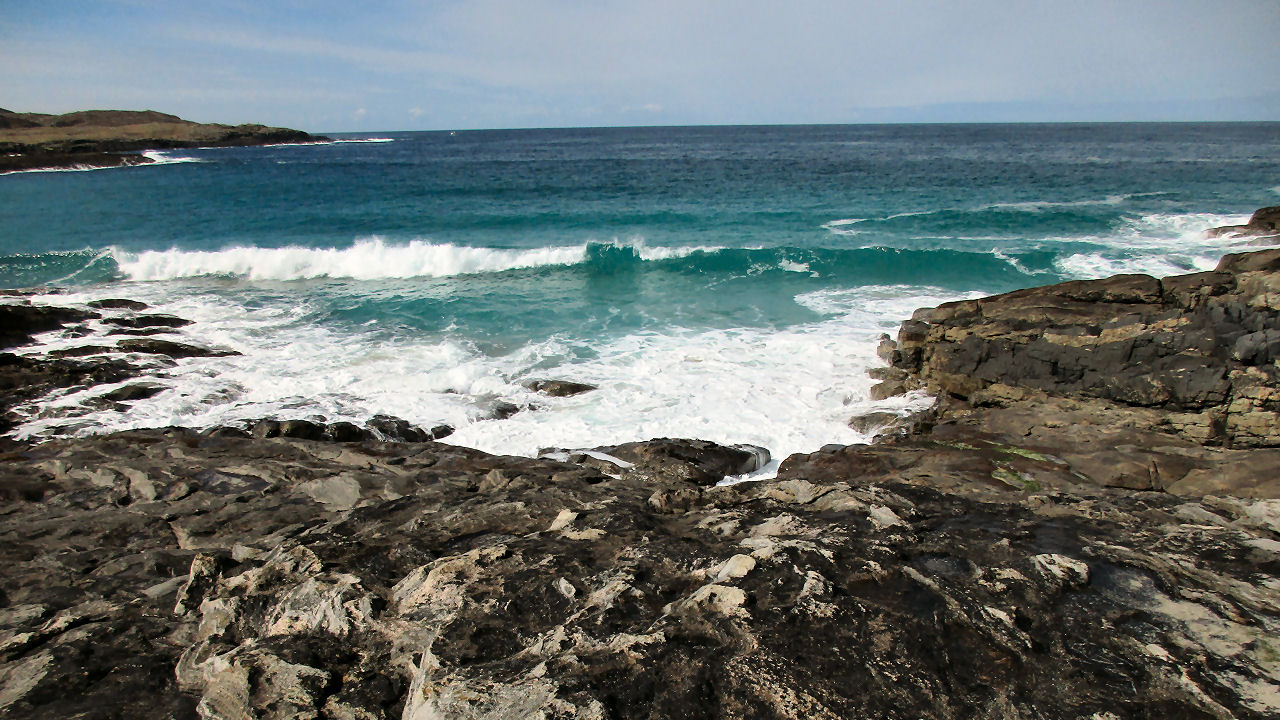 I had time to take one hike on the Isle of Barra in the southern Hebrides and it was another of one of those occasions when I could not believe the place in which I had found myself.
Read More »