Hiking the Peaks of the Balkans
Day 6: Plav to Vusanje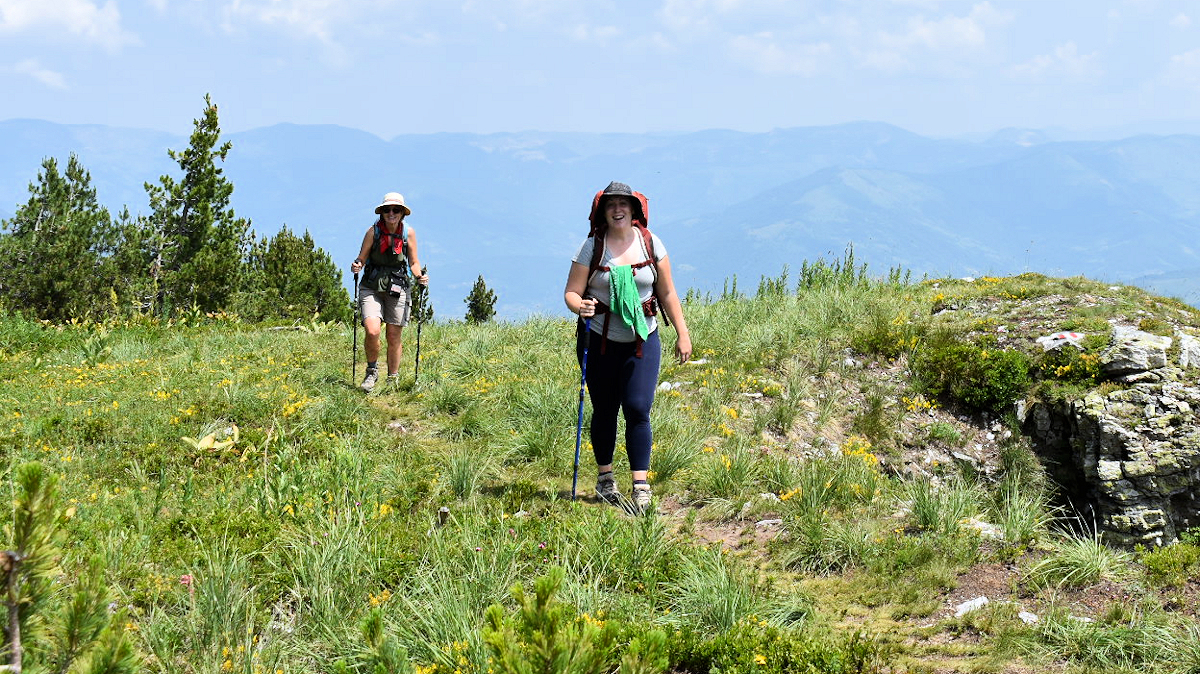 This is the seventh in a series of posts about our experiences taking on the Peaks of the Balkans trekking circuit. I traveled with my daughter Rebecca and a friend Nev Chamberlain from the UK.  We decided to make this journey without hiring a guide. 
If you want to read the series from the beginning, start HERE. 
In the last post, I will provide the resources that we used to make this excursion a success. I will also discuss the pros and cons of hiking the Peaks of the Balkans independently.
On our rest day, Nev had worked with some other trekkers whom we had met a few days earlier to hire a couple 4WD vehicles which would transfer us up the first ten kilometers of the trail on Monday. This stretch was through a forest and on a dirt road and was reportedly not very interesting.  Many people do this to reserve their energy for the more difficult parts ahead.
Later we agreed that the 20 Euros (per person) transport cost was well spent.
At the end of this post is a video recapping highlights from the day's  journey.
The first part of today's trail took us up many steep switchbacks through the woods. We finally reached a meadow with so many horseflies, that they made Rebecca jump around in a frustrated dance to avoid their painful bites. I even put on repellant—which I rarely need to do.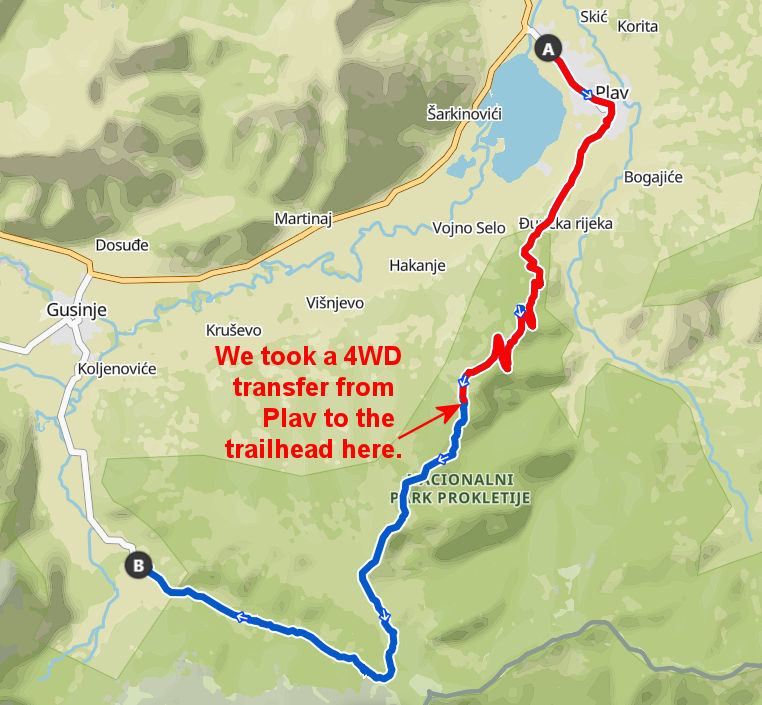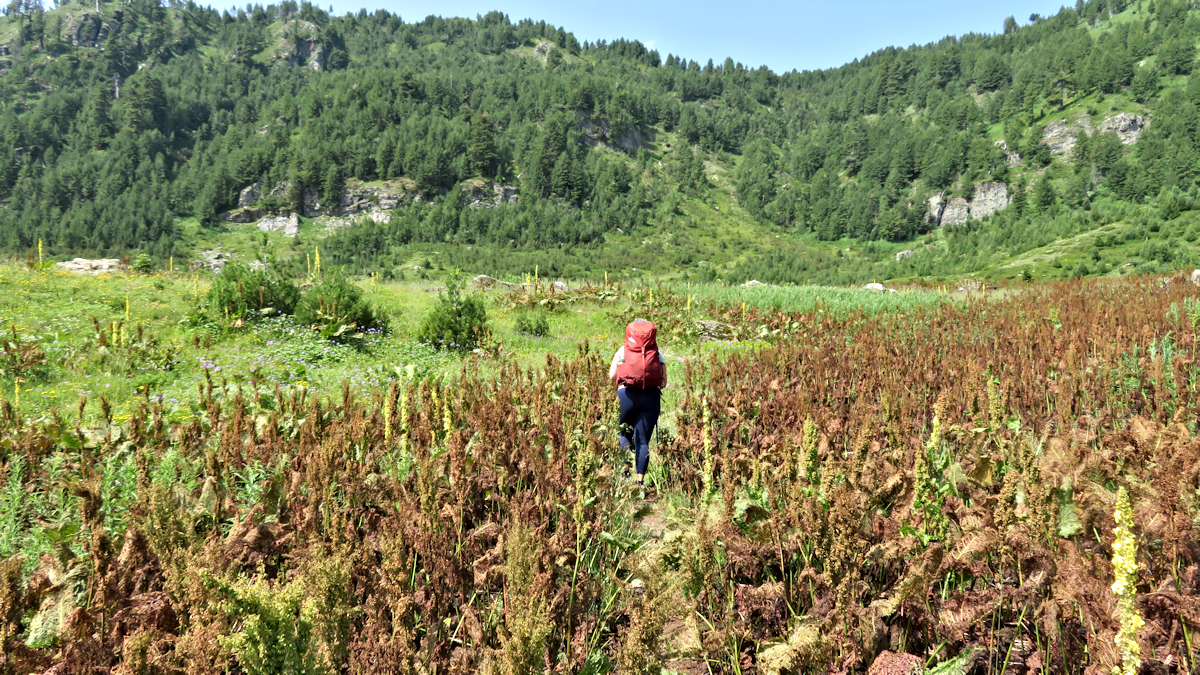 Once we got to an overlook with enough breeze to keep the insects at bay, we enjoyed a snack. We could see Plav in the valley below.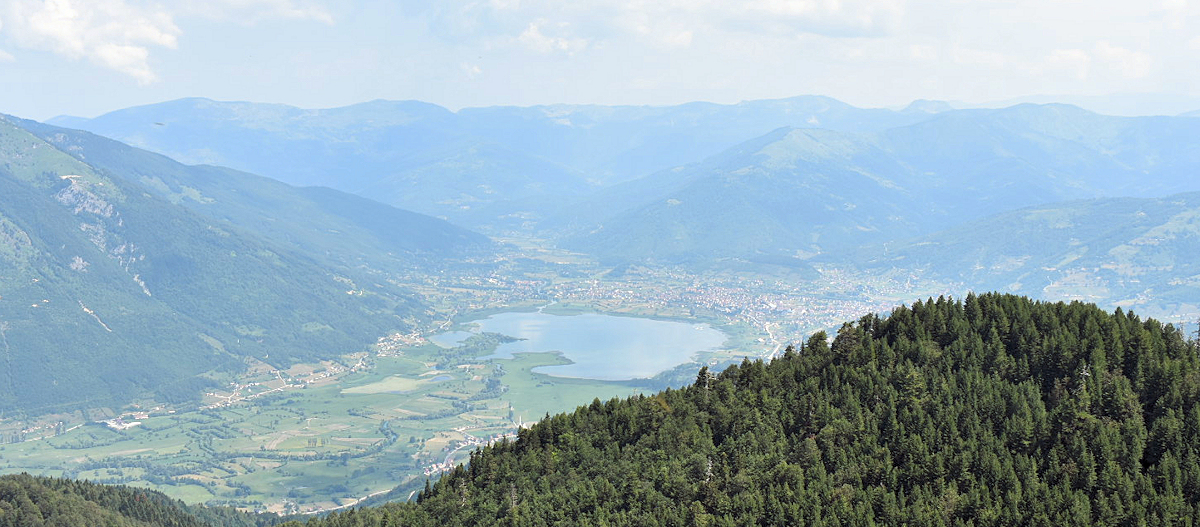 The next thing we knew, we were climbing straight up. This was, by far, the steepest climb of the whole trip, with tiny hand- and toeholds. The trail was sketchy at best. I was not really afraid while I was climbing. But later we all recalled how dangerous that part of the trail really was. I hope someday that the trail designers will reroute this part of the trail into more long switchbacks to prevent someone's injury or death.
For more travel inspiration, stories, and how-tos,
subscribe to Cathleen's Odyssey.
After an easier climb we found a sunny meadow for eating our lunch. Be sure to watch the video (link below) to hear Rebecca's reaction to the beauty of this meadow.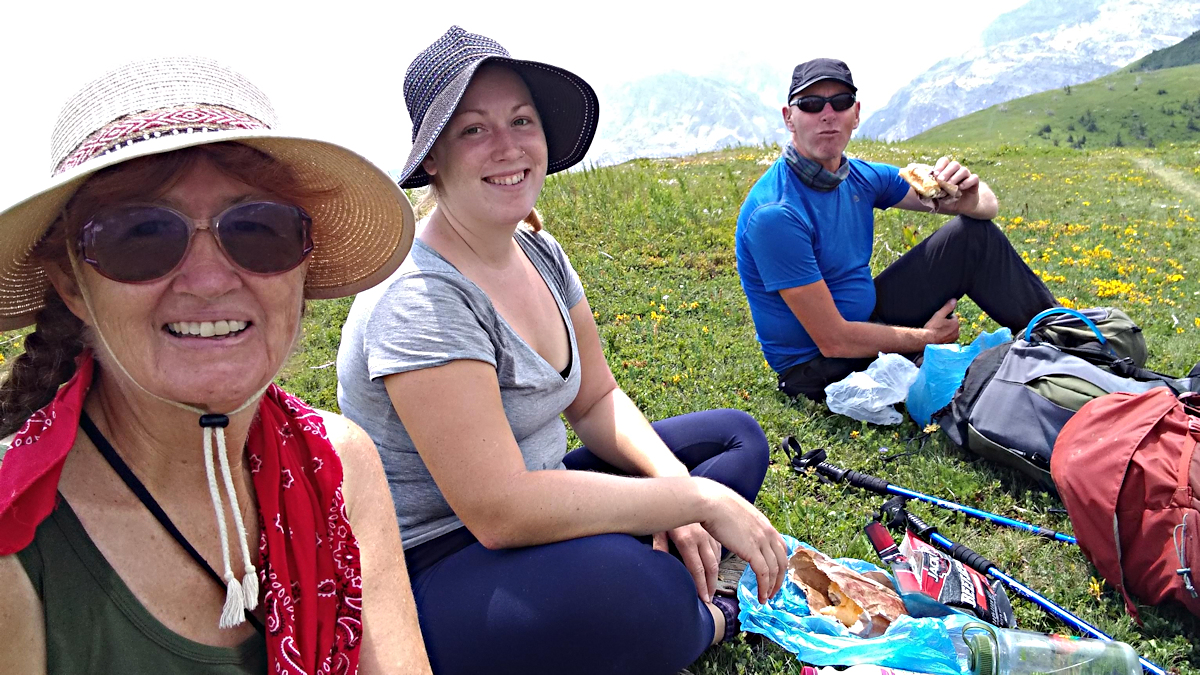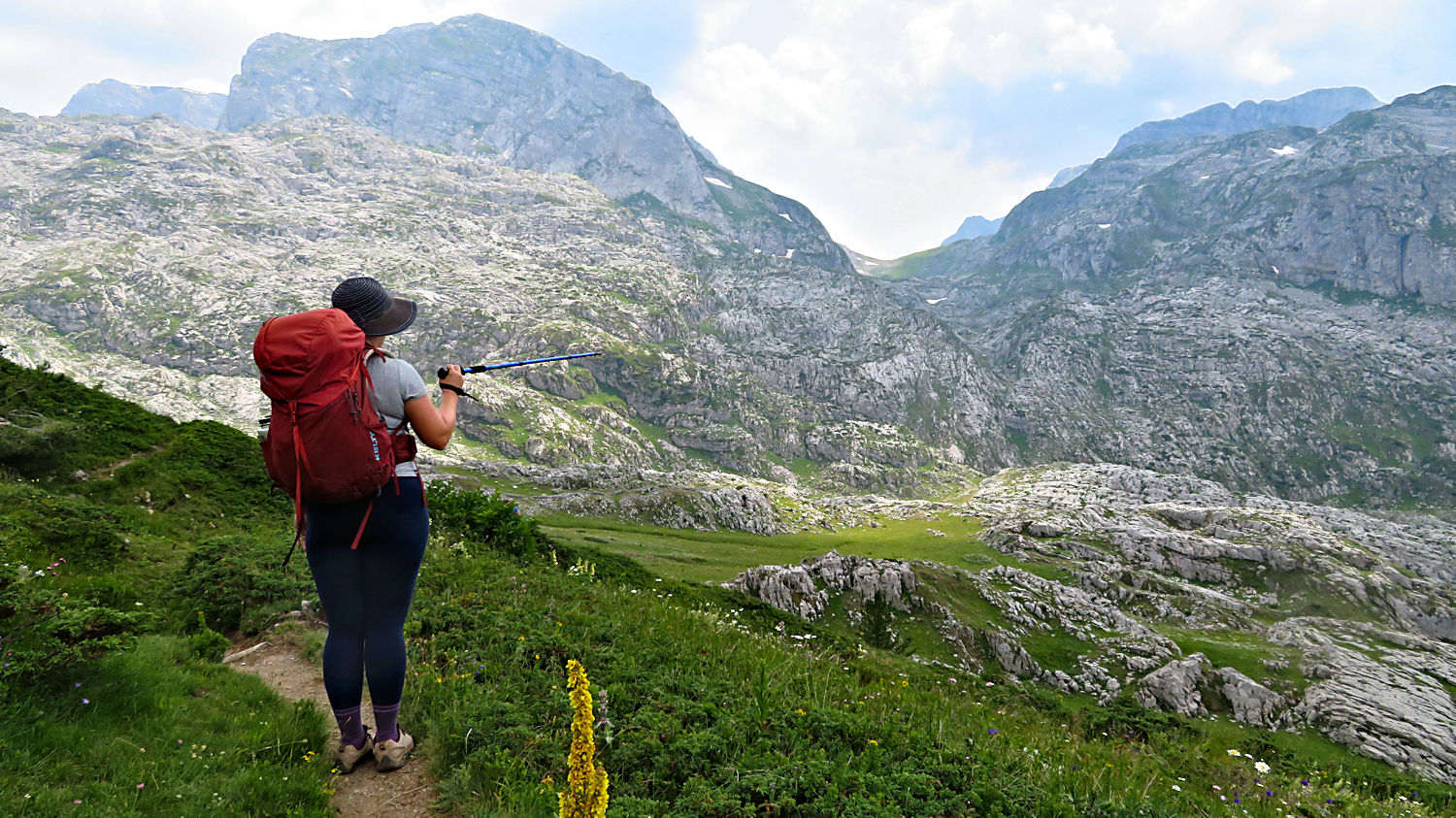 After lunch, the route into Vusanje was mostly a gentle downhill stroll. The colorful flowers and lichens kept my camera busy.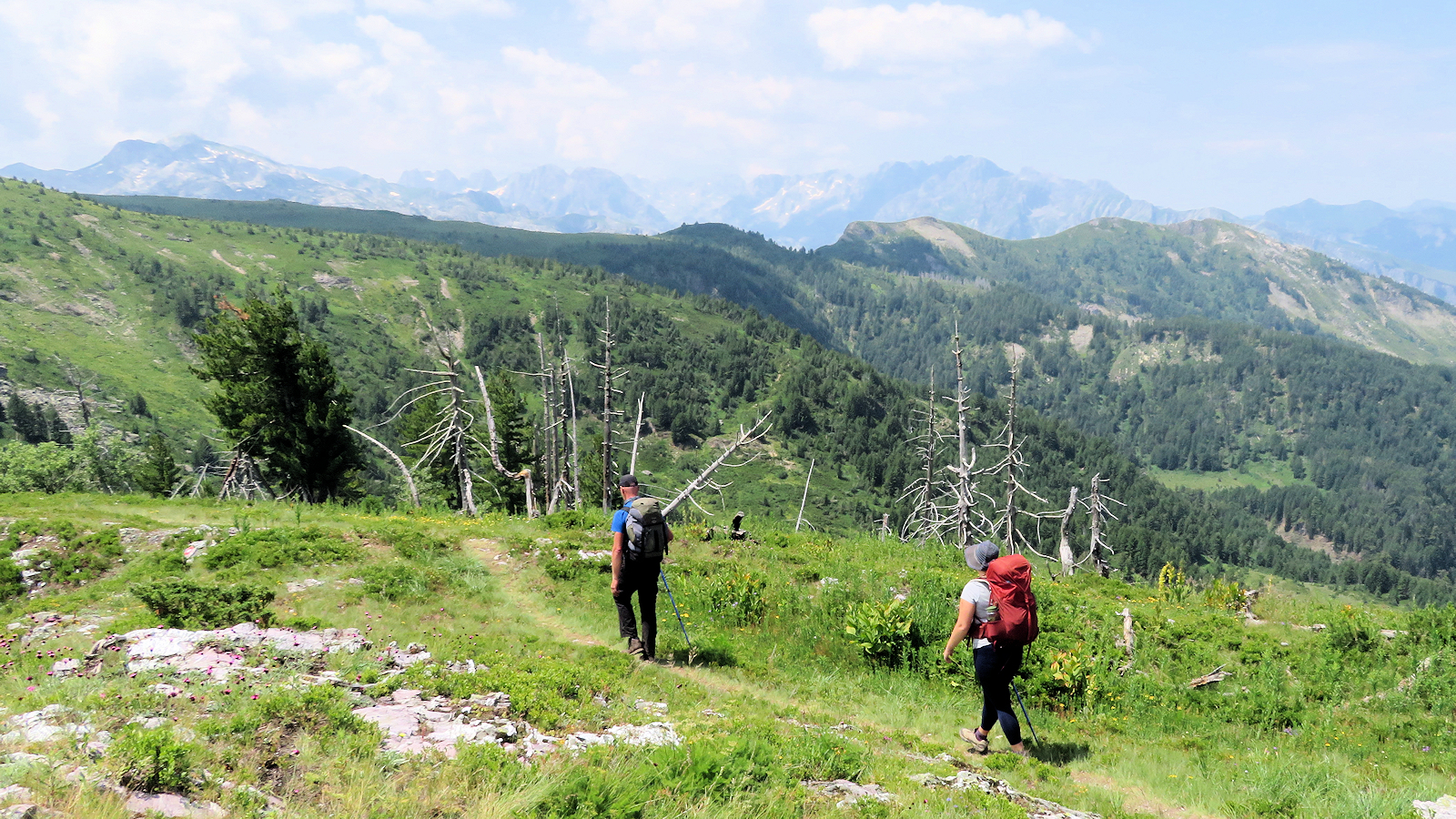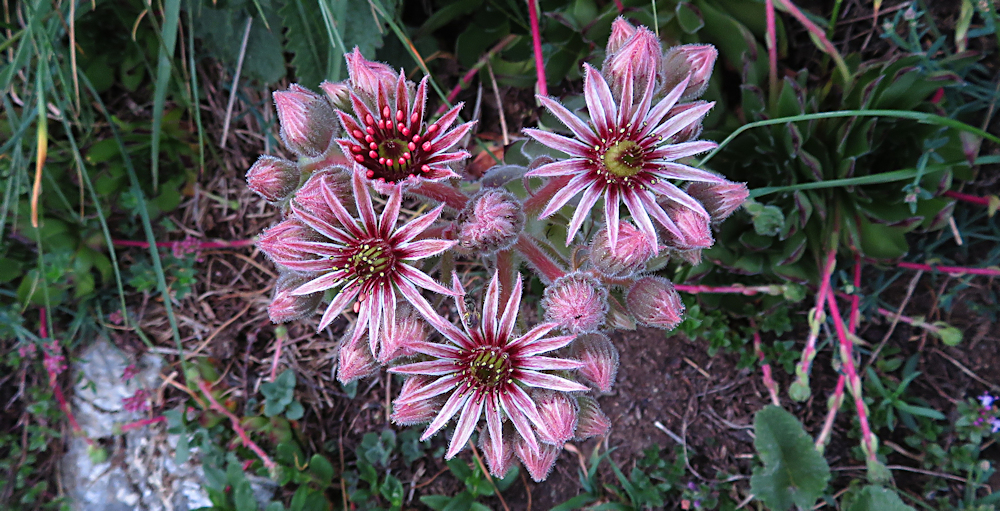 Along the way, Rebecca came to this sign saying that we would encounter a café in 200 meters. This was always a welcome sight. But we would not know if the rest stop would be open until we arrived.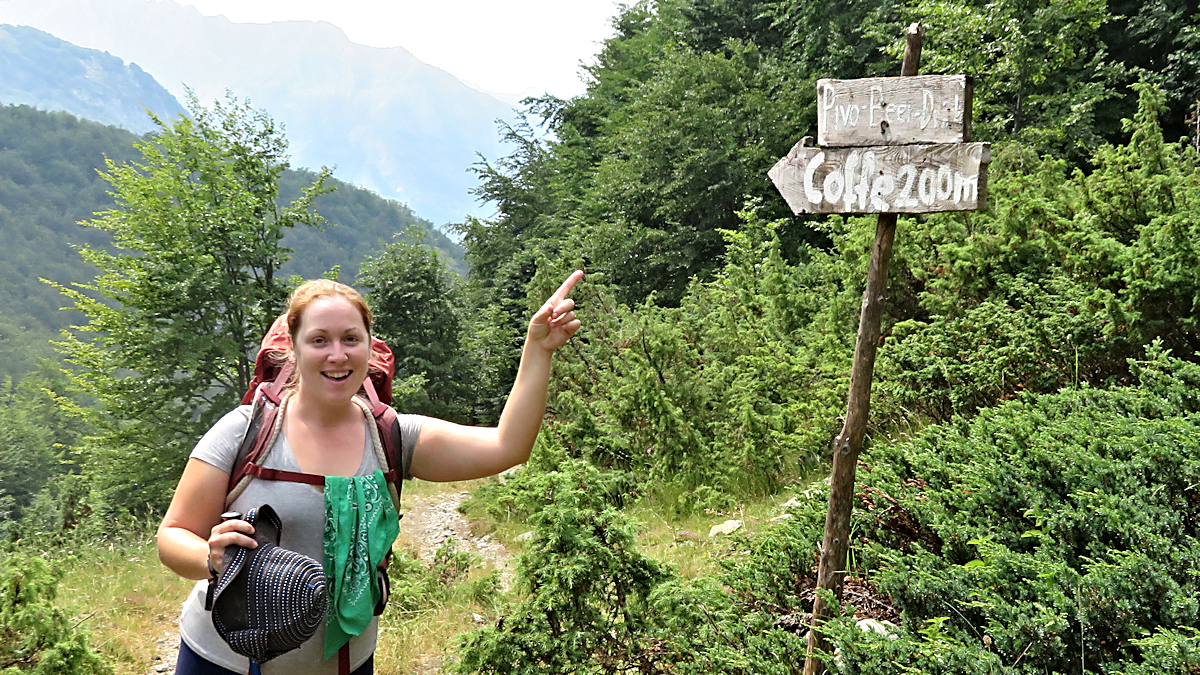 These little huts were real treats—cafés that the shepherds had set up in their encampments to bring in extra money from passing trekkers. Almost everyone takes advantage of these rest stops and this one was busy today.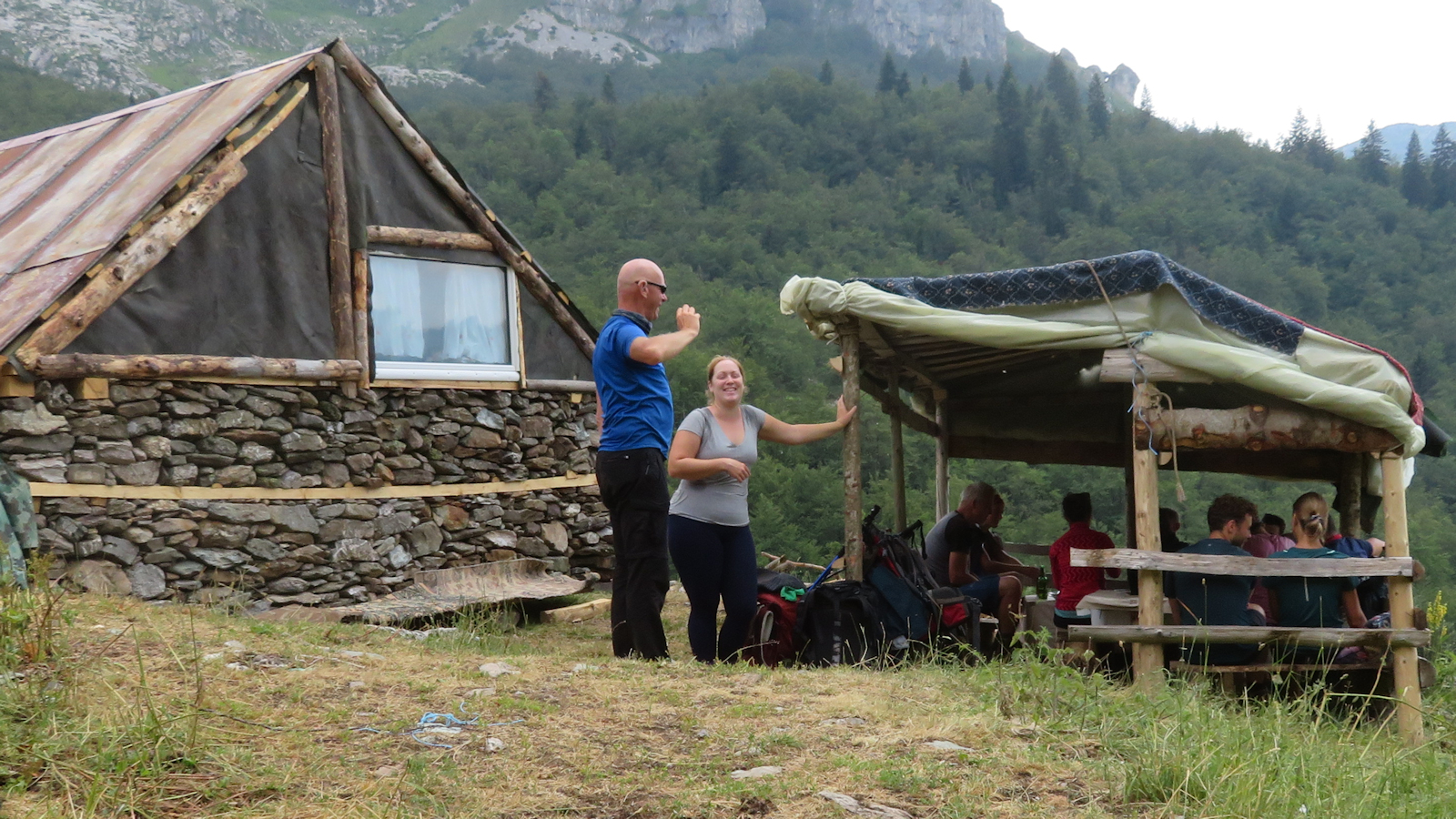 On the whole, the day was not a difficult one. That sketchy steep part did not last so long; and the rest of the way down into the valley was by a slow rambling downhill trail. It did help that we had taken that nine-kilometer jeep ride at the beginning of the day—kind of a cheat—but since we had already skipped two stages (days) that we had originally planned, we did not feel bad at all.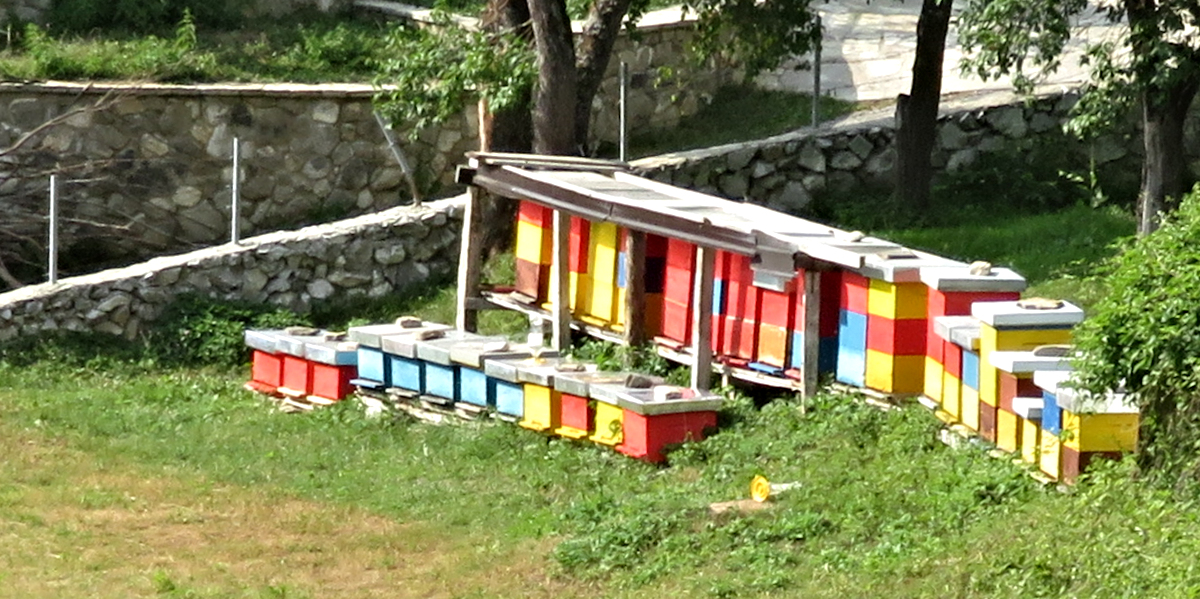 When I originally suggested Prokletje Eko Katun  as our stop for the night in Vusanje, I was basing my decision not only on the reviews, but also from its placement on Booking.com's map, which showed that the guesthouse was near the center of the village.
As we walked into Vucinje, it became apparent that our guesthouse was not right in town, but actually almost 2 km north of town, which added distance to today's walk. Then, we had to retrace those two kilometers the next morning before beginning the last day's journey.  (This has since been fixed on Booking.com's map.)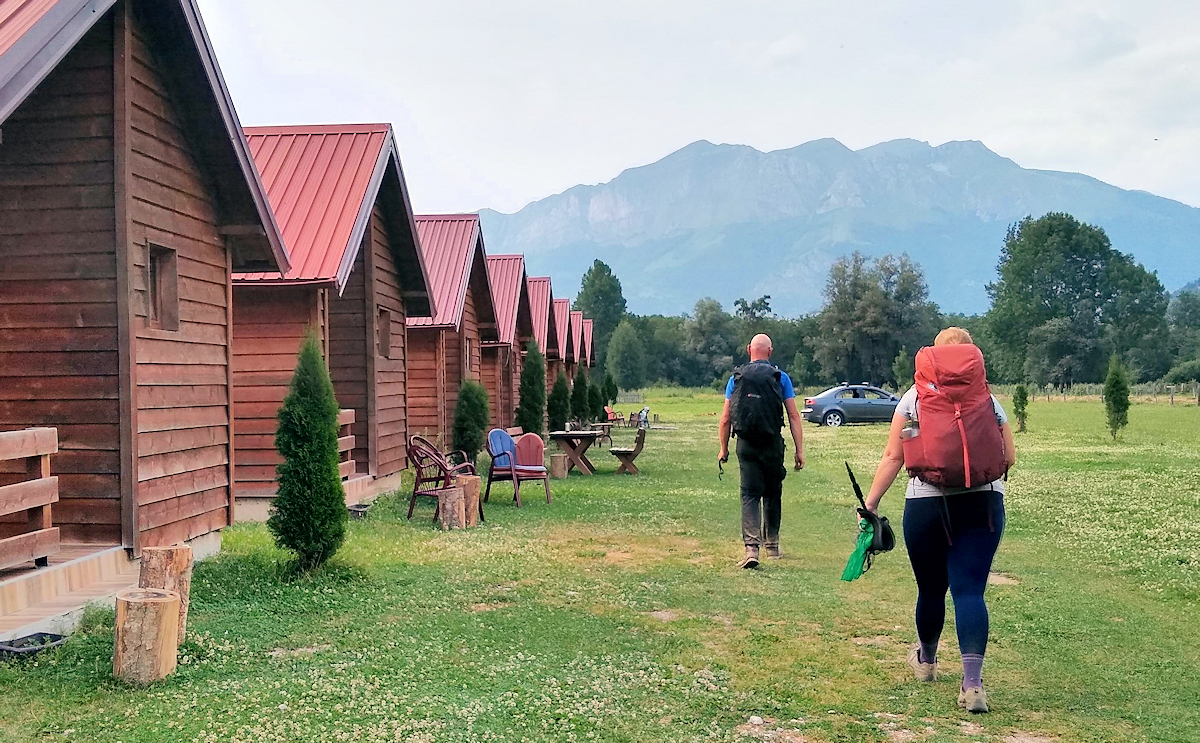 On the other hand, we heard later that the other guesthouse in Vucinje where many other trekkers were staying, was not very good. Prokletje Eko Katun was very pleasant and had a café with a menu—so we had some choices for dinner. Also, we had a cabin to ourselves and it was a very quiet night.
Other Blog Posts You May Find Interesting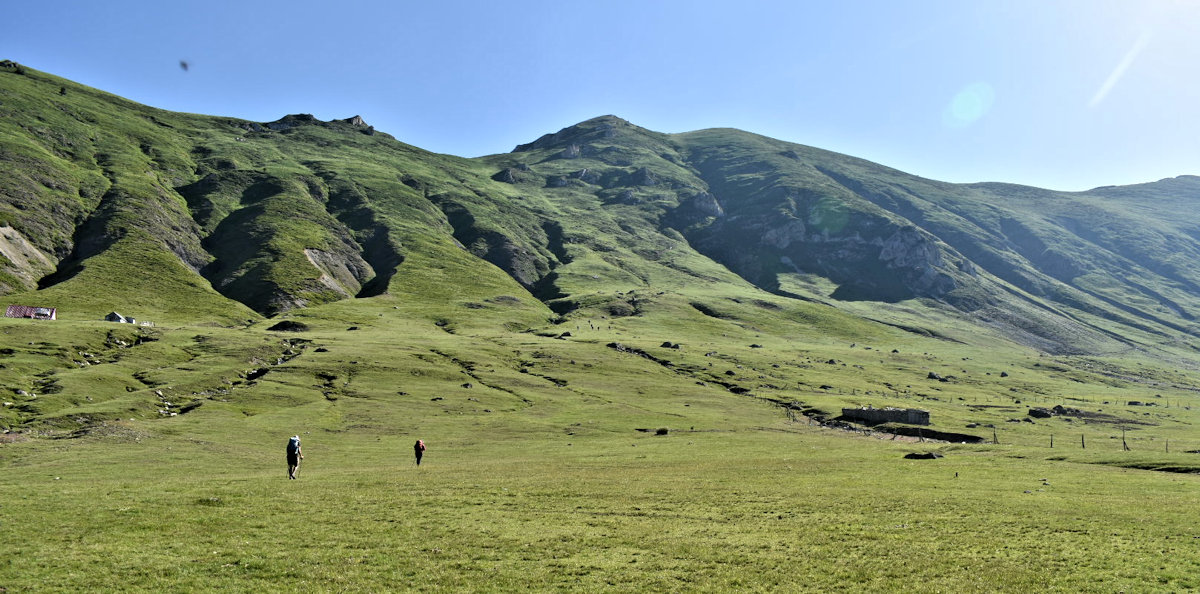 This was the longest stage so far….We enjoyed long easy walks up and down along ridges and over some low passes from one valley to another.
Read More »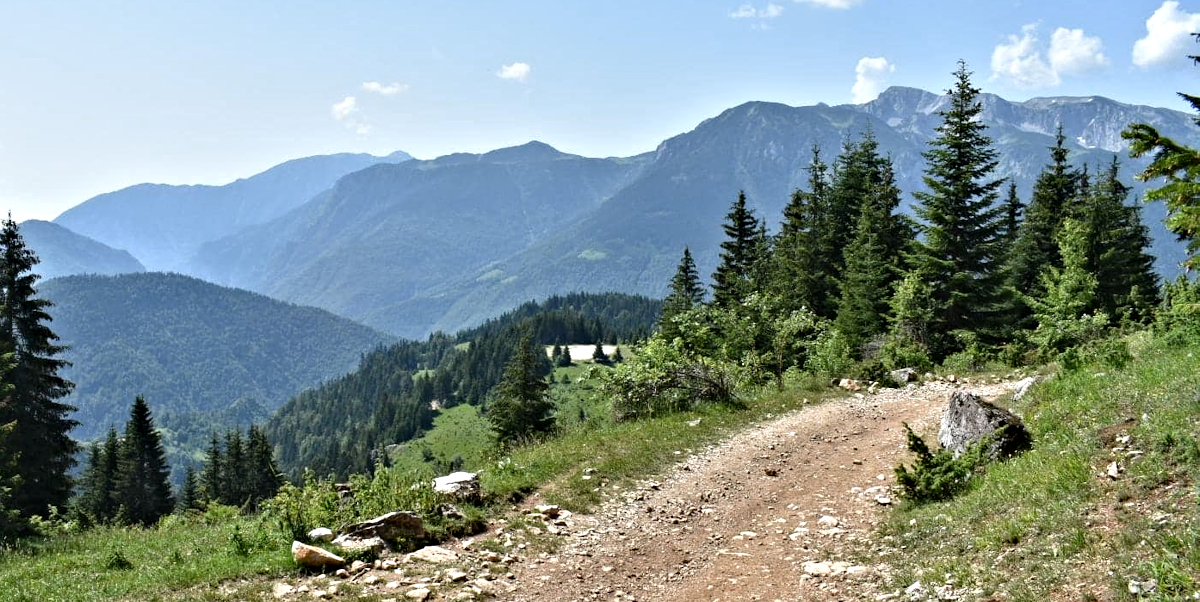 Becca and I were getting hiking weary. The steep daily ups and downs were taking their toll on our knees and feet.
Read More »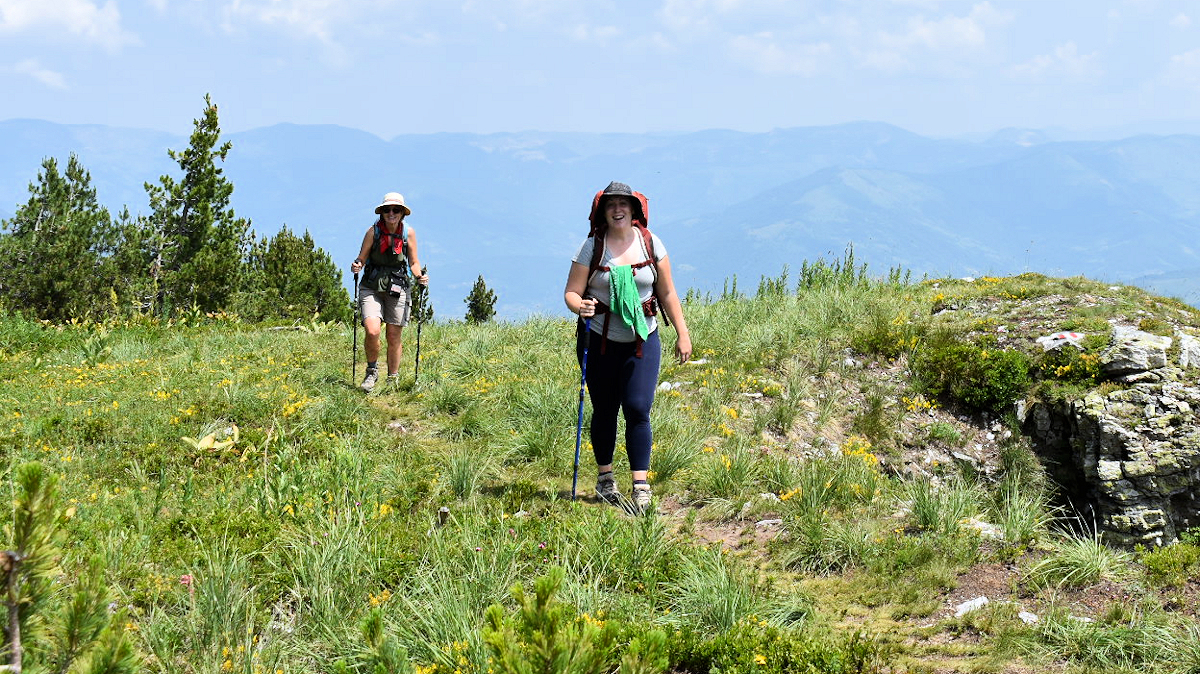 The next thing we knew, we were climbing straight up. This was, by far, the steepest climb of the whole trip, with tiny hand- and toeholds. The trail was sketchy at best…
Read More »