Learn how I plan a train journey from London to Tbilisi
Look Over My Shoulder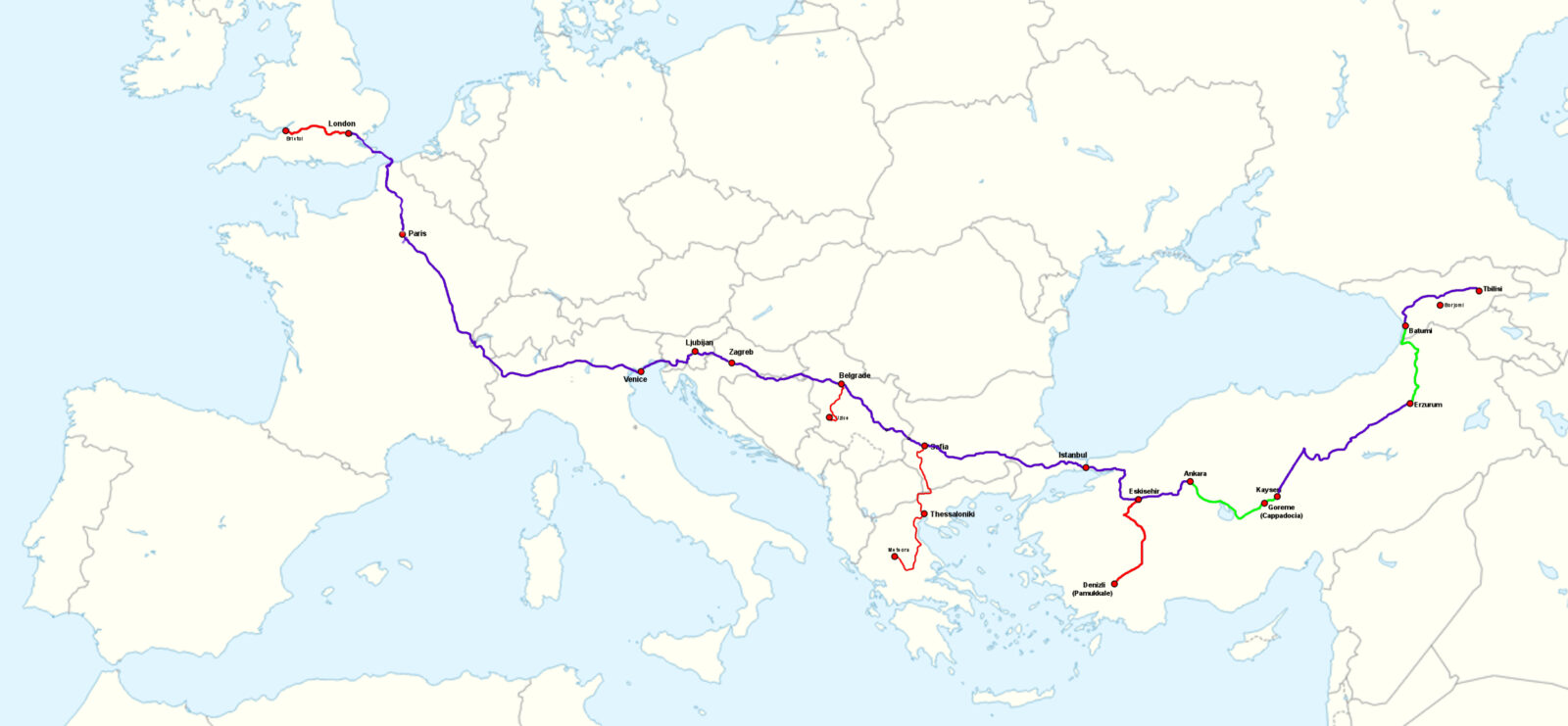 Stage 4: Testing My Budget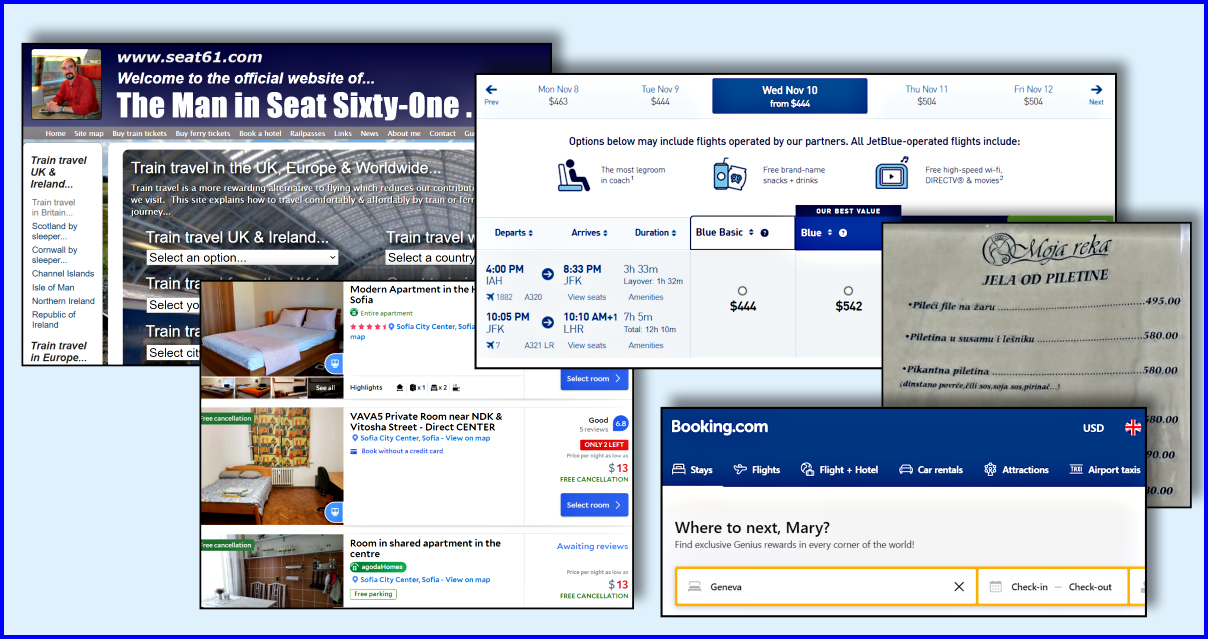 It is time to do some preliminary research to get a ballpark idea of how much this will cost. If it is beyond my financial means, now is a good time to cut out some venues, before I get my heart set on all of them.
Getting Ready
By this point, I have created a couple documents that will make planning easier:
A spreadsheet that mostly contains data about trip costs, so I can keep a running estimate in one place. It looks something like this: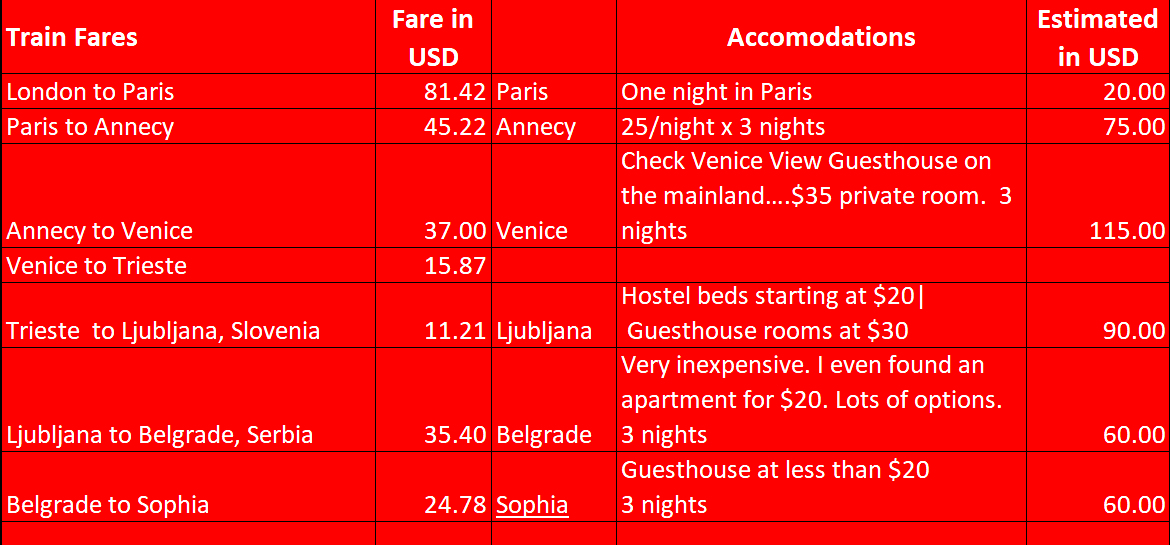 A text document (I use MS Word) with each destination in my skeleton itinerary listed in its own section.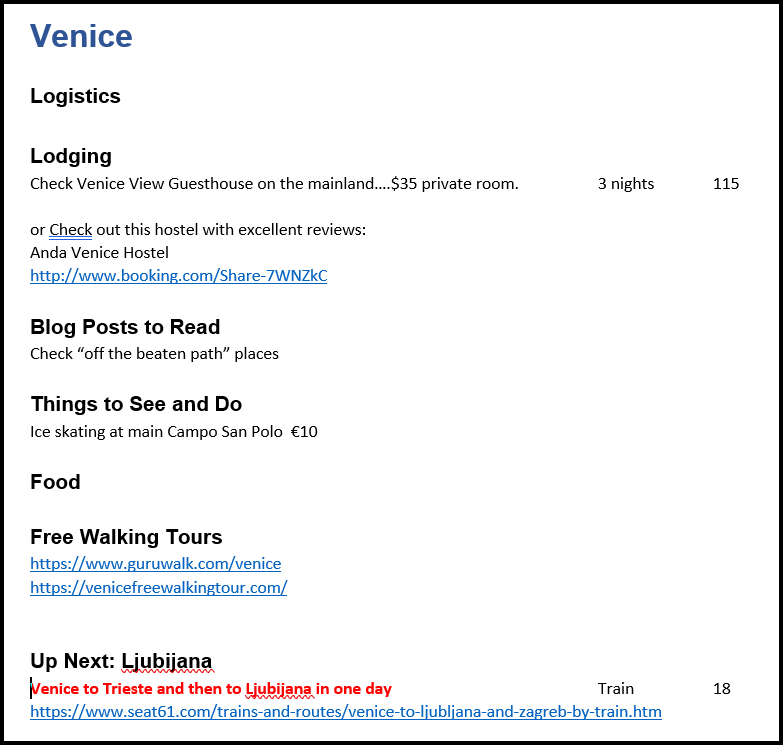 These documents are really just for my own use, so I don't try very hard to make them look "pretty." They are just a place to keep track of all my research over the coming months. 
Air Fares
To find airfares, I usually start with consolidators like Kiwi, Google Flights, etc. to get an idea of flight possibilities and the airlines to check. But I am moving more and more away from using the consolidators for actually purchasing tickets for reasons I discuss in "My Rant on the Challenges of Making Airline Reservations." In my case, I find on Kiwi that JetBlue seems to offer a flight that includes a reasonable airfare, including checked bags and short layover from Houston to London, with only one stop at JFK Airport in New York. So, I go over to JetBlue's website and sure enough they offer that flight for the same fare as on Kiwi.
Since it is too early to book the flight, this is the best I can do to guestimate one of my largest costs—airfare to Europe. I plug this number into my spreadsheet. I will periodically re-check this fare and update my spreadsheet in the coming months until I can purchase a ticket. That way, when it is time to buy,  I will be less likely to be shocked if airfares start increasing dramatically.
Train Fares
Using Seat61.com, I can get an idea of train fares and which trains to consider.
Then, using the links provided, I can double-check prices by inserting test dates and times for travel a couple months out. I am working on this in August/September for a trip I won't begin until at least January. Rail lines in Europe only allow reservations 60 or 90 days in advance, so I cannot check actual dates. But checking fares a couple months in the future will give a reasonable idea of what advance-purchase fares might be. It is the best I can do for now.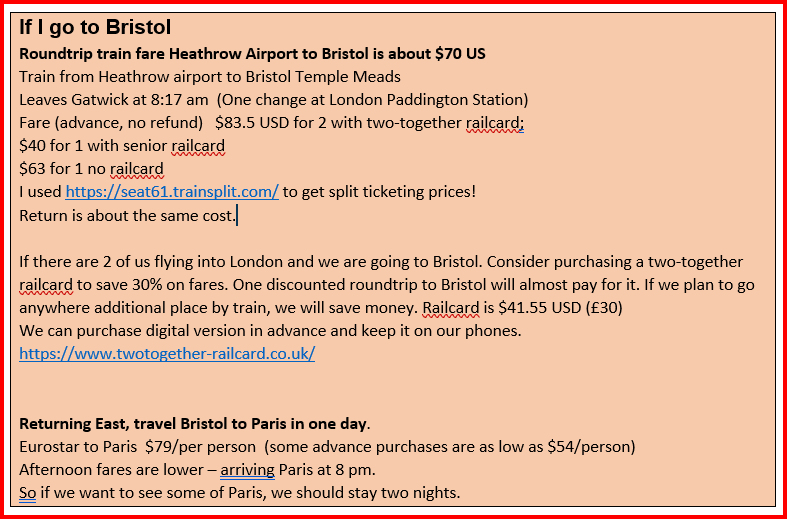 Lodging
I use a similar technique to project lodging costs in different destinations.  I try to plug in the winter dates close to the time I will actually travel because rates often are reduced in low-season.  Some booking sites I check are:
Booking.com
This is usually the site I check first because it includes a wide variety of lodging types—from hostel dorm rooms to small private guesthouses to mainstream hotels.
Agoda.com
I have recently added Agoda because currently Booking.com cannot be used inside Turkey to make reservations.
AirBnb.com
I am very selective with Airbnb because rates for lodging vary widely in the same destination. The thing I like about AirBnb is that sometimes it is a great way to meet and spend time with locals.
Hostelworld.com
For more expensive destinations, or if I am traveling alone, I often opt for hostel dorm rooms to save money—and usually be guaranteed of a kitchen for preparing many of my own meals. I am finding that I am using these booking sites less often than I used to since Booking.com tends to include most hostels in its listings.
In all cases, I read reviews closely to make sure I am considering only the kinds of places where I would be comfortable staying. You can read more about how I decide on hostels  here.
Generally, I am just getting an idea of lodging prices to plug into the spreadsheet. BUT…if I come across a particularly appealing guesthouse or hostel, I will copy the link and add it to my text document, so I don't forget to check it later. One example was this cute guesthouse in Meteora, Greece—a full house with a fireplace. If I am traveling with a companion, it might be almost as cheap to make this choice over a hostel bed.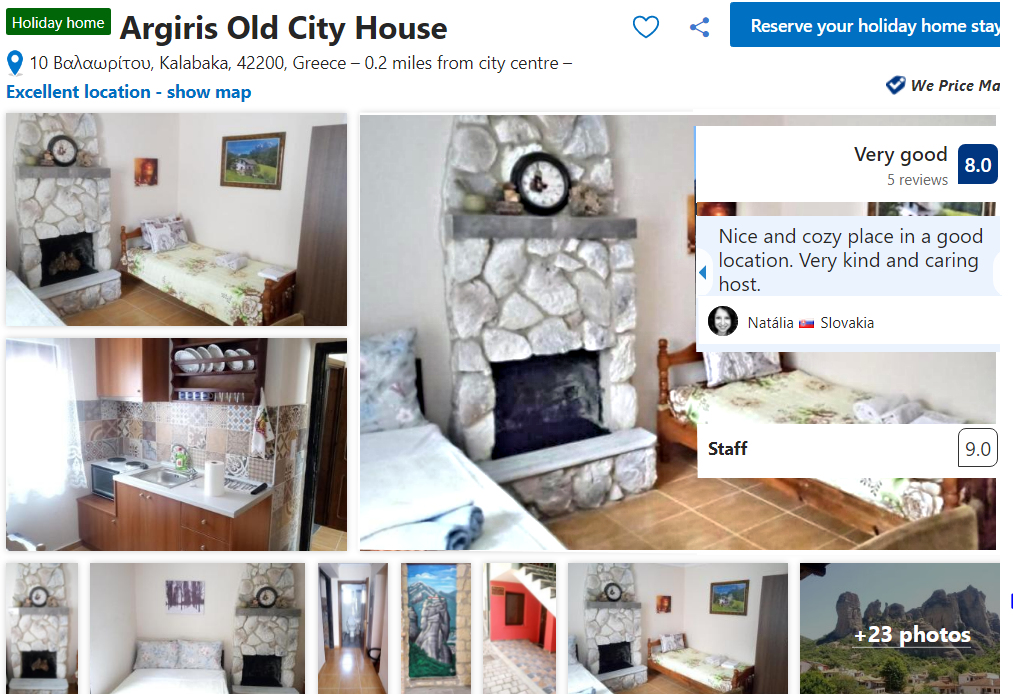 Food
For me it is fairly easy to estimate what my food costs will be. I have traveled quite a bit and I know about how often I will eat in cafes and how much I will prepare my own meals. Also, I have kept categorized records of my spending while traveling. I can look up what I spent on food I prepared and meals eaten out while traveling in Europe in 2017–18 to get a daily estimate of my food costs in Western Europe.
Since I don't know about food costs, in Eastern Europe and Turkey, here is the method I use: I look up some interesting cafes and restaurants at my various destinations. Many publish their menus online.  By studying quite a few of these, I can come up with a ballpark estimate of my overall food costs. I tend to "pad" the numbers I enter in the spreadsheet, just to make sure. Also, because I prepare many of my own meals, I know my total cost will not equal that of eating out three times a day.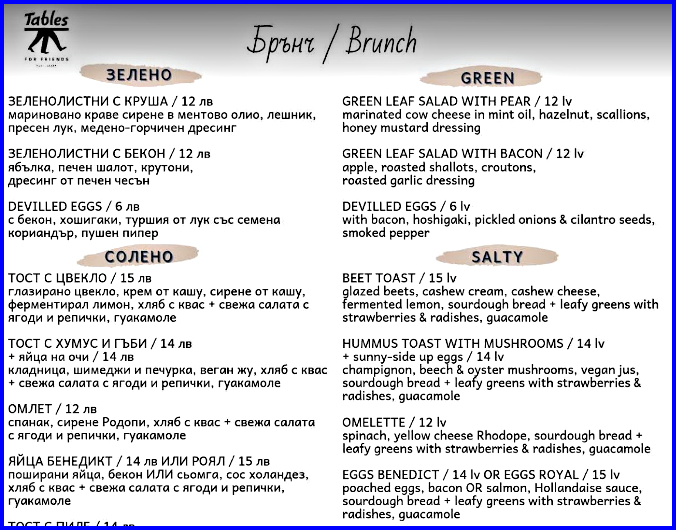 Again, if I see any restaurants that I don't want to miss out on, I plug that information into my text document under the destination's "Food" sub-heading.
Admissions, Tickets, and Fees for Museums, Castles, and other Tourist Destinations
If I already know some sights that I won't miss, I look them up now to find out what the admission cost will be. Most major cities have "free" walking tours available, but of course, if you enjoy the tour, you should tip the guide what you think the tour is worth (usually about 10-15  Euros). I like to take advantage of these tours, so for each main city, I add some estimated tips in the spreadsheet.
(I will talk about free walking tours in a future post.) 
In my preliminary research, I have learned that some of the destinations have open-air ice-skating rinks during the winter. This sounds like fun, and the costs, including skate rental in most cases, can be found online. I also learn that there are fees to enter the monasteries in Meteora. And there is a small entrance fee for the Nicola Tesla Museum in Belgrade which I will probably check out.
Again, if I come across specific sights or museums that I don't want to miss, I will cut and paste information and links in my text document.
So, you can see, I slowly build up an accounting of my estimated costs for some "normal" tourist activities.
Travel Insurance
We seasoned travelers have a kind of motto: "If you cannot afford travel insurance, you cannot afford to travel."  I have found that World Nomads Insurance meets my needs for the best prices. It is easy to go to their site and get an instant quote. You don't even have to provide your email or talk to an agent.
You can learn more about World Nomads here; and this website has some good information about other insurance possibilities.
Incidentals and Other Costs
Again, I am lucky that I can look up on my travel expenses spreadsheets from previous trips and get an idea of other ways I will most likely spend money. (Clothing, toiletries, local transportation, SIM card, Visa fees, etc.)  For this trip, I am estimating about $10 USD per day.
Sample spreadsheet templates can even be downloaded for your own use.
My Expected Expenses, So Far
At this point this is what I have on my spreadsheet for total expected costs for my trip from the UK to Istanbul, Turkey. (This is as far as I have planned to date.) Of course, I need to be prepared for the unexpected. To be realistic (or cautious), I add about $200 USD to this total just in case.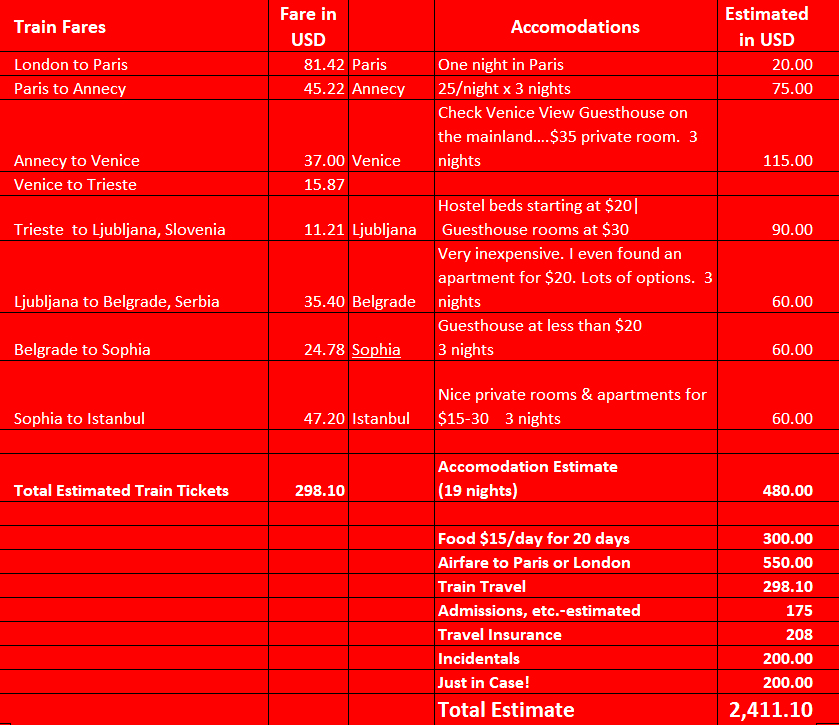 If the total amount seems like more than I can afford, it is time now to look for places to cut costs—before I begin my in-depth travel planning and get my heart set on specific locations. OR maybe I will find some ways to earn extra money for the trip.
Want to be notified when I publish a new post about how I travel?
Subscribe to my Newsletter here:
And don't worry…I hate spam too. You can unsubscribe at any time.
Other Blog Posts You May Find Interesting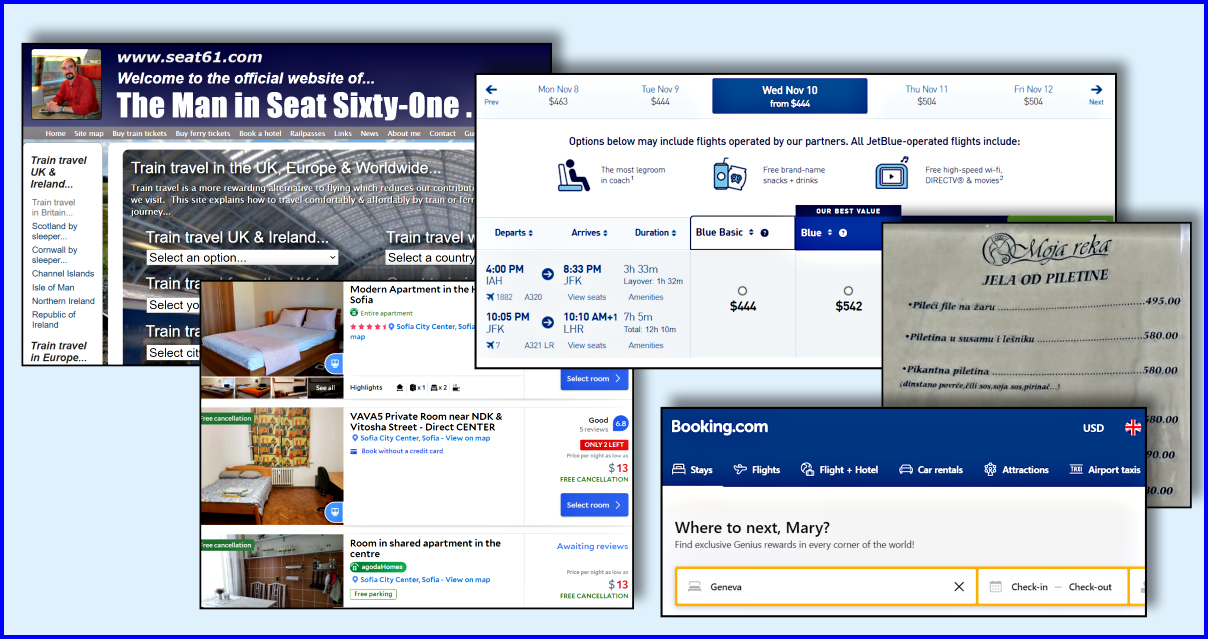 It is time to do some preliminary research to get a ballpark idea of how much this will cost. If it is beyond my financial means, now is a good time to cut out some venues, before I get my heart set on all of them.
Read More »

Honing your skills for making your own reservations and travel plans is a core practice for becoming an experience independent traveler.
Read More »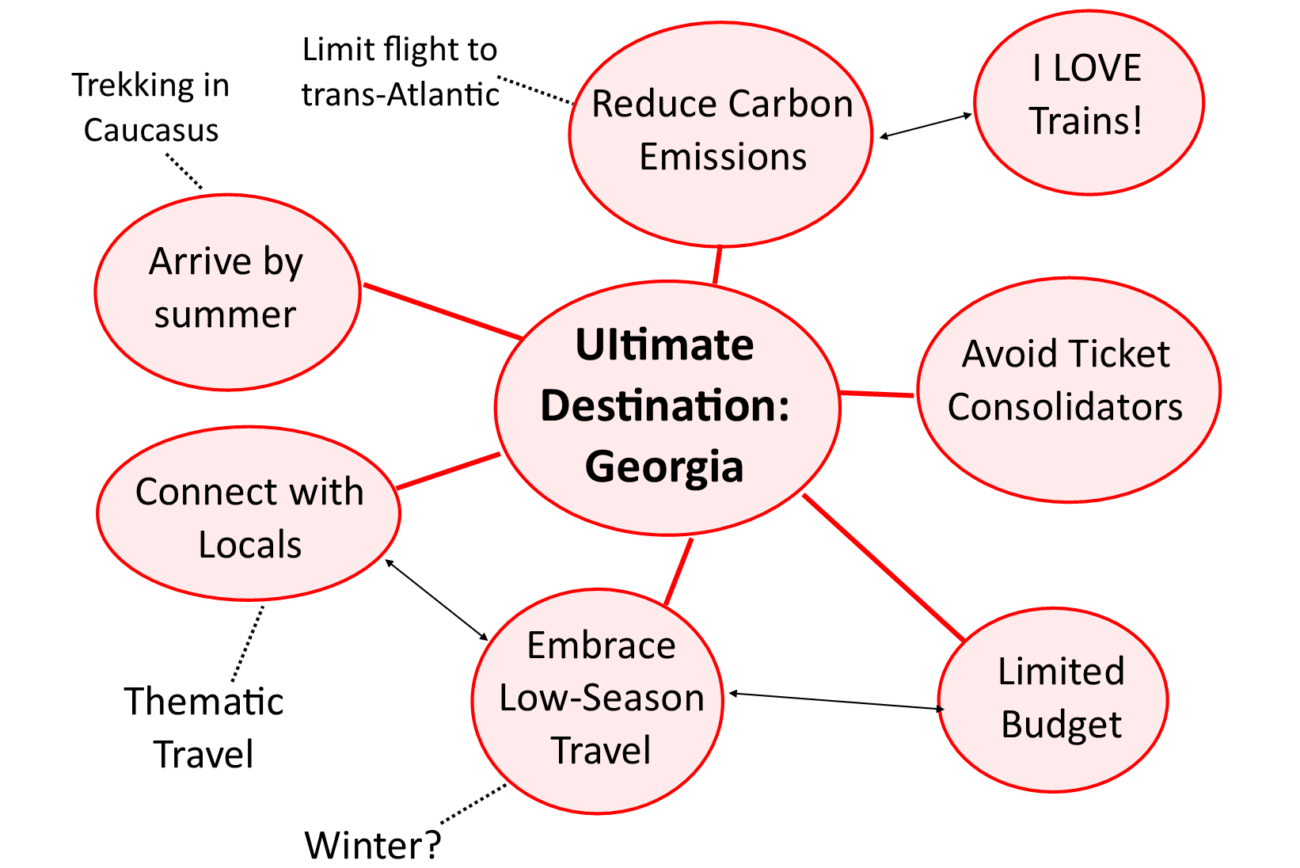 Today's post is quite rambling, following my disparate thoughts from one idea to another. But travel planning—especially a lengthy journey—is rarely straightforward. And in my case, it is usually a pretty messy and disorganized process.
Read More »