Quest for Fiber: Translating Tom Sawyer
I made another excursion to the Sunday market in Acora where the Alpaca ladies sell their fiber. I had practiced some since last week and I wanted to buy some more colors of fiber for myself and as gifts. 
Graciela smiled broadly as I approached and I showed her my poor attempts at spinning with an Andean spindle. We spun yarn together for a while, with me stopping occasionally to watch her very closely. The movement between spinning the fiber and winding the spun yarn onto the spindle is so smooth and fast, that it is practically impossible to see the difference. It is also interesting to watch her stop and talk with the ladies who drop by to purchase fiber.
I told her that I was planning to visit the Island of Amatani this coming weekend. The boat trip is long enough that visitors usually stay overnight in a homestay program that the islanders have arranged.  It is customary to bring a gift of fruit to your homestay family. I am hoping to continue my encounters with fiber there, so I came up with the idea of taking alpaca fiber as gifts to the women I meet. I asked Graciela about this and she agreed that, since they do not raise alpaca on Amatani, that the women would appreciate it. She also told me that the Amatani women spin the finest of yarn, and she demonstrated how fine by pulling out a few strands of fiber and twisting them together. Oh, I cannot wait!
So, I picked out four colors of fiber to equal a kilo and paid her 13 soles (about $4.60). We sat together for about an hour and then I went over to visit a lady who was selling handspun yarn. I picked out a couple balls, one cream and one black, to use in a chullo which I was planning to make out of the gray yarn I have been spinning.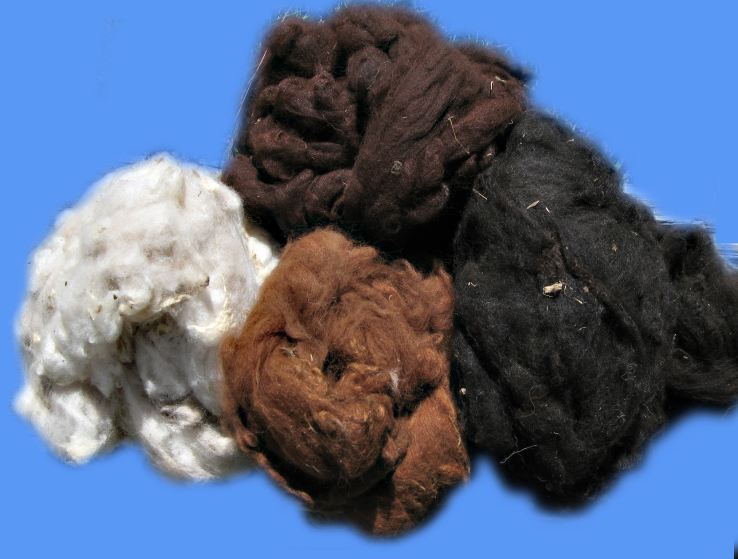 Saying goodbye, I then walked through the market to make some food purchases for my daily lunches, and then I caught a combi back to Chucuito.
In the afternoon, I walked over to the Plaza de Armas to meet up with Yovana, her sister Yeni, and Victoria to show them my new fiber and spend some time with them. 
I got out my three spindles—my little Turkish spindle, the lovely spindle that my son Ben made me, and my newest acquisition that I purchased from Graciela last week. I had started spinning on all of them and offered them to the women to try.
 Yovana picked up Ben's spindle and Yeni attached herself to the Turkish spindle for the whole three hours I was there. She started out using the Turkish spindle as a supported spindle on the ground, but later she started using it as a drop spindle, which is what it was designed for.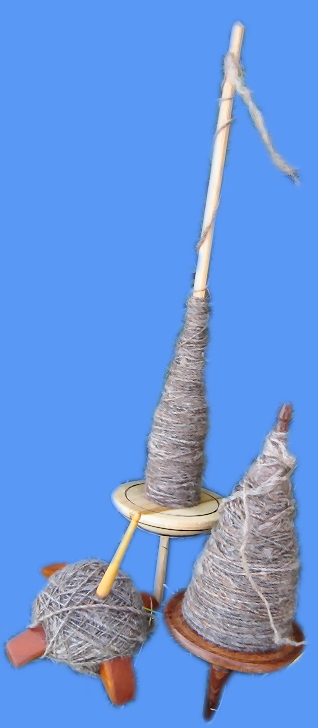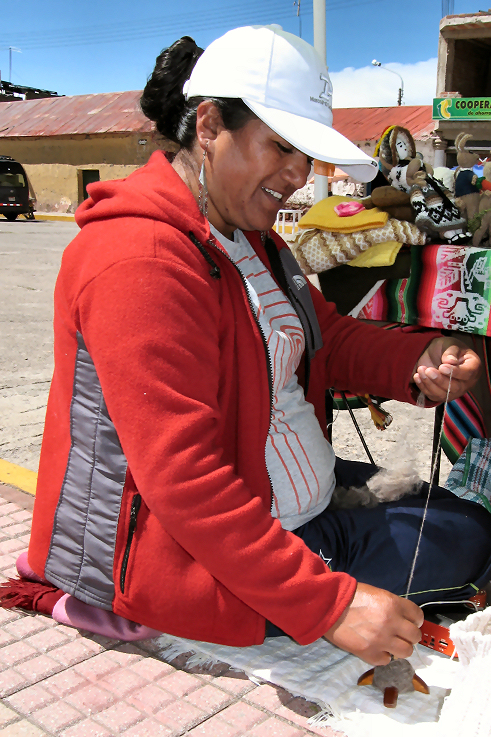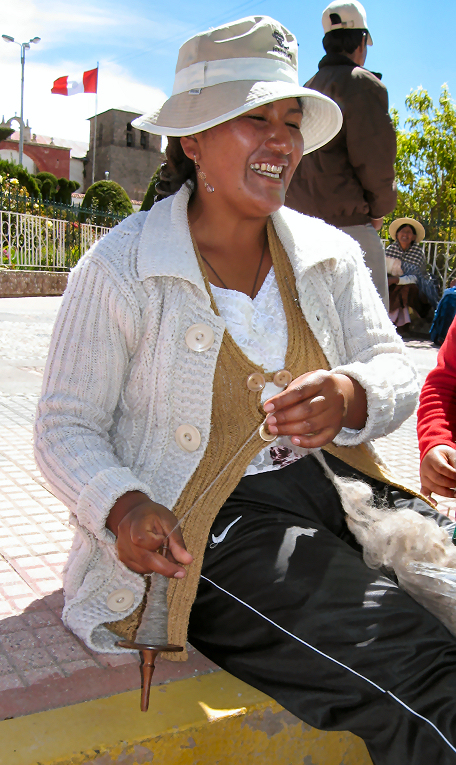 (Okay, I'm going to get a bit technical here, so if you are not really interested in the hows and wherefores of hand spinning, you can skip to the next paragraph.)
One thing the spinners do here is to allow the twist from the spindle to travel way up into the fiber, making what looks like a big mess. Then they go through the initially spun yarn and work out all the bumps and big fluffs of fiber clinging to the twist. It works out every time and their yarn is very uniform. Of course, they have been spinning for a very long time; both Yovana and Yeni said they were 10 years old when they started.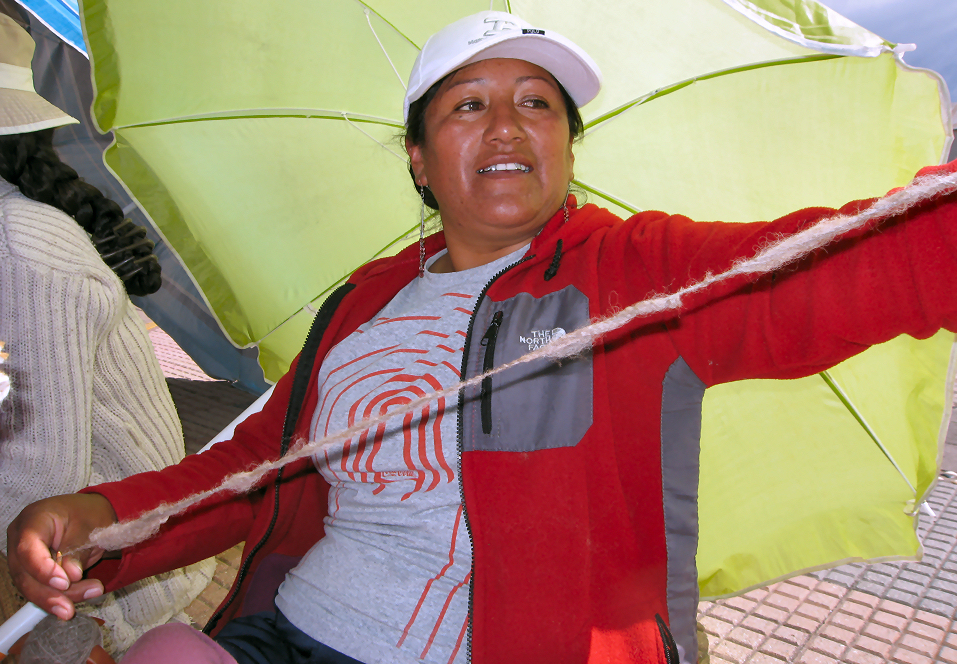 Victoria (who preferred not to have her picture taken) also used my new Andean spindle for a while and at that point I had nothing to spin. Sitting there with no work reminded me of a very classic American story by Mark Twain. In very broken Spanish, I tried to recount Tom Sawyer's method of snookering his friends into whitewashing the fence. The women must have understood, because they all laughed as I pointed out that they were spinning my yarn for me while I watched!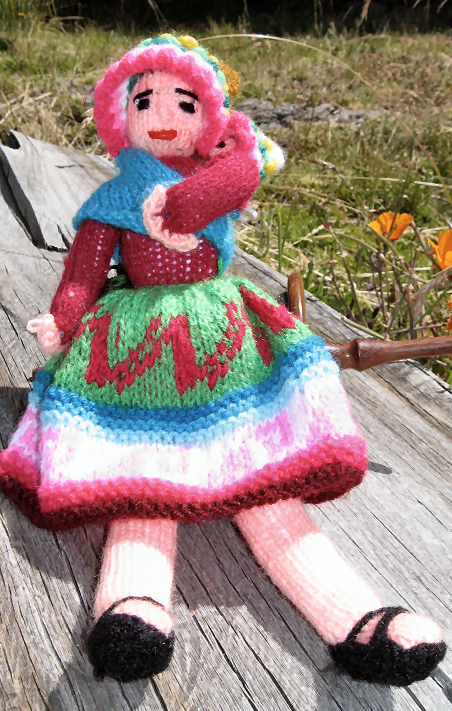 Before leaving, I could not resist purchasing a cute little knitted doll from Victoria. Yes, I know it is acrylic, but I can think of a few little girls who won't care!
Other Blog Posts You May Find Interesting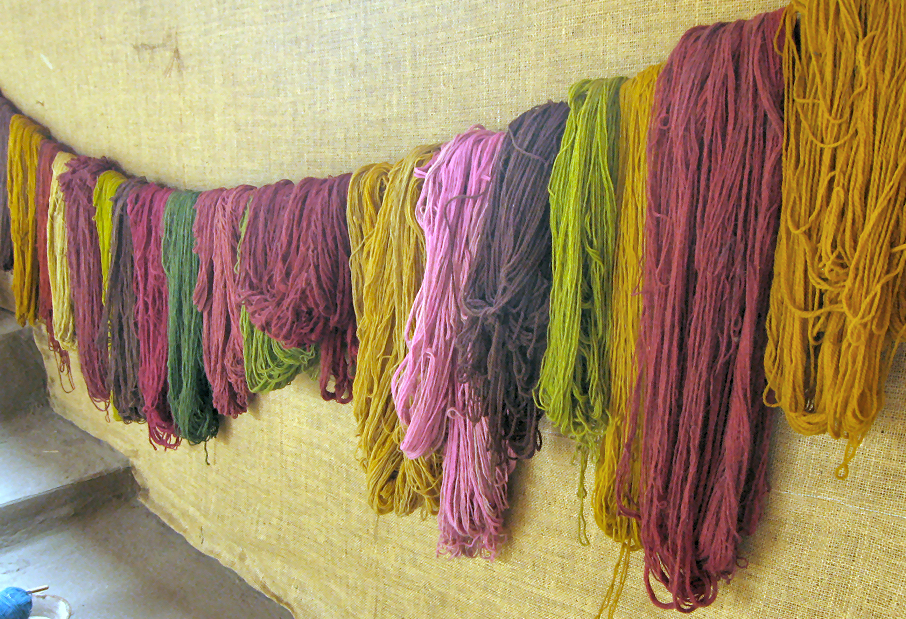 On my third day in Arequipa, Adela took me to Michell's Fiber Mill. There is an outlet store there with all kinds of alpaca yarn at very good prices. Adjacent to the mill is Mundo Alpaca, a museum showing the process of preparing alpaca fleeces for market—both by hand and by machine.
Read More »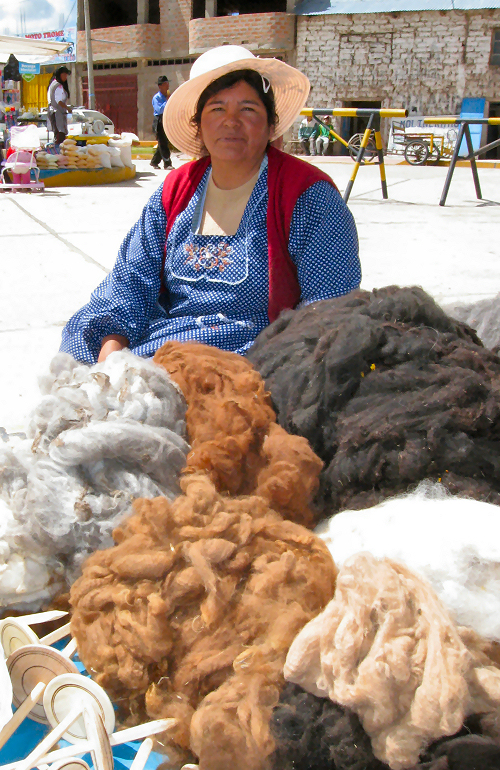 A woman sat on the ground with not only her raw fiber of many colors, but also her hand-crafted husos (spindles) for sale. WOW! Here I was
Read More »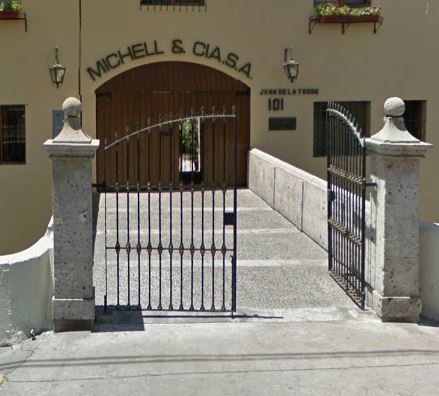 Michell's Mill is the place where more tourists go because of their very interesting alpaca museum, Mundo Alpaca and high-end apparel shop located on the mill grounds.
Read More »