I returned to Arequipa on Monday in anticipation of Rebecca's arrival this week. I had a free day on Tuesday, so I went over to the central plaza to have lunch and to search for a special welcome gift for Rebecca.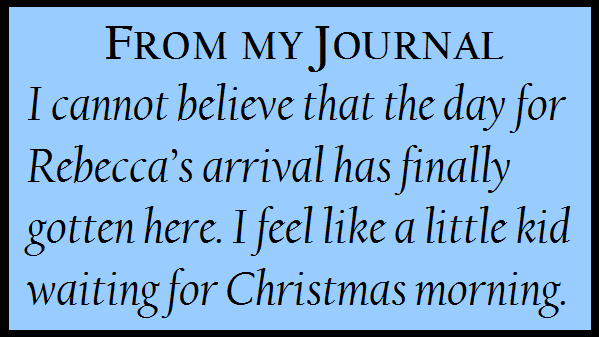 I had learned about a traditional pre-Columbian god of the Andean people, the god of good fortune, Ekeko.  You see little (and sometimes large) statues of him here and he carries lots of "stuff" that symbolizes a comfortable life: houses, food, money, musical instruments, and, these days, cars and boats. He sports a mustache and is always smiling. Historically, he is said to provide good harvests with an annual offering of grain, but at some point, people decided he liked to smoke and many of the little statues come with a hole in their mouth where you can place a cigarette once a year and light it to ensure prosperity for the new year!
I was looking for a tiny version of the Ekeko that I could put on a necklace to ensure that Rebecca have good fortune on her trip in Peru. I went from shop to shop, gesturing and asking, "Estoy buscando por un Ekeko muy pecunio, por poner circa de cuello en un collar." (Broken Spanish for "I am looking for a tiny Ekeko statue to put around the neck on a necklace.") No one had one small enough and I eventually settled for a fairly small version from a key chain, which I placed on a cord.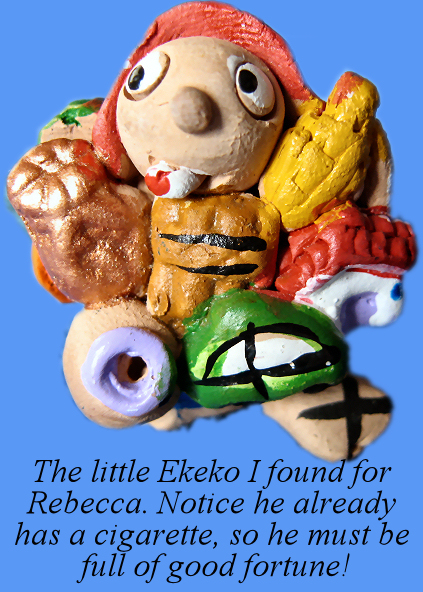 While on my expedition in and out of tourist gift shops, I happened upon a couple women sitting in the street making and selling dolls. I had promised a friend for a couple handmade dolls for her grandchildren and I did not pass up this opportunity! The only difficulty was deciding which dolls to purchase. I finally settled on two different ones.
Rebecca arrived at the Arequipa airport on Wednesday after 25 hours of travelling from Kauai. She promptly took a shower and crashed in her bed until dinner time. But the next day we walked and walked.


First, after a wonderful breakfast at Manuel and Adela's home, we walked down the street to Lily's Salon. When I have been in Arequipa, I have enjoyed having Lily wash my long hair every week. This would be the last opportunity to indulge in such luxury and I got the opportunity to introduce her to Rebecca.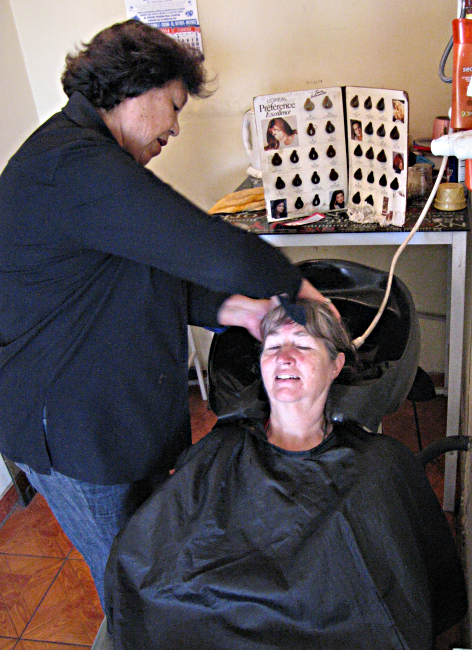 Most of our energy for the day was spent at the San Camillo Market. Rebecca enjoyed pointing out the fruits here that are also grown in Hawai'i, and taking pictures of many which we could not identify. The fruit displays reach for the sky and walking down the aisle is a sensory delight.
Especially interesting was the oca nigra (black oca) that had such an interesting pattern on the outside, we just had to buy a couple. I really like oca so I am looking forward to trying this variety.  I also had a taste of  my first chirimoya, a very creamy fruit (almost like a not-too-sweet ice cream) . Another apt name is the "custard apple."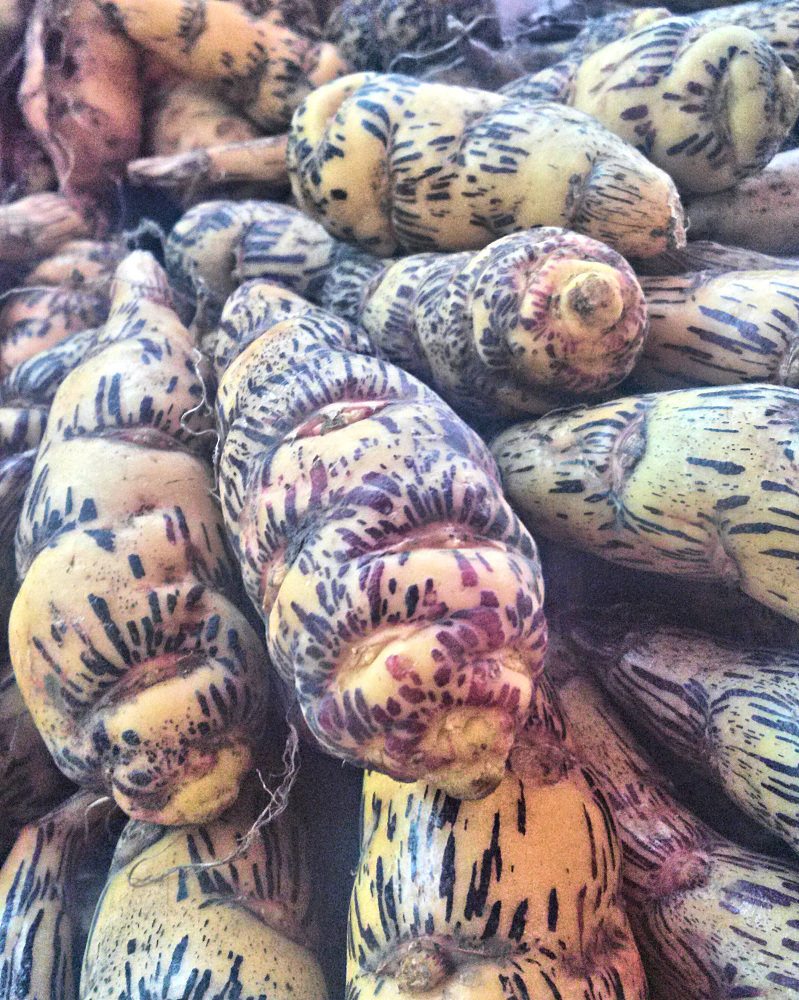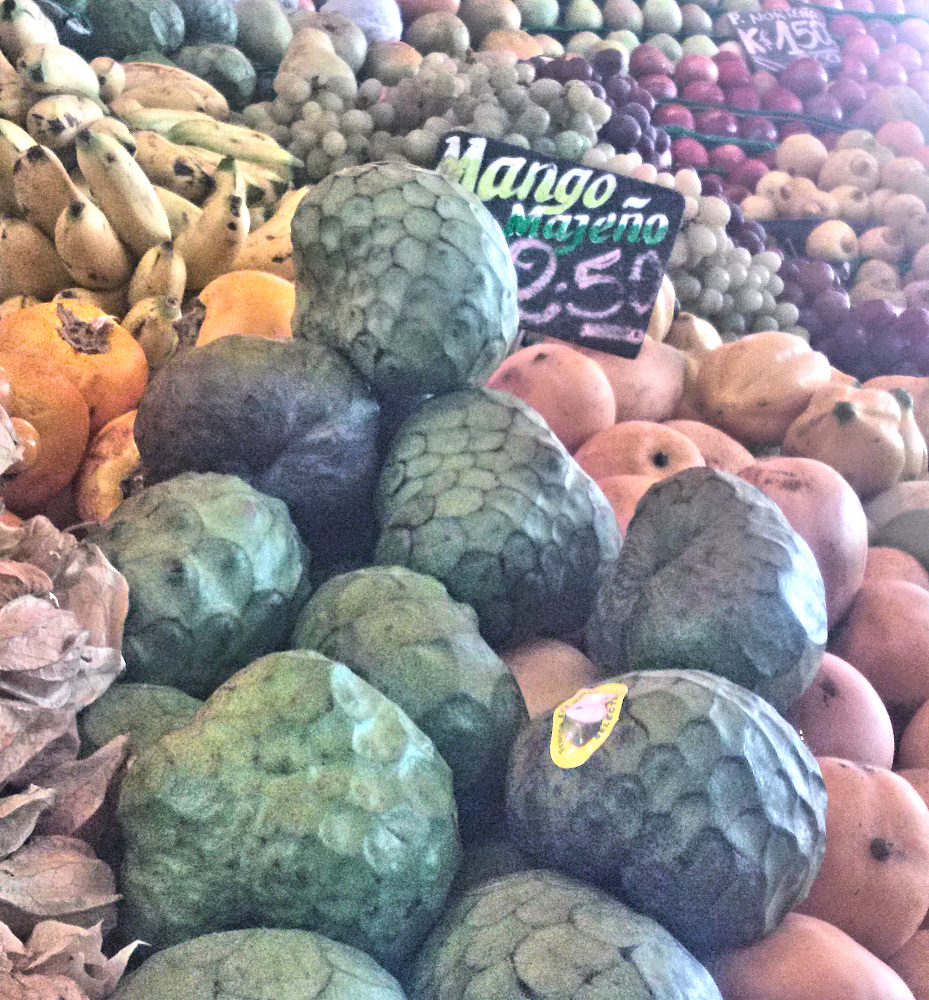 We picked out some strawberries, avocado, bananas, two kinds of olives, and granadilla (related to passion fruit). Rebecca passed a vendor of blood sausage and could not resist buying a piece. (I can easily resist blood sausage!) This all would make a nice lunch back at our homestay.
We left the octopus (left) at the market, but Rebecca managed to bring home a piece of morcilla (blood sausage).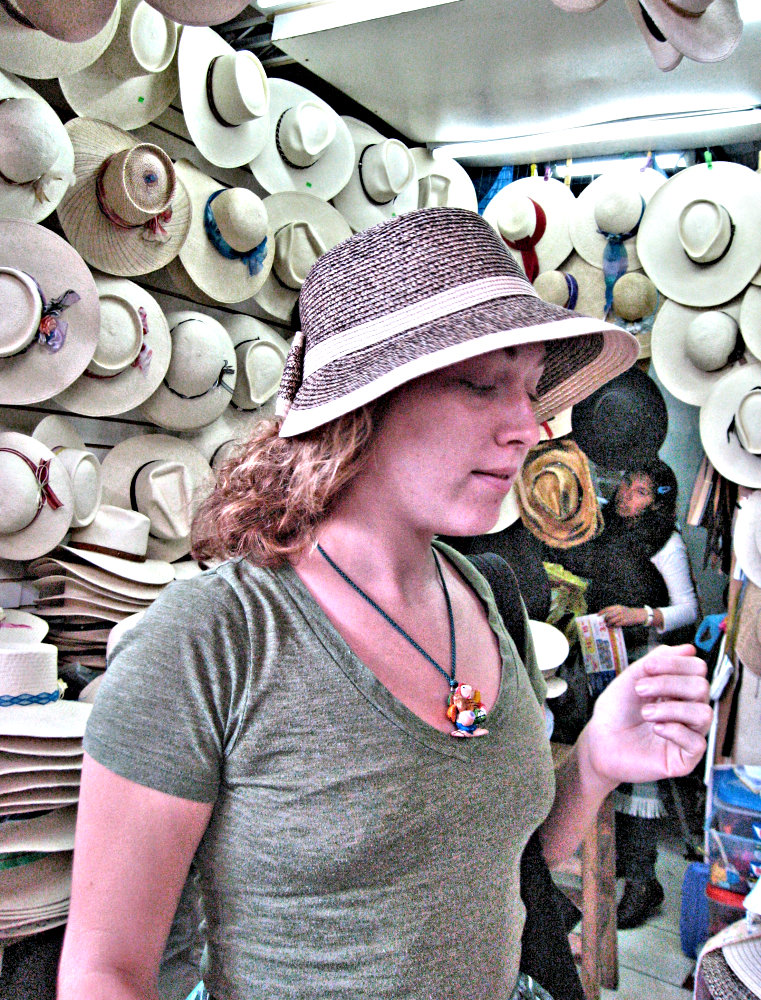 Rebecca also needed a hat to ward off this high-altitude, tropical sun. Many of the Arequipena women wear wonderful straw hats, so at the market we visited the "Sombrero Seccion." Although most of the selections were too small (we Americans are so large!), she found one that fits and folds down and can be packed easily. It is very cute on her. I have my suspicions that it is plastic, and not straw, but it is very practical for traveling.
We returned "home" to eat and rest. (Rebecca was adjusting to the new country and the high altitude, plus she was still recovering from her long journey.) Later we returned to central Arequipa for dinner in a nice restaurant high above the plaza and cathedral, which was magically lit for the evening.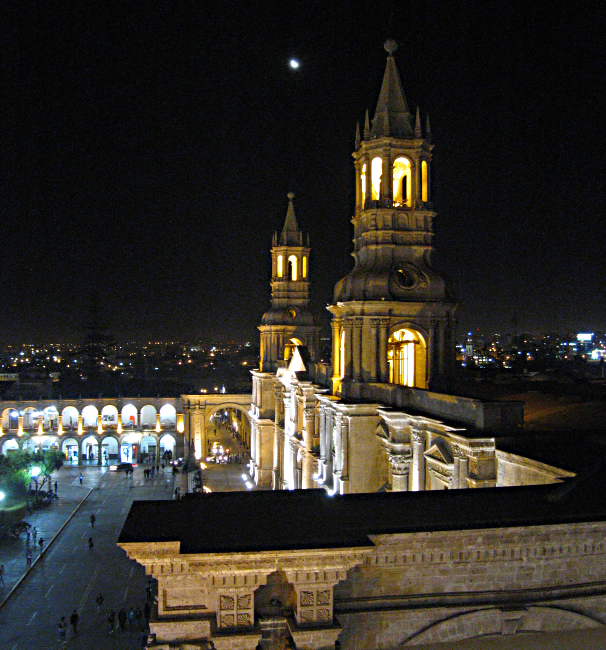 Other Blog Posts You May Find Interesting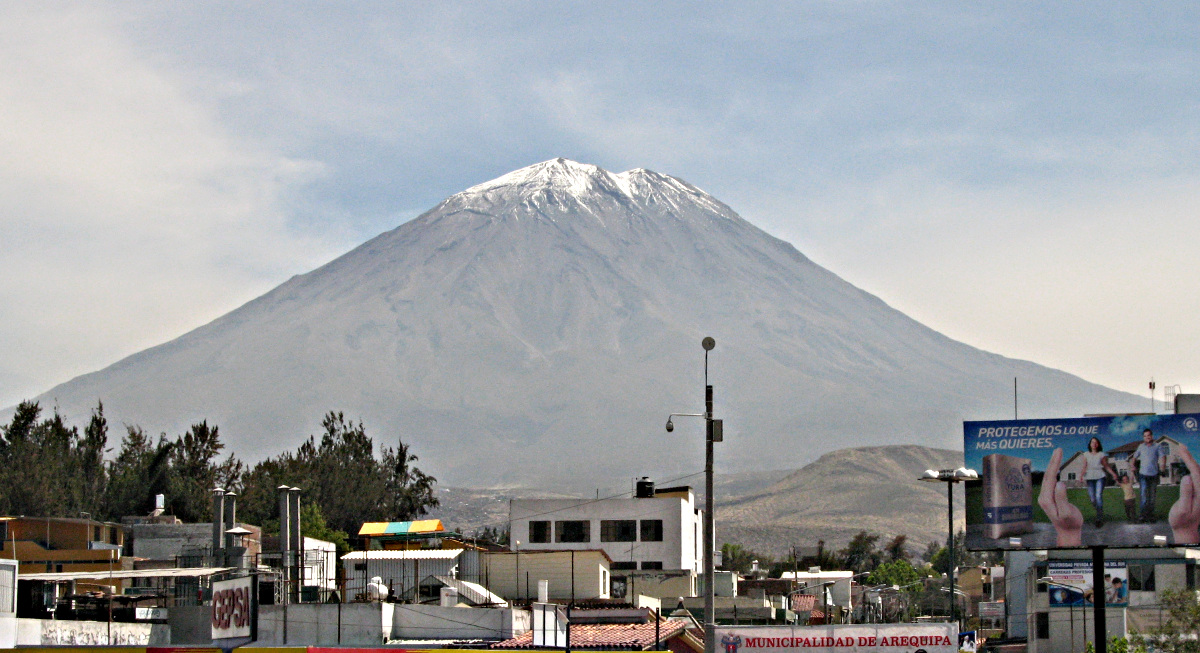 Then I had to find a place to sleep in the airport. I did not want to try to figure out where to stay over just one night when I would be leaving Lima immediately the next day. I found a place where other travelers were awaiting flights the next day and we all slept together on the floor.
Read More »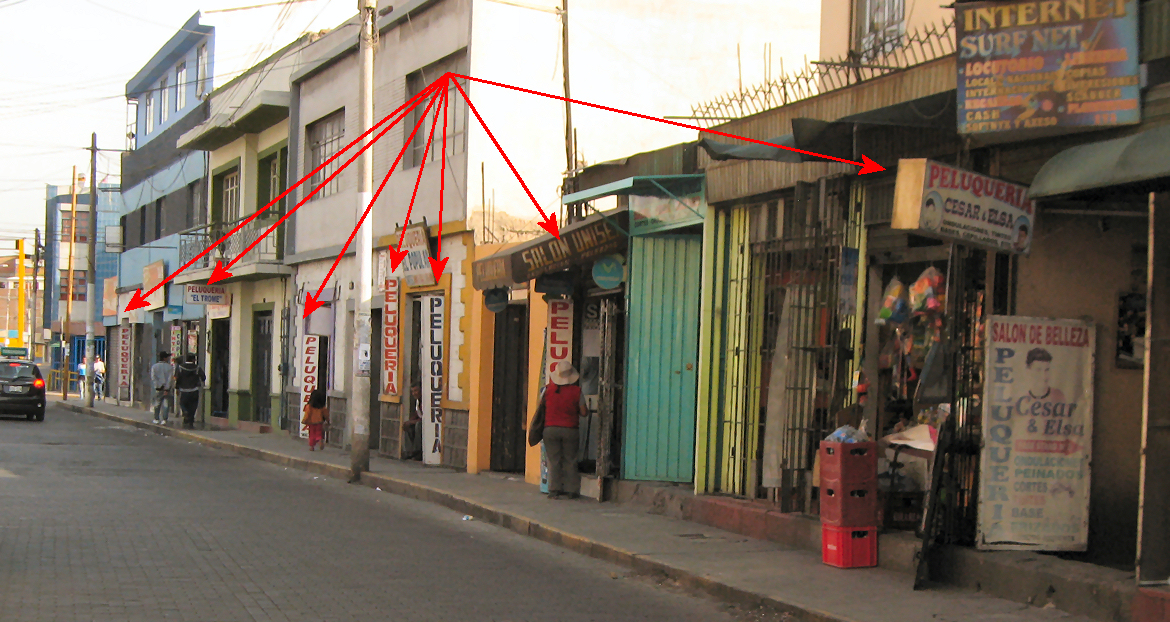 Luckily, everyone thought is was very funny. I had to repeat peluquería over and over before I could hear the difference and get the pronunciation down. Today, I am still repeating it in my head, especially whenever I pass one of the many salons on the street!
Read More »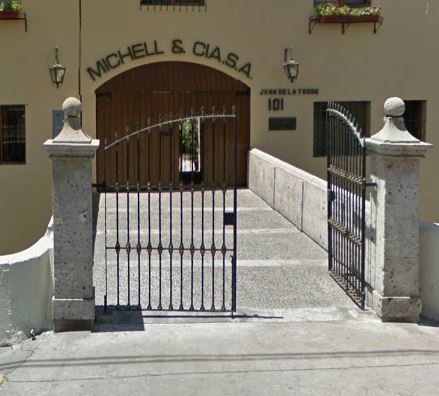 Michell's Mill is the place where more tourists go because of their very interesting alpaca museum, Mundo Alpaca and high-end apparel shop located on the mill grounds.
Read More »