Ahhh, Liverpool…what person who came of age in the 1960s doesn't think of the Fab Four? I was not planning to go to Liverpool…I really wasn't. But then I talked to my daughter Rebecca who is probably a bigger fan of the Beatles than I am. I was in Manchester and ready to make a bee-line to Wales to do some trekking along the Offa's Dyke Path.
"I'm Not Going to Liverpool"

"Oh, Mom," she sighed, "if I were in England, I would definitely go to Liverpool! How can you pass that up? I would get myself a dark beer and the best fish n' chips I could find. Then I would go down to some grimy pier and sit under the gray skies and imagine myself there back in the day." This apparently was the way she imagined the Liverpool of the '60s to be—grimy and gray. And it probably was—then.
We laughed at the imagined scene. "Yeah, but I'm not going to Liverpool," I said. We talked a while longer and said goodbye.
But I could not get that image out of my head. During the night I woke up with a smile on my face. I was going to Liverpool—just to do what she would do. But I was not going to tell her. I would just post a Facebook photo of myself on that grimy pier.
I made reservations at the Liverpool Youth Hostel. (Yes, ladies of a certain age can stay in the "youth" hostels.)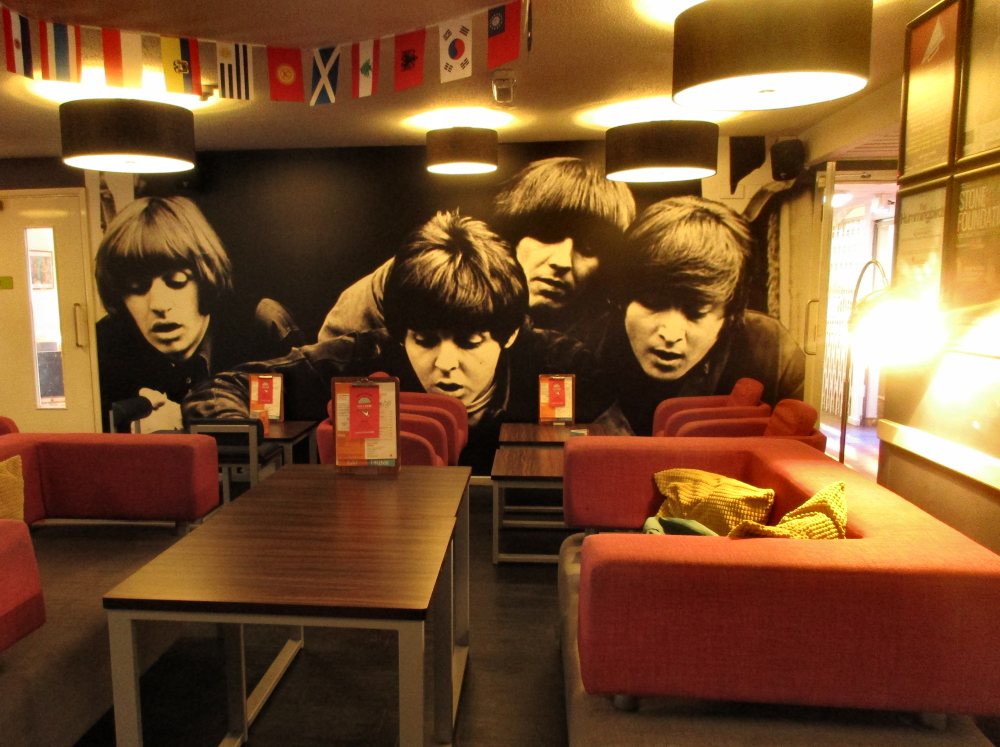 This fun mural greeted me as I entered the Liverpool Youth Hostel.
Where's the Grimy Pier?

Imagine my surprise when I arrived. Apparently, in 2004 Liverpool was declared a UNESCO World Heritage Site and money started pouring into the city to revitalize its waterfront. There were now cafes, tours of the tall ships, several museums, and (to my chagrin) a billion tourists! Not a grimy pier in sight. And, the first day was sunny and warm. Damn!
I walked and walked and spent a ridiculous amount of time looking at street view on Google maps trying to find any grimy places in Liverpool for my imagined photo shoot. I did learn that the best fish n' chips could be found at Yanni's, not too far from my hostel. God bless Google maps! It took a while, but I found an oil terminal across the Mersey River in the town of Rock Ferry.* I figured out how to get there by subway and a short walk.
"Okay, let's do this," I said to myself, knowing it could be a bust.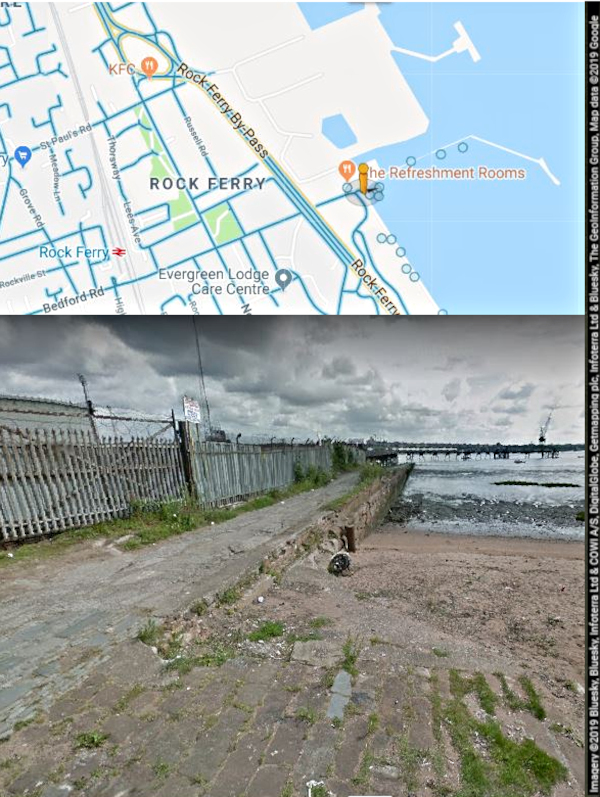 Google's Street View of the grimy "pier."
My apologies to purists…I do recognize that crossing the Mersey River takes you out of Liverpool, but I make a claim to artistic license.
Fried Fish and Brewdog

After a quick stop in a grocery store for a Brewdog Black Jet (sounded pretty dark to me and I do love dark beer), I went to Yanni's for my dinner. I wrapped the fish n' chips box in a towel to keep it warm and was off to the nearest underground stop.

Thanks again to Google maps, I knew exactly the route to walk to the pier from the Rock Ferry train station. I worried the whole way that I would arrive and there would be a fence or something stopping me. The pier turned out to be a boat ramp, but it was grimy enough.
Just as I arrived at the boat ramp, it began to spit rain. Perfect! Gray day indeed! Just what I was asking for—wasn't it??
My fish and chips were cooling; my beer was warming; rain was threatening. But with the help of a tiny tripod and some patience on my part, I managed some decent shots. I even got to eat my dinner, enjoy a beer that was thick enough to be dinner and get to the train station before the clouds let loose. It was a perfect traveling day—if a bit off the beaten track!
Thanks, Rebecca, for the great idea!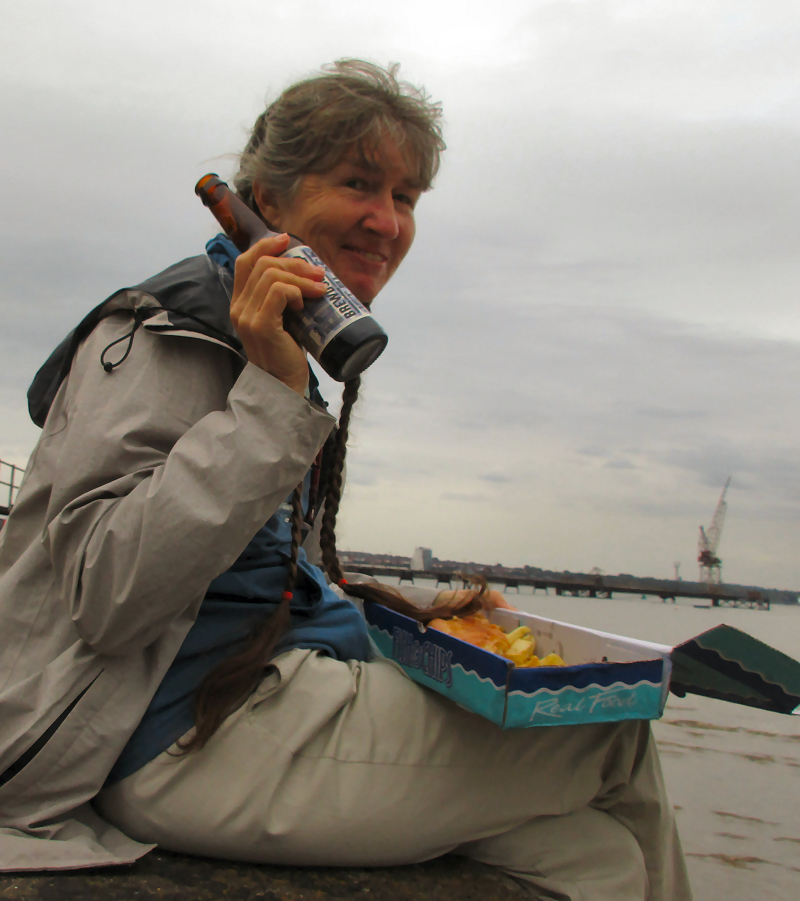 Other Travel Stories You May Enjoy

I got to thinking about how challenging this marathon voyage might be when I booked it. I wondered if I was biting off more than I could chew—would it be too much for me?
Read More »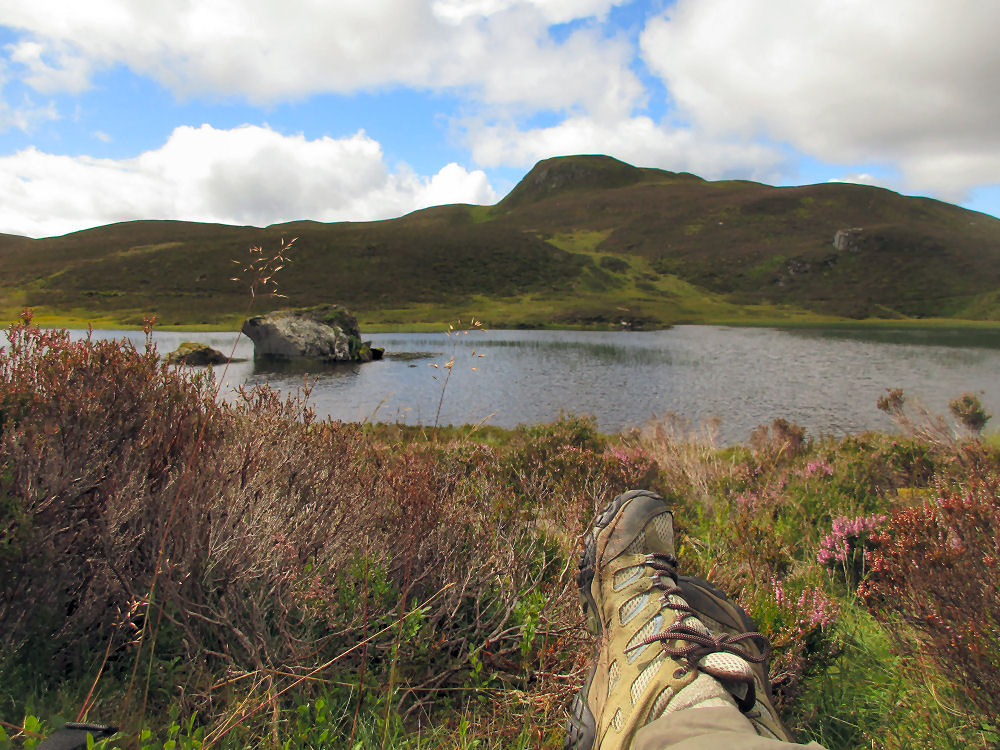 Sometimes (well, many times) when you are traveling, things don't turn out the way you envisioned them. I had such great plans to visit some parts of Scotland and for the past year I had even visualized myself there.
Read More »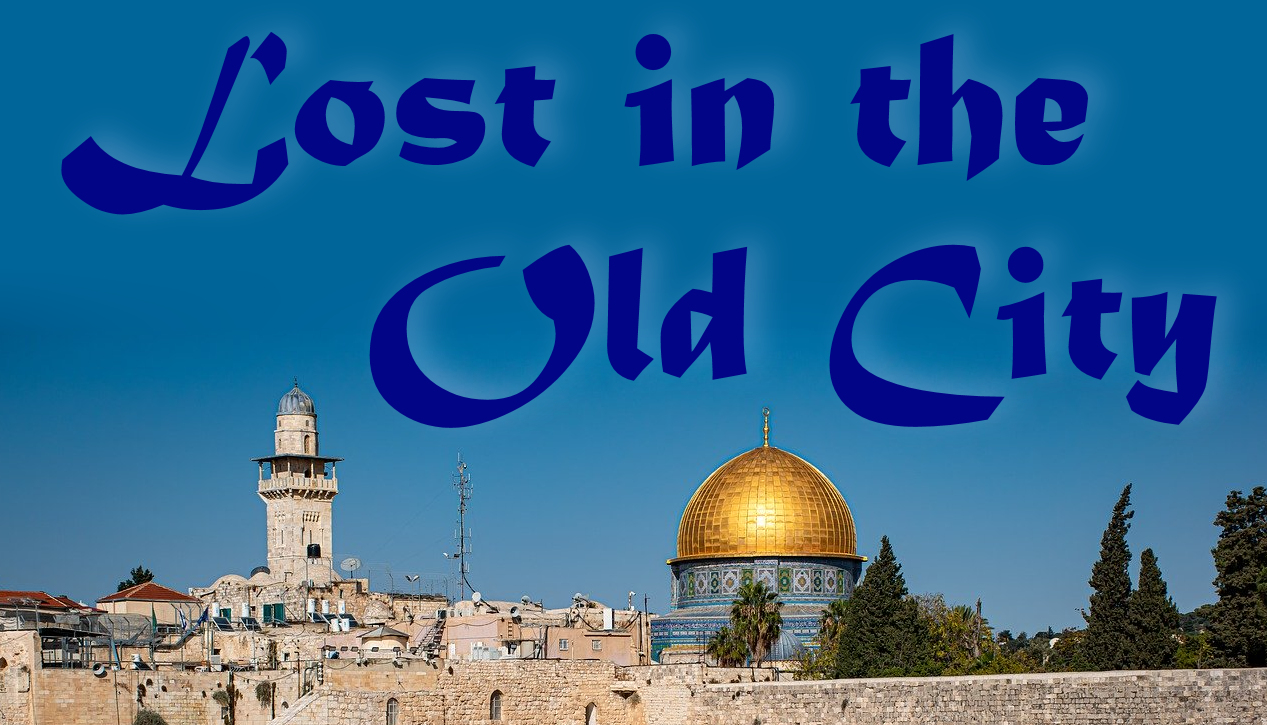 I was enthralled—and frustrated! I wanted to wander the streets, savor the aromas—really get a feel for this foreign place. But it was not to be. "Tour 201–boarding in 5 minutes." Uggghhh!
Read More »