A Collection of Turkish Breakfasts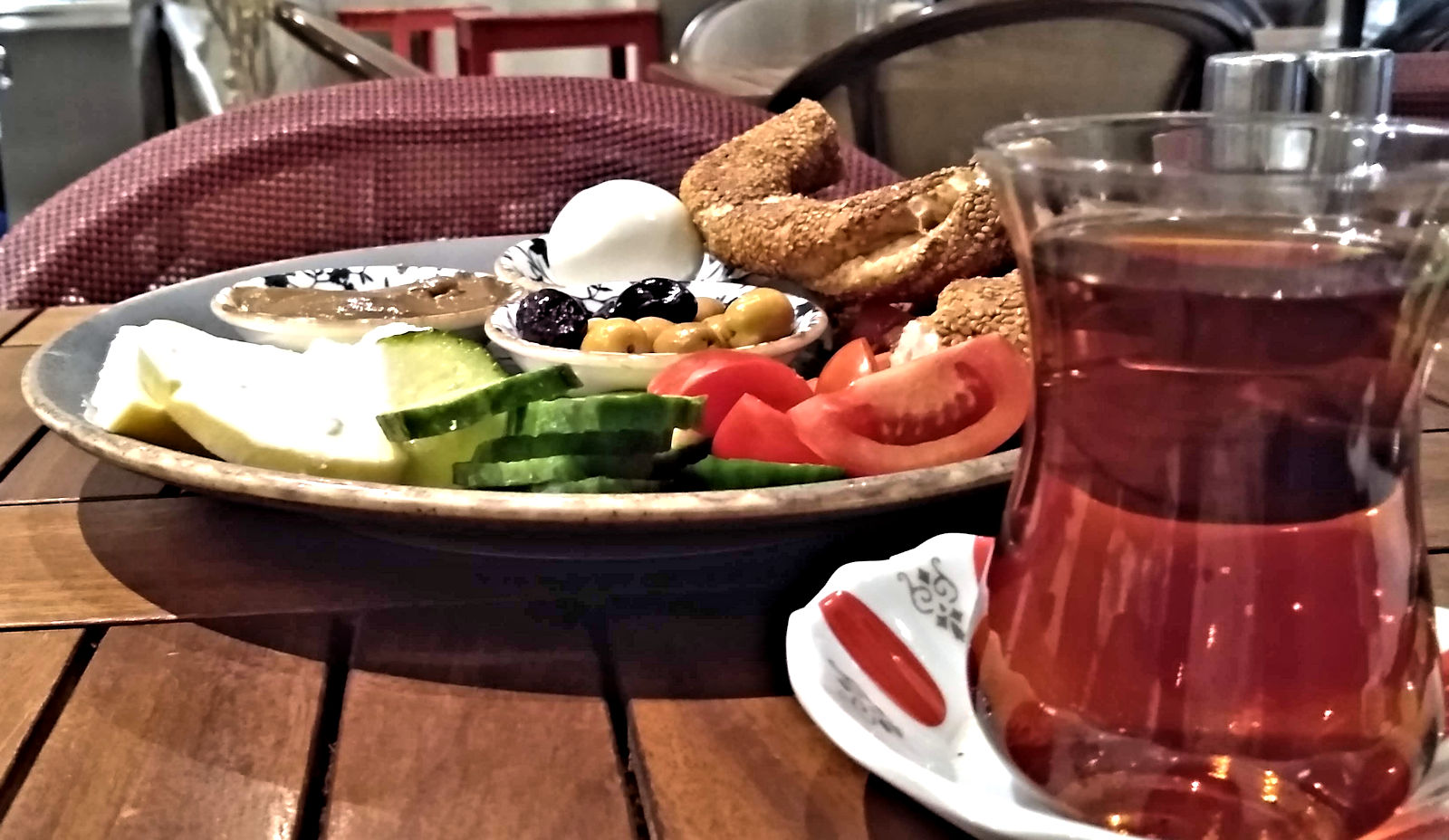 Once you read this post, you will know what I really came to Turkey for….the BREAKFASTS!
While you are meant to linger over dinner in most countries, in Turkey, it is not uncommon to see people nibble on their breakfast feast for a couple hours. The Turkish people luxuriate over their breakfast.
First Stop: Café Kuff
Due to a delayed flight from Athens, I arrived in Istanbul much later in the evening than I had planned, so I got to my hostel in Kadikoy, Istanbul about 10:30 pm. When I emerged from the airport shuttle bus it was sleeting. Luckily Hush Hostel was nearby, and the streets were not too slippery if I watched where I put my feet as I puffed uphill. After a nice welcome and a good night's sleep, my first order of business in the morning was a trip to Café Kuff (pronounced "koof"). I had read about this as being about the best place for breakfast in all of Kadikoy. And it was true!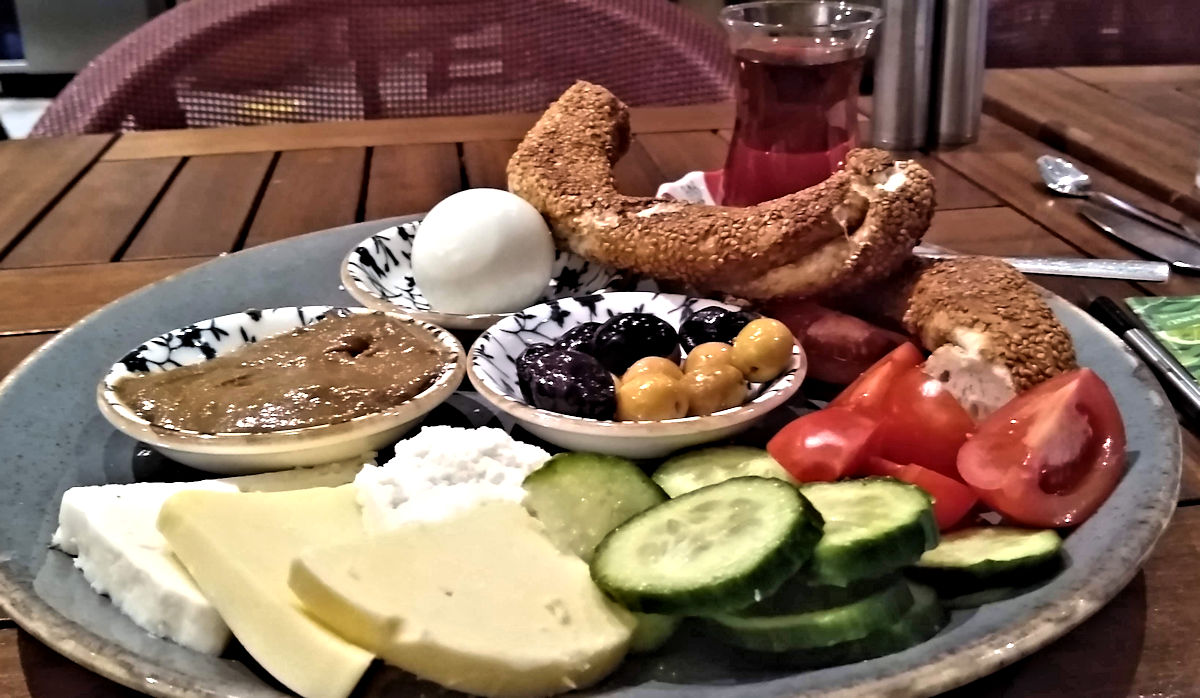 The brown sauce in the photo above is pekmez. It only contains tahini and grape molasses. The "molasses" is actually reduced grape must (juice) which tastes sweeter than cane sugar. This spread contrasts wonderfully with the salty cheese and olives. Pekmez is full of anti-oxidants, vitamins, and minerals.
I pretty much ate breakfast at Kuff Café every day on my first stay in Istanbul! Service was fast and friendly, and all the staff speaks English. Whenever my glass of ҁay got low, someone noticed and promptly brought me a fresh glass.
One indication of how great this café is: More locals than tourists come here. There are breakfast cafés in abundance in the neighborhood, but they mostly sit empty on Saturday while the Kuff Café is filled to overflowing.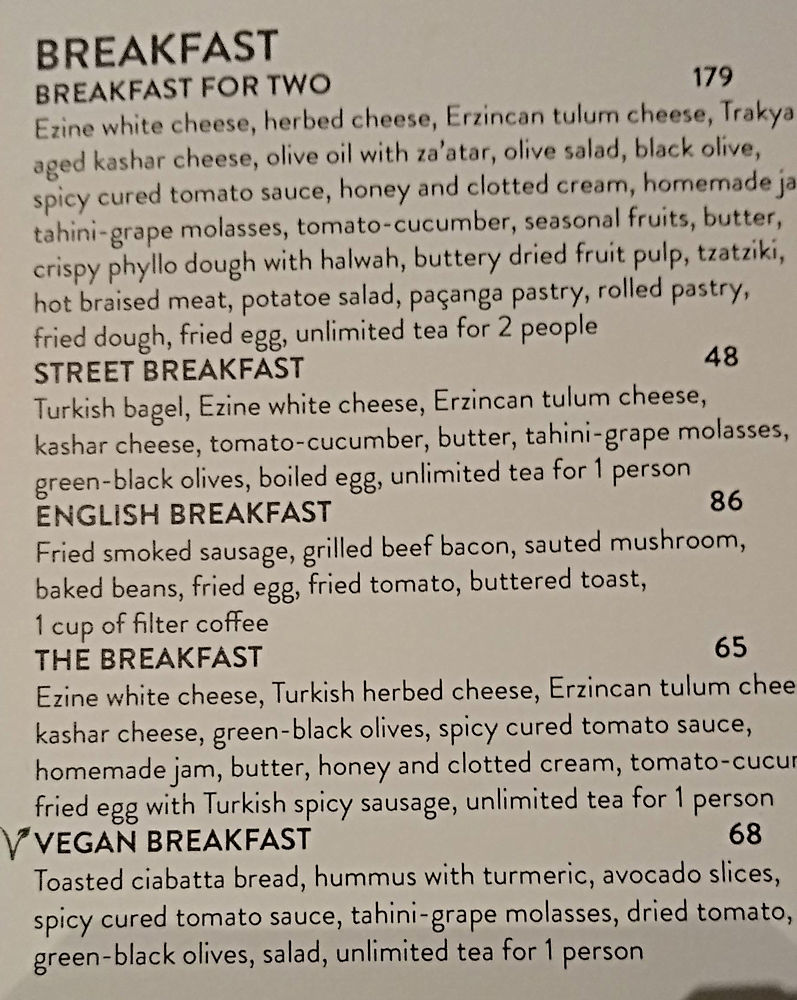 Ҁay
I am really enjoying Turkish Ҁay (pronounced like we say "chai"). It has the nice flavor of a good black tea. It was similar to what I enjoyed so much Kyrgyzstan. Usually, it is served in these elegant tulip-shaped glasses. One day, I ordered a large cup with my lunch in a café where you order at the counter. The man motioned to a large bowl with tiny packets with something hard in them. I asked if they were mints. No English, so I took one to be nice and nodded my thanks. He offered me a small spoon, but I indicated that I did not need it. I drink my tea black. Once at my table I realized that the packet contained a sugar cube! He must have thought I was either planning to stir my tea with my finger, or I was some kind of idiot. Oh the joys of language misunderstandings!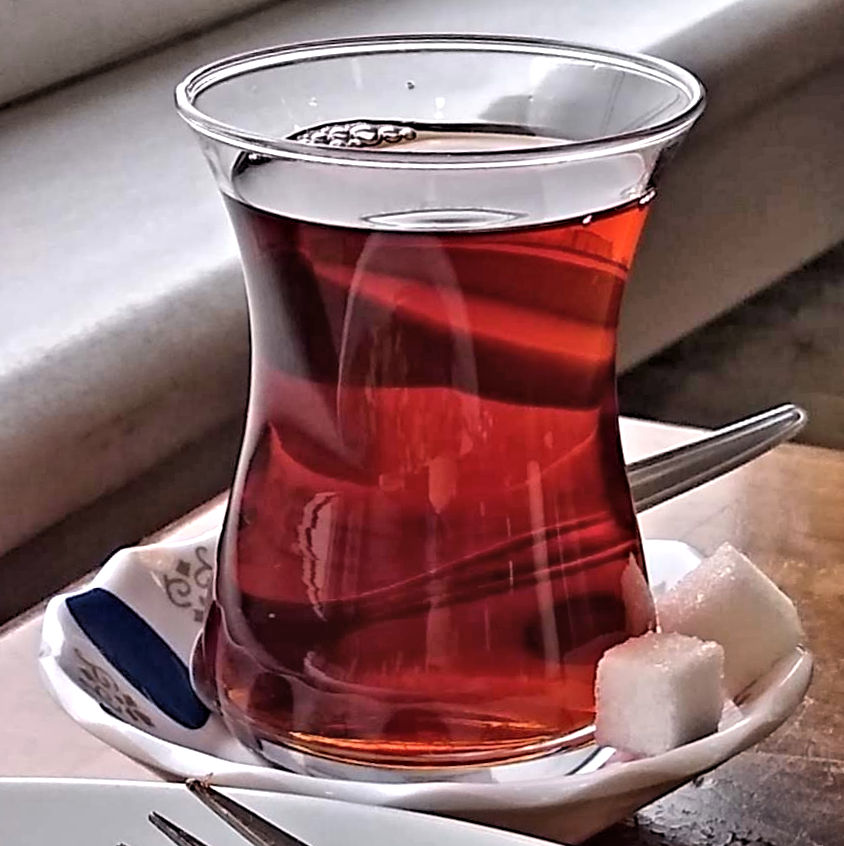 For more travel inspiration, subscribe to my newsletter.
Up Next: Pamukkale
My next stop in Turkey was Pamukkale. This is the place where you visit the white travertine pools on the hillside. During the summer season, this tiny town is packed with tourists, but I was lucky to be here in March when things were much quieter.

The men stand outside the restaurants encouraging you to read the menus and come inside. After two years of lockdown, they are understandably desperate for customers. I chose one and sat down in an empty restaurant. (Most were empty at this time of year.) Turkish breakfasts were served with lots of bread. Here, a small woodstove was burning in the center of the dining room near my table. I was invited to make toast on it like the employees were doing for their breakfast!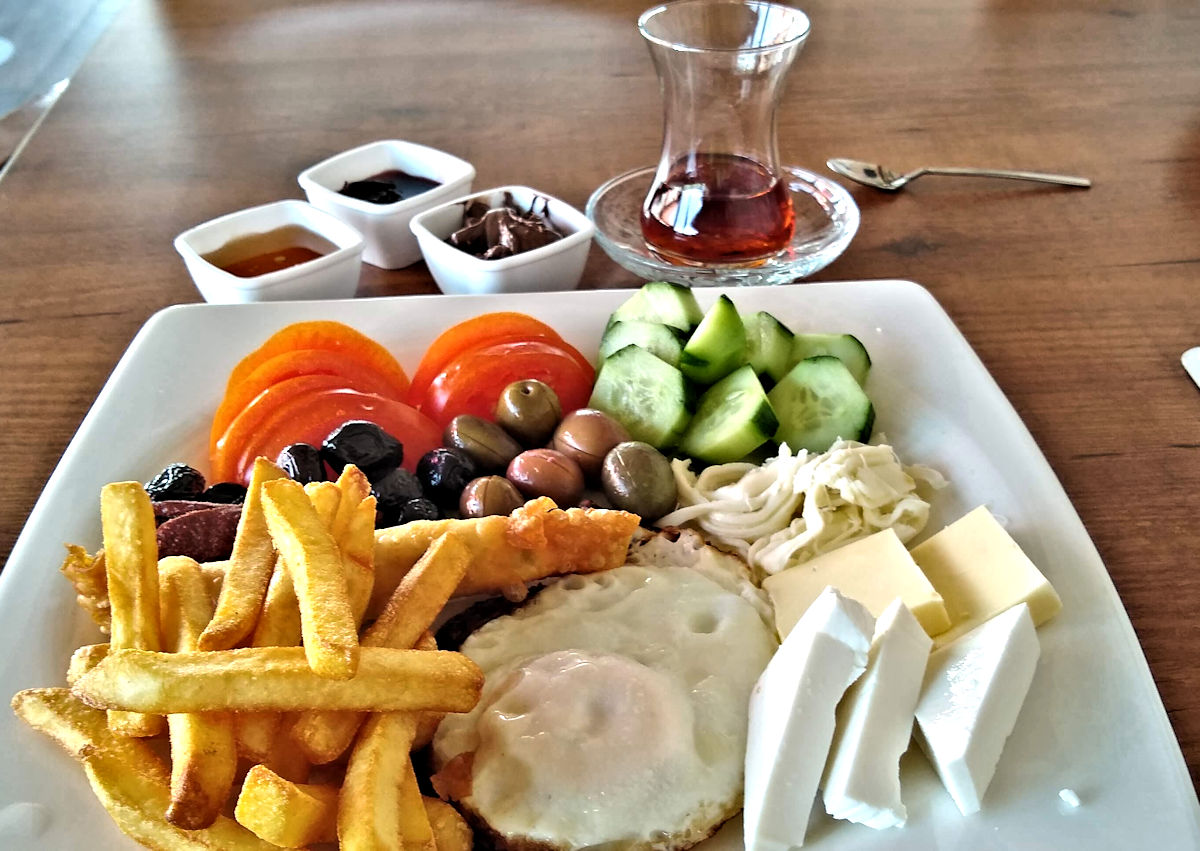 Buffet Breakfasts on the Road

I spent three days traveling to Goreme, Turkey by train and bus. (You can read about that here.) On the way, I stayed overnight in hotels near the train stations. A full buffet breakfast was included in each night's stay. These are nice because I can pick out my favorite parts of the Turkish Breakfast. In Ankara, I stayed in Hotel Esila where this buffet was offered. You can see that it is not as homemade as in other places. Breads and jams were pre-packaged, but there was an offering of fresh fruit and a variety of fresh salad greens.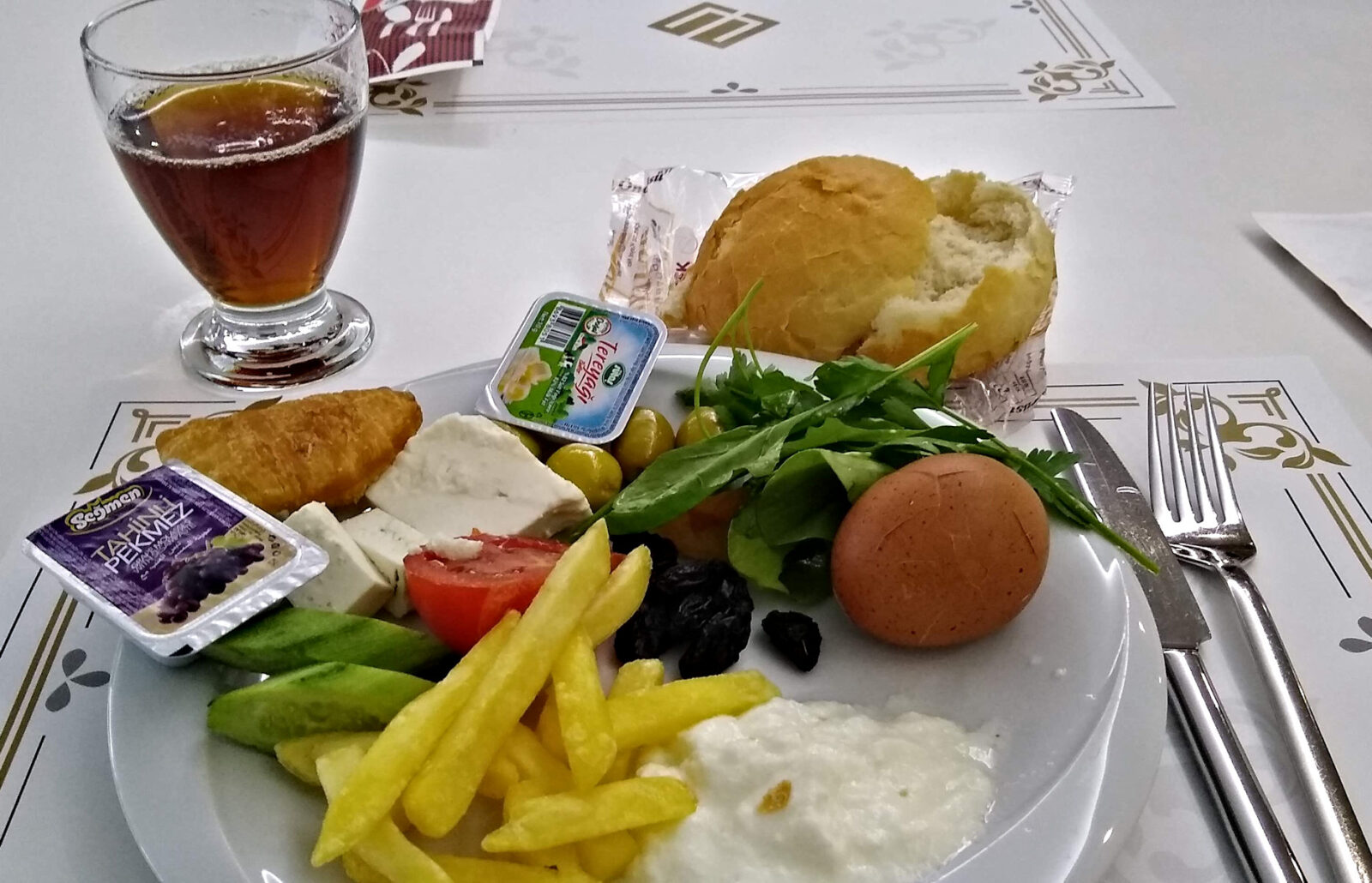 Goreme is another town that is overrun with tourists during the summer, but I enjoyed a quiet ten-day visit here in April at Homestay Cave Hostel.  My host's aunt had a small café in Goreme. A friend who visited here earlier in the year recommended it to me and it was so good that I ate there every day of my visit—sometimes twice in one day. I got to be good friends with Fatma, the owner. She is not only sweet and friendly—like everyone here—but also a good cook.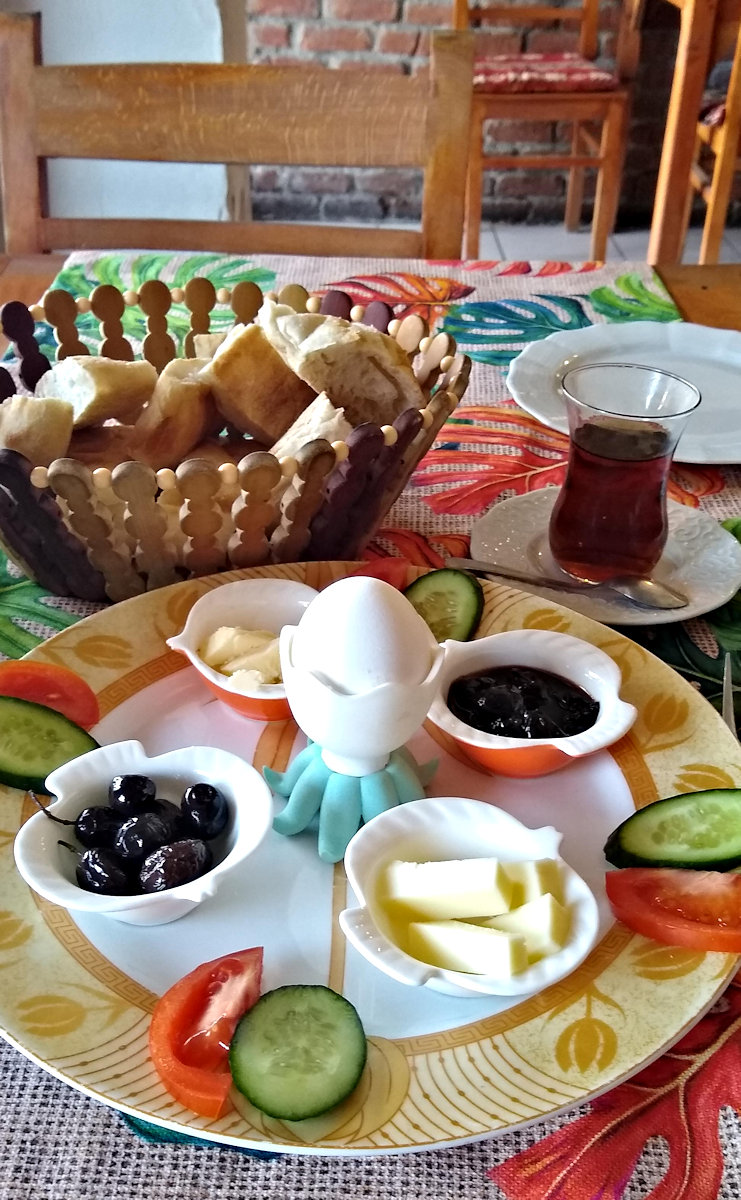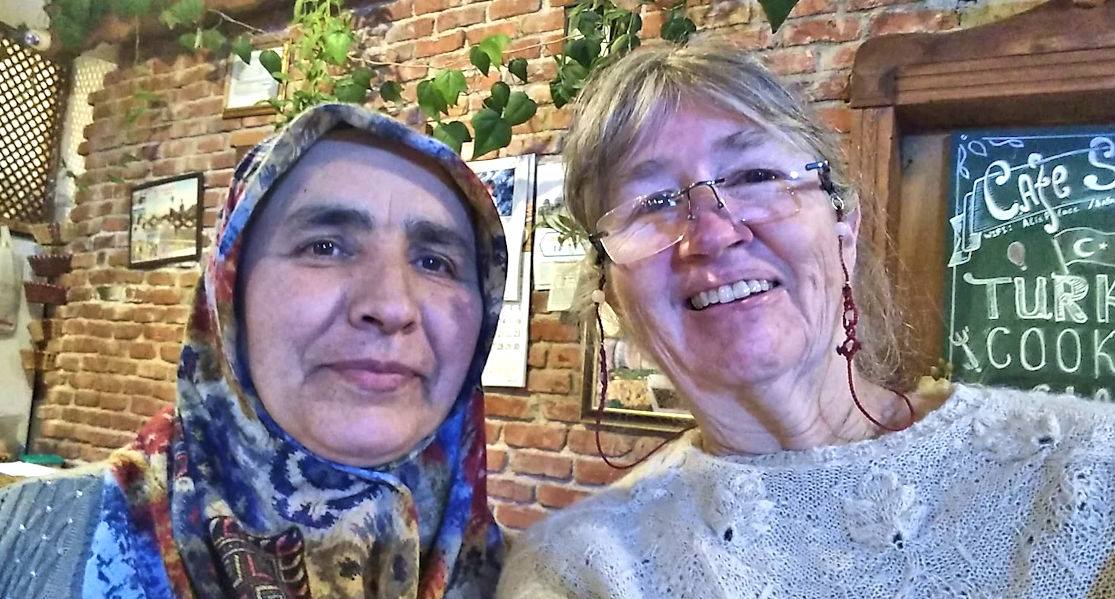 Ҁumalikizik
Two days' worth of bus rides took me from Goreme to Bursa in the east of Turkey. I stopped over again in Ankara's Hotel Esila and enjoyed their version of Turkish breakfast again.
It was now the month of Ramadan in Turkey. I had not noticed it so much while in Goreme. Because there are so many foreign/non-Muslim tourists in Goreme, the restaurants are open normal hours there and it is easy to get an early morning breakfast. But Bursa was a different story. Most tourists here are from Turkey. The streets are eerily quiet in the mornings. During the rest of the year, many people spend time in cafés drinking coffee or ҁay, smoking, and visiting. But during Ramadan, those same people still sit at cafés, but they just visit or sit alone looking at their phones–no smoking or drinking. Most of the cafés are open but fairly empty until sunset. It felt awkward to enter an empty café to order breakfast when no one else was eating. After the first morning, I purchased ingredients and ate in my guesthouse.  
But one day I got to visit Ҁumalikizik. It is well-known as a village that has preserved its Ottoman architecture. I arrived early in the day with the intention of having breakfast there. Not many of the restaurants were open here either. The two that I had picked out before my visit (based on excellent reviews) were both closed. My options were limited. I decided to take a chance on Narlı Bahçe. It had lukewarm reviews on Google, but the terrace was full of people, so I decided to take a chance. I was so glad that I did.
Traditionally, it is normal for all the different items in a Turkish breakfast to be served at the table on separate plates. It is expected that more than one person will share the dishes communally. But, because I almost always eat alone, I usually am served the breakfast on only one or two plates. This is fine with me because it really makes more sense for solo eaters.
This was the first time that Turkish breakfast has been served to me in the more traditional way. My eyes about popped out of my head as these ladies presented with this feast! How would I eat it all? (I don't think you are expected to.) It is probably in bad form to show photos of empty plates, but I wanted to show you that I certainly did justice to the fabulous meal.
 I think I could have eaten a whole jar of those blackberry preserves. (Cumalikizik is famous for its blackberries and bottles of blackberry extract are sold around the town. You dilute it with water to make a refreshing and naturally sweet drink.) One of the women who waited on me had made the preserves.
A great thing about Narlı Bahçe is they position these double-decker pots of tea (ҫay) and hot water around the café and you can serve ҫay to yourself as you run out. It also gives you the opportunity to add however much water you need to enjoy the tea at the strength you prefer.
I also devoured the kaymak—which is like a thick whipped cream—often made from water buffalo milk. It tastes like a cross between sweet butter and whipped cream. It is actually a kind of clotted cream. Pair it with the preserves on this incredible bread and you are transported to heaven!
I kinda' rolled out of town to catch the bus!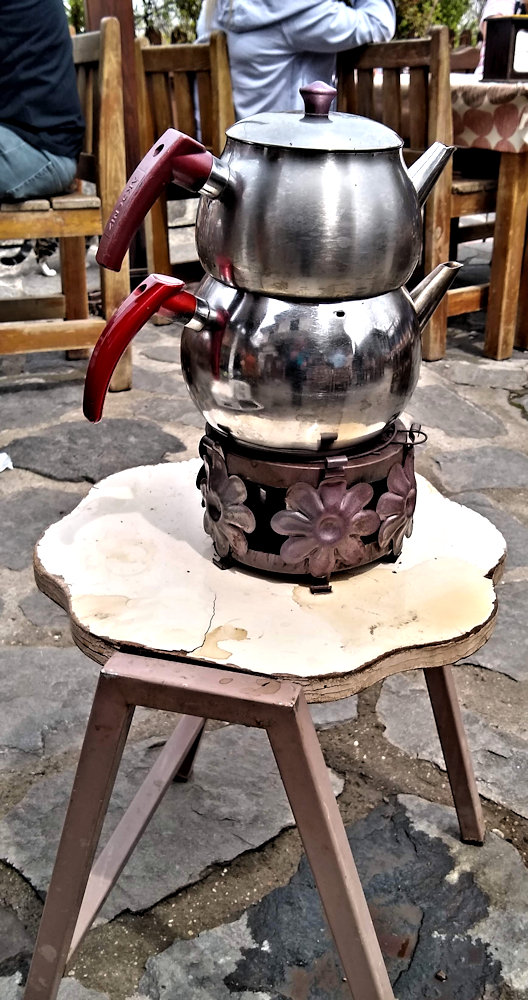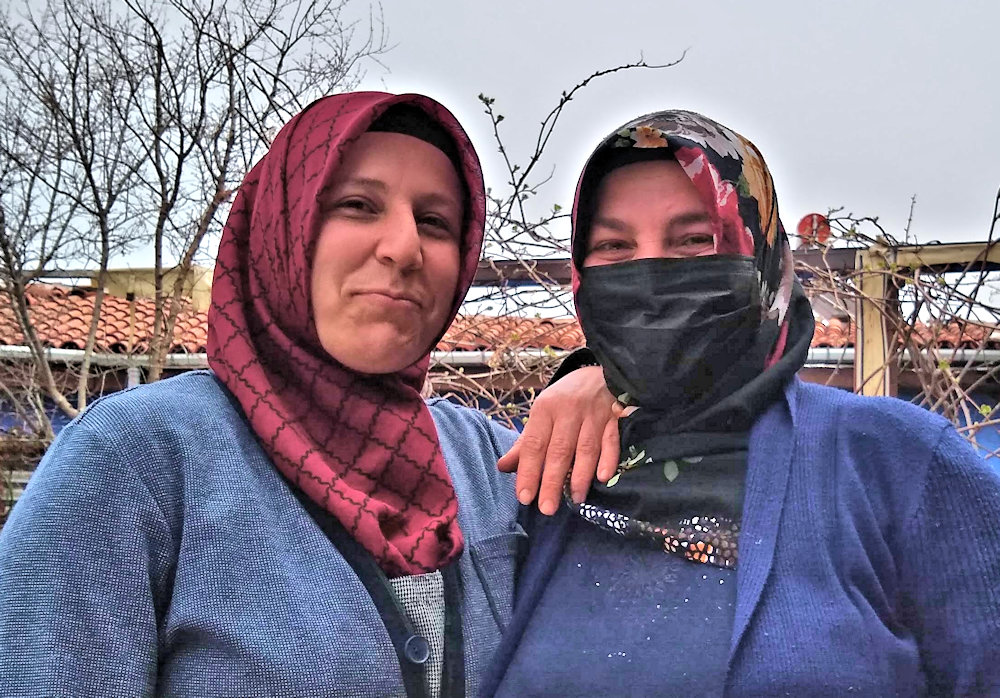 My Last Turkish Breakfast…for this Visit Anyway
It was time to return to Istanbul. In a few days I would fly to Belgrade to meet my daughter, Rebecca. This time I stayed in the Taksim neighborhood and found another wonderful café near my hostel for breakfast: Van Kahvaltı Evi
It is a good thing I like to eat early, because by 9:00 am this place is packed every day. I think I ate breakfast here three times. All the ingredients are fresh, service is prompt, and you never run out of ҫay. The breakfast plate is only 35 lira (about $2.40 USD). Considering that after this breakfast, I had no need for more food until very late afternoon, this was a true bargain!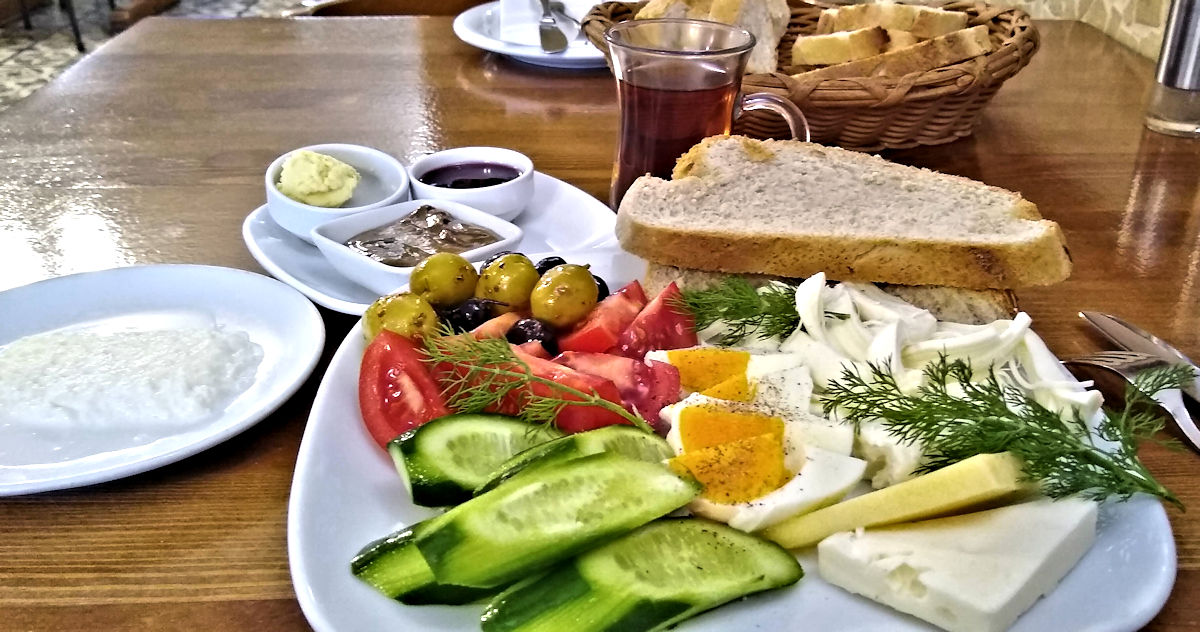 So that is my tale of only five of the many Turkish breakfasts I enjoyed on my first visit to Turkey. I look forward to returning to Istanbul in July and sitting down to more of these meals sent from heaven.
Other Blog Posts You May Find Interesting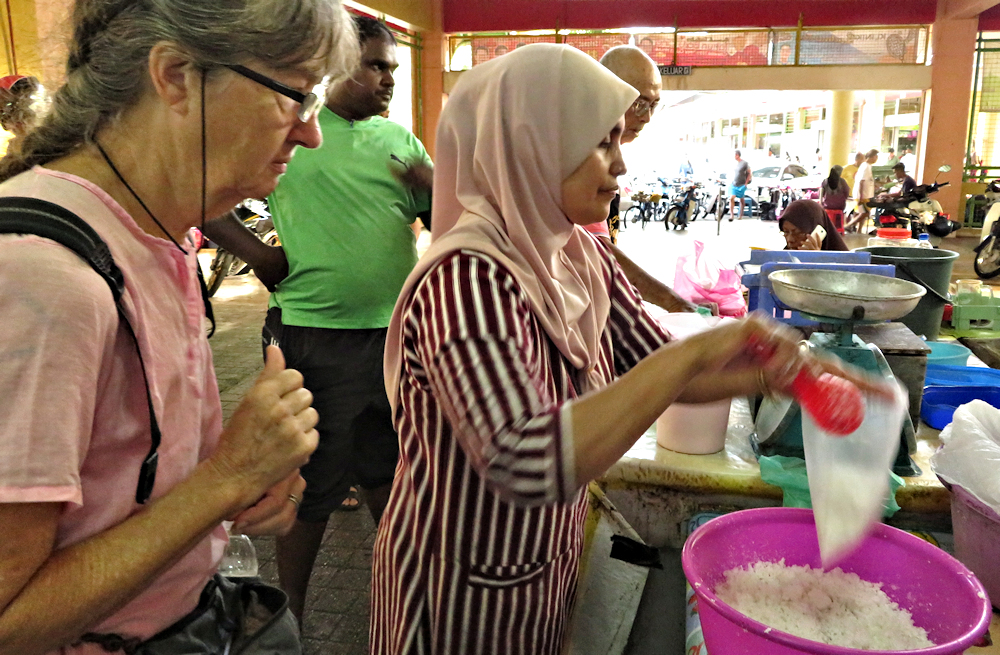 You absolutely must have freshly grated coconut for this dish and we really lucked out! There was a fresh coconut processing operation right at the front door of the market.
Read More »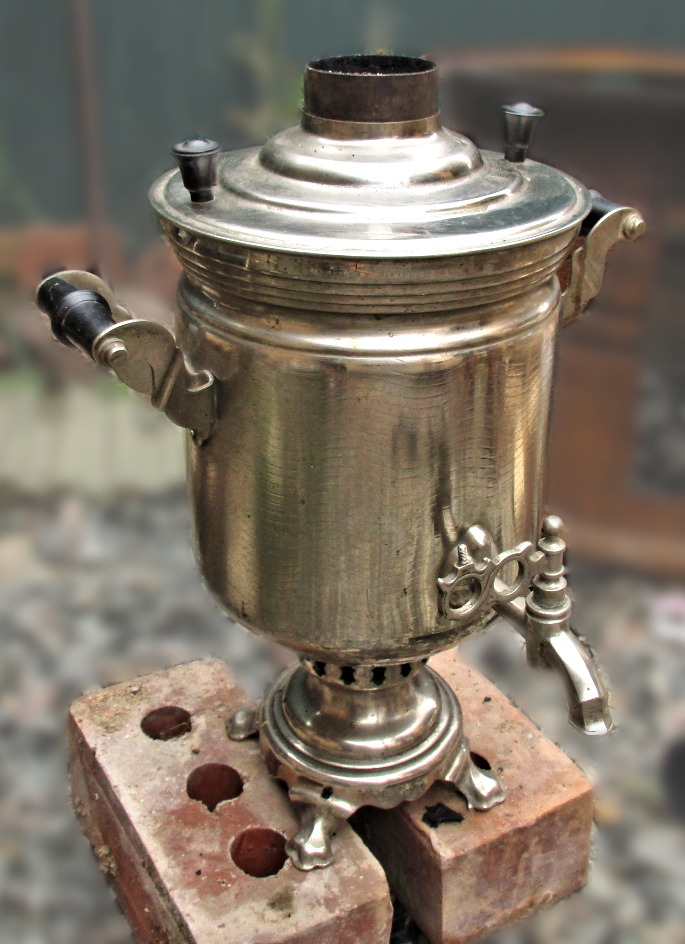 In the center of the large kettle of water is a tiny fireplace, complete with chimney! A small fire is built and before long the water surrounding the chimney is boiling.
Read More »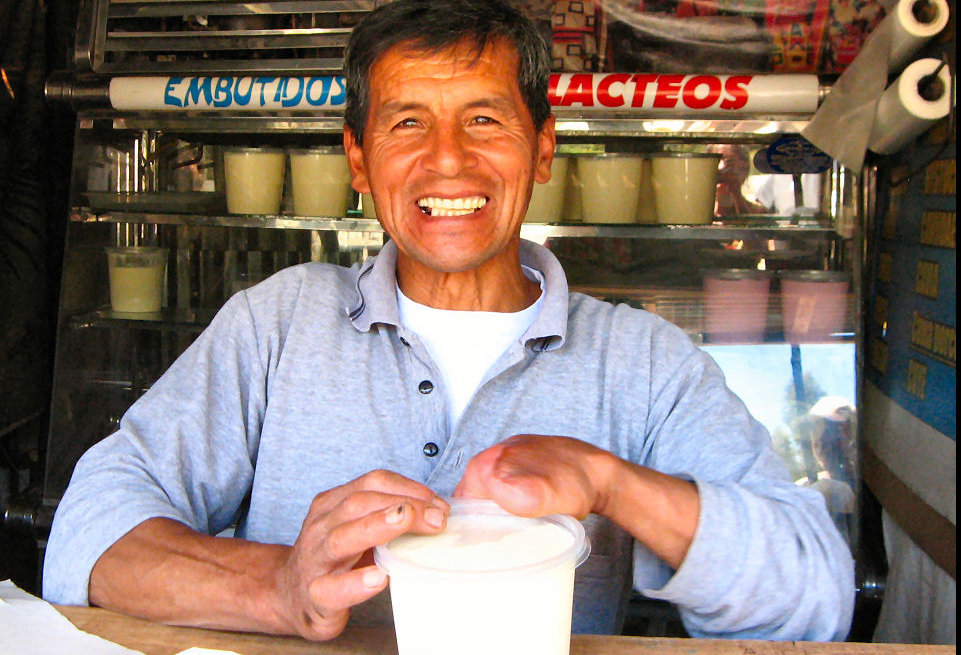 As you drive through the area around Huarocondo, you see signs for roadside stands selling fresh homemade cheese and yogurt.
Read More »